The United Kingdom is renowned for its world-class healthcare system and high-quality medical education. For postgraduate medicine courses, the Master of Medicine (MMed) degree is an advanced programme designed to provide in-depth knowledge and skills required for clinical practice and research.
It takes two to four years to complete a master of medicine degree in the UK, depending on the course and the university. Popular subjects covered in a Master of Medicine course include clinical research, clinical practice, medical education, and leadership.
A Bachelor of Medicine, Bachelor of Surgery (MBBS) or an equivalent medical degree from a recognised institution is the minimum eligibility criteria set for studying master of medicine courses in the UK, apart from language proficiency requirements. Some universities may also ask for relevant work experience. Apart from meeting the entry requirements, applicants must also demonstrate academic excellence, research experience, and a genuine interest in the field of medicine.
Studying for a master of medicine degree in the UK provides exposure to a diverse range of clinical and research settings. And being a hub for medical research, students have access to state-of-the-art research facilities and equipment. Another advantage of studying for an MMed degree in the UK is the opportunity to network with professionals from around the world. The UK attracts medical students and professionals from all over the world, and studying in the UK provides an excellent opportunity to build international connections and collaborations.
Upon graduation, MMed degree holders can pursue a wide range of career paths, including clinical practice, medical research, medical education, and leadership. Learn below more about the best medical colleges in the world (in the UK) and book a free consultation with SI-UK India today to begin your application.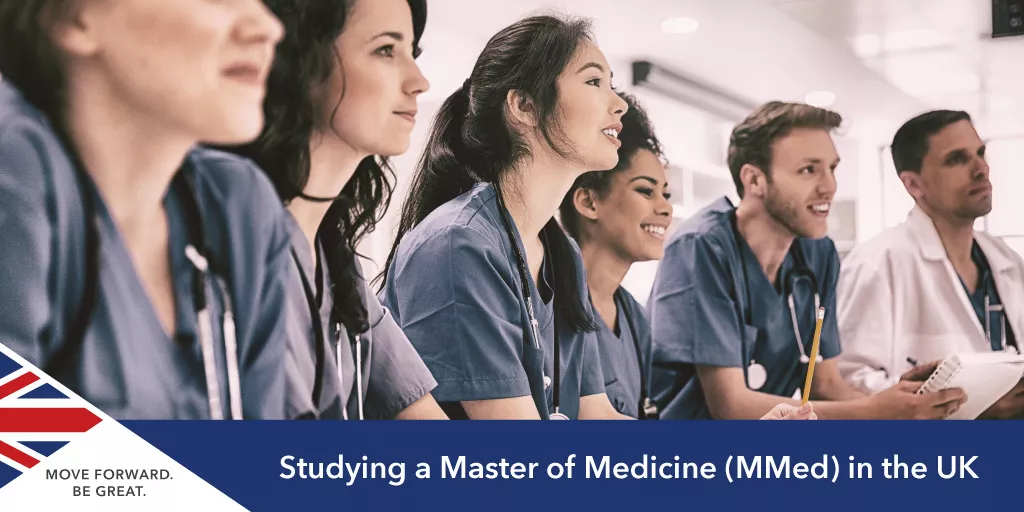 Top Five Universities for Medicine in the UK
Founded in 1540, the School of Medicine at the University of Cambridge is one of the oldest medical schools in the world, with a reputation for excellence in research and teaching.
One of the key strengths of Cambridge's medical school is its focus on problem-based learning. This approach to education involves students working in small groups to solve real-world medical problems, helping to develop their critical thinking and problem-solving skills. The School also places a strong emphasis on research, with students and faculty members engaged in groundbreaking medical research that is helping to advance the field. While studying at the University of Cambridge, students are encouraged to take courses in other fields, such as engineering or computer science, to help them develop a broader understanding of the complex issues facing healthcare today. This interdisciplinary approach is helping to drive innovation and breakthroughs in medical research and practice.
Postgraduate medicine courses, including the MPhil in Medical Science, are available at the University of Cambridge. Medical students combine clinical training, while clinically qualified doctors undertake scientific training to conduct studies covering the entire spectrum of medical science, from basic biology to clinical therapies.
Medical programmes at the University of Aberdeen are distinctive for their integrated teaching approach, which combines theoretical knowledge with practical experience. The curriculum emphasises clinical skills, and students have early patient contact from the first year of their studies. The school is also home to one of the largest clinical skills facilities in Europe, providing students with realistic and safe training opportunities.
The MSc programme offers research-led learning through various teaching methods, such as laboratory practical classes, workshops, clinical demonstrations, and tutorials, in addition to recorded lectures.
The course focuses on providing hands-on learning opportunities to reinforce evidence-based practice in cardiovascular and diabetes research, with exposure to clinical case studies. The teaching approaches include interdisciplinary and multidisciplinary learning, literature-driven critical assessment and analysis, and practical laboratory skills.
The University of Edinburgh Medical school is spread across several campuses, including BioQuarter, Western General Hospital, the University central area, and Royal Edinburgh Hospital.
The School places great emphasis on research and offers an environment that nurtures and fosters research. The University of Edinburgh's postgraduate taught Masters's degrees provides an opportunity for students to learn from experts in their respective fields and develop their skills while boosting their career prospects in research or industry. Master of Medicine programmes at the University comprises lectures, tutorials, seminars, practical and lab work, and culminate with a dissertation.
Postgraduate programmes, such as MSc in Human Anatomy, are an ideal stepping-stone to a career in anatomy teaching and research, and students will develop in-depth anatomical knowledge that they can teach to undergraduate and postgraduate students and professionals allied to medicine.
The Faculty of Medical Science at Imperial College London enjoys a unique position, benefiting greatly from its close integration with the wider ecosystem of fundamental science at the College, as well as its collaboration with the AHSC network of NHS partners.
The Faculty is dedicated to fostering the most effective academic, clinical research, and education environments across its campuses. Working with its partners, the Faculty is committed to supporting Imperial College London's continued growth as an international hub for medical education, research, and innovation.
Postgraduate courses at the Imperial College London's Faculty of Medical Science, such as the MSc in Cardiovascular and Respiratory Healthcare, offer in-depth knowledge and skill development in the chosen field of study. Students can explore the impact of new technologies on the prevention, diagnosis, and management of ill health, and benefit from a flexible learning approach.
The University of St. Andrews has been successful in medical research thanks to its multidisciplinary and collaborative approach. The school promotes and extends research programmes in various aspects of cellular medicine, infection and global health, populations and behavioural sciences, and education.
Research facilities within the Medical School building provide the infrastructure and academic environment that ensures sustained development and expansion of medical research in the future. Located in the Medical and Biological Sciences Building, the School of Medicine is superbly equipped for teaching, research, and conferences. It is situated in the heart of the science campus at North Haugh.
The University of St. Andrews offers two postgraduate taught courses, one of which is the MSc in Health Data Science. The course is designed for students who intend to pursue a career in data science and digital health.
Students will learn about the theoretical underpinnings of digital health, including different forms of health data, the technology that generates them, methods used for processing and analysis, and how digital data is integrated into clinical decision-making. The programme places a particular emphasis on the challenges of handling, storing, and analysing big data in healthcare contexts.
Study Master of Medicine in the UK
If you are interested in studying Master of Medicine in the UK, arrange your free consultation today. Don't forget the Medicine Service provides interview practice with a doctor who sits on the admission panel of a UK medical school.