In modern marketing warfare, communicating with your audience has become a critical aspect of business management. Public Relations (PR) significantly impacts a product's saleability and in the era of cut-throat competition, businesses find it challenging to survive without a proper reputation management plan.
Being one of the most brand-friendly countries on the planet, the UK has been a favourite destination for studying marketing communication and public relations courses. The average base pay of public relations professionals in London is £42,532/yr, higher than most global cities such as Shanghai, Singapore, Berlin, and Los Angeles. The standard of Marcom and public relations degree programmes at UK universities has always been hailed internationally.
Explore Marcom and PR courses at some of the best universities in the UK below and if you would like to learn more, arrange a free consultation with SI-UK India today.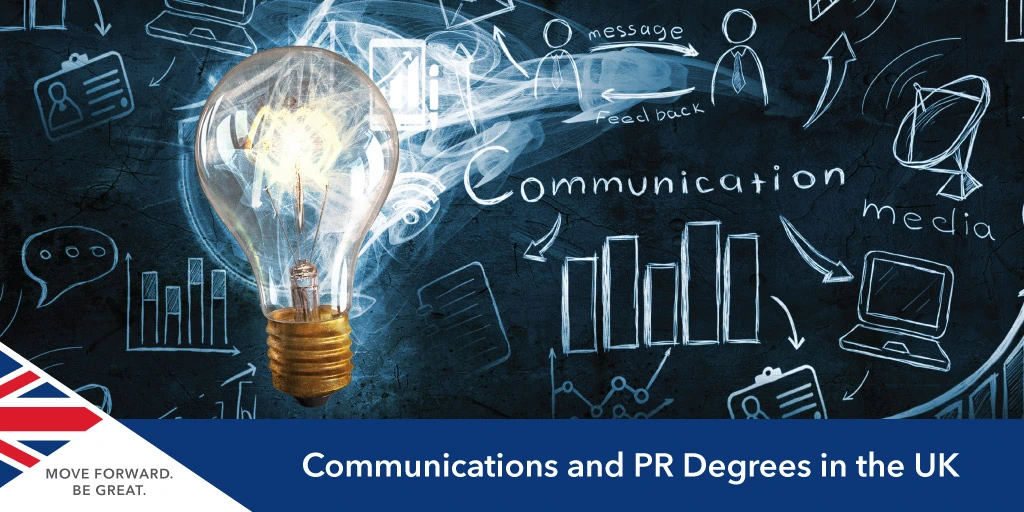 Five Best Marketing Communication and Public Relations Courses in the UK
1. MA Promotional Media: Public Relations, Advertising & Marketing - Goldsmiths, University of London
Explore the amalgamation of PR, advertising, and marketing roles, while understanding the outlook of online marketing, social media, and media laws & ethics, on the MA Promotional Media: Public Relations, Advertising & Marketing course at Goldsmiths, University of London. Students acquire several transferable skills during this Goldsmiths' master's degree programme, including critical thinking, marketing skills, and storytelling and, being in the company of some of the UK's finest minds within marketing and PR, students get a detailed understanding of business promotion and brand management.
Goldsmiths' Department of Media, Communications and Cultural Studies has been ranked 2nd in the UK and 12th globally for internationally excellent research in the 2022 QS World Rankings for Communication and Media studies.
2. Marketing Communications and Advertising MSc - Kingston University
Accredited by the Chartered Institute of Marketing (CIM), Kingston University's Marketing Communication and Advertising MSc is a one-year programme with an additional optional placement year. Integrated lectures and workshops during the course are entirely focused on enhancing students' employability prospects.
The career-ready programme helps you get acquainted with a 360-degree understanding of business challenges through guest lectures by industry experts. The detailed course modules include global marketing management, research proposal and dissertation, advertising strategy, and public relations.
3. International Public Relations and Global Communications Management (MA) - Cardiff University
Wales' most reputed university offers a master's in international public relations and global communications management. The Cardiff University course provides a truly global viewpoint of PR and strategic marketing in businesses. This programme is accredited by the Chartered Institute of Public Relations (CIPR) and the Public Relations Consultants Association (PRCA). The inclusive teaching methodology will ensure students' skills development for professional success.
4. Corporate Communications, Marketing and Public Relations MA - Leeds University
The one-year programme at the University of Leeds is oriented toward instilling future industry leaders with the art of making corporate communications in a subtle way to leave an impact on the customers and company shareholders. Along with getting the foundational understanding of communications theory, marketing management, and PR strategy, you can utilise these skills in a practical project.
The course is a fantastic opportunity for students to delve into the world of brand management, strategic marketing, and public relations while being in the company of the university's prestigious pool of time-served professors.
5. Marketing Communications MA/MSc - University of Westminster
The University of Westminster is among the most prestigious marketing schools in the UK. Recognising the need to adapt to the changing norms of the global business sphere, it has incorporated the latest digital and analytic marketing practices into its highly diverse curriculum.
With its highly reputed programme, Westminster aims to prepare students for dealing with the challenges and complexities of the dynamic marketing communication industry. The syllabus includes a consumer psychology module where students familiarise themselves with consumer behaviour to improve their decision making and communication skills.
Study Masters in Public Relations and Marketing Communication Courses in the UK
If you are interested in studying marketing communication and public relations courses in the UK, arrange a free consultation with SI-UK India today.