London has again been chosen as the best city in the world for international students, beating renowned cities such as Tokyo, Seoul, and Melbourne in the 2024 QS Best Student Cities Rankings. London earned the name of being the best of all for the third time in a row.
In such rankings, the factors taken into account include affordability, courses offered and desirability. Currently, some of the most prestigious universities in the world are located in London and University College London is a significant name in this list.
Learn more about UCL below and begin your UK study journey by arranging a free consultation with SI-UK India today.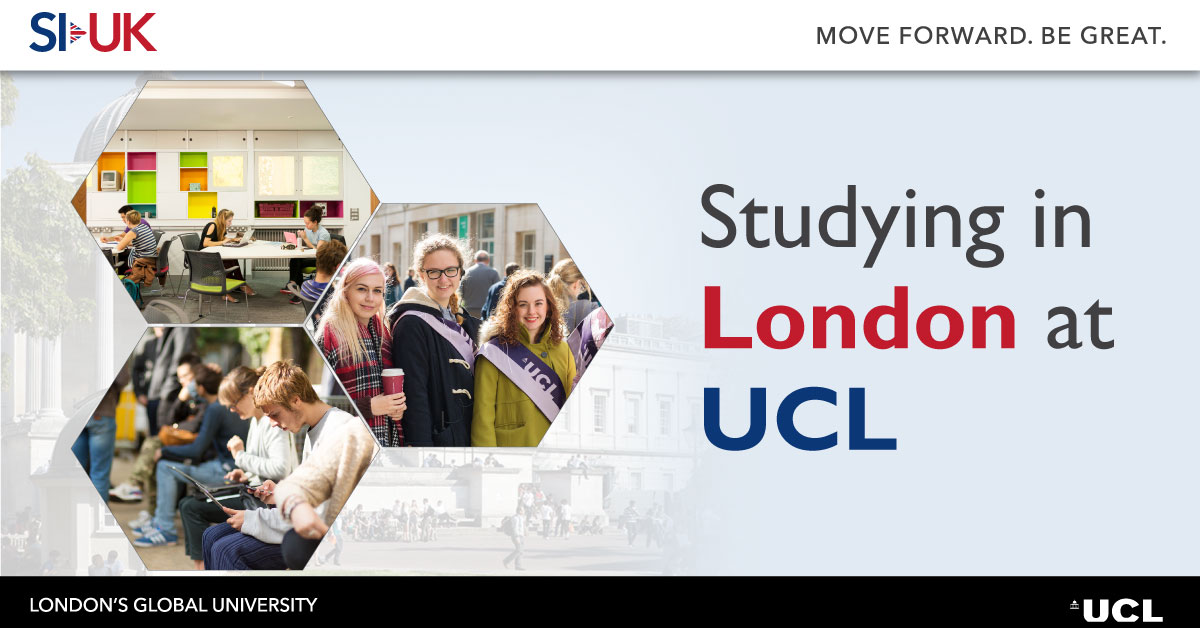 Why University College London?
Almost 200 years old, University College London has always been among the top universities in the world. It is not only the oldest but also the largest muti-disciplinary University of London. With around 16,000 staff members and 51,000 students, this grand university is a popular choice for both domestic and international students.
According to the Guardian 2024 rankings, UCL is currently ranked the 8th best university in the UK and 22nd in the world, as per the Times Higher Education Ranking 2023. The QS World University Rankings 2024 also agree with the stature of UCL, where it stands at 9th position. There are hundreds of world-renowned public figures who are alums of this prestigious university, and 30 of them have been awarded the esteemed title of Nobel laureate.
Famous UCL alumni include:
Mahatma Gandhi (Leader)

Rabindranath Tagore (Poet)

Nelson Mandela(leader)

Alexander Graham Bell (Inventor)

John Stuart Mill (Philosopher)

Chris Martin (Singer)

Francis Crick (Scientist

Robert Browning (Writer)

Matthew Vaughn (Screenwriter, Film Director)
Life at UCL
Students at University College London are selected on the basis of their potential and talent and not on the basis of their ethnic, cultural, social or financial backgrounds. This offers plenty of benefits for international students coming from diverse backgrounds across the world. The university has a centrally located campus, world-class facilities, experienced faculty and a research-based learning programme for all its courses. And to top it all, UCL is a part of the world's most fantastic city, London. It is a city that offers a beautiful blend of diversity, culture, Innovation and opportunities.
Studying at UCL
UCL is located in such a beautiful and convenient city that almost every aspect of an Indian student's life is sorted out here. The great food, combined with plenty of employment opportunities, easy accommodation facilities and a culturally rich smart city, makes it the perfectly suitable location to live and study.
UCL has a wide range of courses being offered at its different campuses, and this gives any student the luxury of making an informed and favourable decision. Courses offered by UCL include:
Arts & Humanities
Brain Sciences
Built Environment
Engineering Sciences
Institute of Education
Laws
Life Sciences
Mathematical & Physical Sciences
Medical Sciences
Population Health Sciences
Social & Historical Sciences
Degree Types at University College London
The different degree types that are available at UCL are:
Undergraduate
Master's
Master of Research (MRes)
Postgraduate Diploma (PG Dip)
Postgraduate Certificate (PG Cert)
Postgraduate Certificate of Education (PGCE)
Graduate Certificates and Diplomas (Grad Cert/Grad Dip)
Distance learning
Short courses and continuing professional development
Postgraduate taught affiliate study
The best way to start your education at UCL is by contacting SI-UK India. We are the only agency currently appointed by UCL to support postgraduate UCL applications globally. Book your free consultation with our professionals today.
Study at UCL
If you are unsure about which program is the ideal choice for your career, you can contact SI-UK professionals for a free consultation.