A food and nutrition course helps students research, process, and preserve the nutritional components in our food. As a graduate of a food science and nutrition course, your degree could lead to careers as a food marketing specialist, sports nutritionist, or even media professional within the field of nutrition.
Studying for a master's degree, like an MSc in Food & Nutrition or MSc Nutrition and Dietetics will also help you develop a range of valuable transferable skills like critical thinking that are highly useful in any industry.
Food nutritionists help people achieve good health and a healthy lifestyle by providing them with customised blueprints and guidelines for those who want to lose weight, pregnant mothers, or even people who are living with diabetes - among others.
In addition to this, food nutritionists like dietitians also provide additional professional guidance when warranted, for example, to doctors dealing with children suffering from autism.
Food and Nutrition Courses
Learn below more about studying food and nutrition courses in the UK, or book a free consultation with SI-UK India today.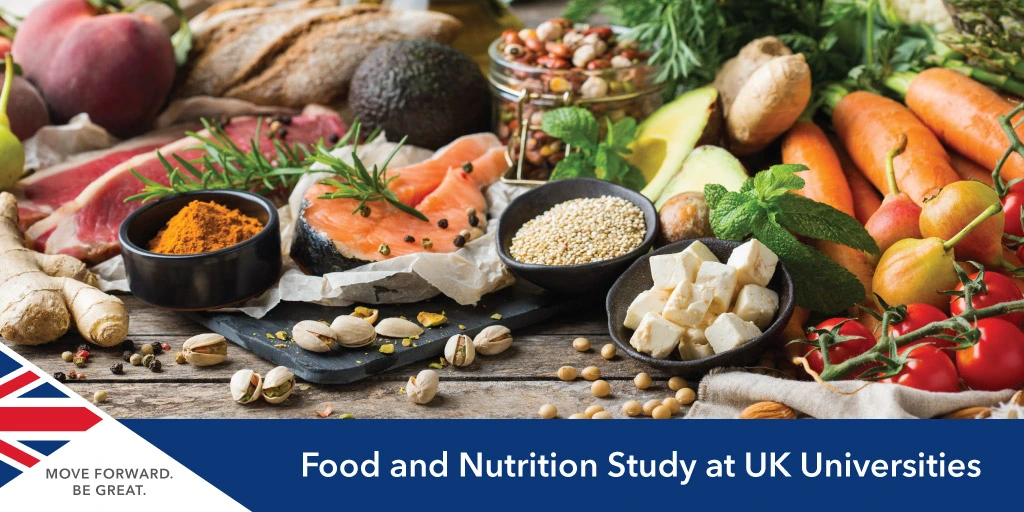 Top Three UK Universities for a Food and Nutrition Course
University of Surrey
The University of Surrey's Food Science and Nutrition BSc (Hons) programme covers a diverse range of topics and by the end of the course, students will gain a full understanding of how food components react during processing and storage and how safe, nutritious food can be produced.
Through the BSc Nutrition, students will also understand what happens when during food microbiology and the role it plays in producing safe foods, as well as an appreciation for functional ingredients found in different types of foods. Perhaps most importantly, this program explores the basis of nutrition and how it relates to key diseases like cancer.
King's College London
King's College London's Nutritional Sciences BSc is accredited by The Association for Nutrition which means graduates may register with the UK Voluntary Register of Nutritionists, a body that aims to regulate the professional practice of nutrition.
By studying other nutrition-specific subject areas, such as BSc Nutrition and Dietetics, students will develop a broad knowledge suitable for work in any setting. With practical lab sessions and supervised practice placements to encourage participation in local community activities, you will have the experience and confidence to stand out as a nutritional scientist.
Queen's University Belfast
Subjects studied on the Queen's University Belfast's BSc Food Quality, Safety And Nutrition programme cover a wide range of topics, including biochemistry, chemistry, marketing, microbiology, policy processing, product development, psychology quality and safety, fundamental and clinical nutrition, human physiology (diet and health), as well as business innovation and entrepreneurship.
Study a Food and Nutrition Course in the UK
Contact SI-UK India today to learn more about studying food and nutrition courses in the UK.