Dubai today has 34 international higher education institutions, where one in every four students is an international student. According to Khaleej Times, a leading daily newspaper in Dubai, international higher education institutions reported a 3.6% increase in annual enrolment in 2022, with over 29,000 students enrolled in 600 different types of university programmes.
Dubai is regarded as one of the world's most cosmopolitan cities. It serves as a gateway to the Middle East, Asia, and Africa, making it one of the fastest growing economies in the UAE region. With over 3 million population, Dubai is the most populous of the seven emirates in the UAE region. Non-Emirates account for approximately 85% of the population, with Indians being the largest in number.
Why Study in Dubai?
Recently, Dubai has become an increasingly popular study abroad destination for Indian students. Today, it is home to several universities with international accreditation that provide a wide range of programmes and courses. In response to this growing interest, various UK universities have established campuses in Dubai, providing scholarships and financial aid to their students.
Unlike other well-known study abroad locations, Dubai offers international students affordable living and educational costs. The average cost of living is approx. AED 14,400 per year (Rs.3,19,441approx.).
Strong post-study work prospects, a booming economy, tax-free income, easy visa policies, and a growing job market are some of the additional advantages for international students who wish to study in Dubai.
If you want to study at a UK university campus in Dubai, begin your journey by arranging a free consultation with SI-UK India today.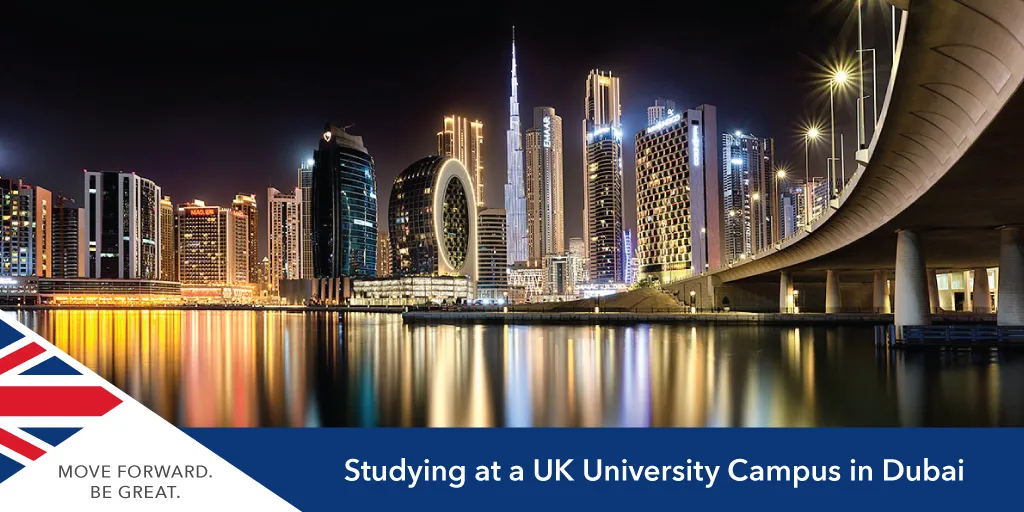 UK University Campuses in Dubai
The University was the first global top 100 and UK Russell Group university to establish a campus in Dubai in September 2018 and now adds to the leading education hub's roster of global and local internationally accredited academic institutions. The Dubai campus is accredited by the UAE Ministry of Education
The university offers a range of graduate and postgraduate degrees, including a Bachelor of Science, Bachelor of Arts, a Master of Science, Master of Arts, Master of Business Administration, and Doctor of Philosophy.
There are various scholarship options for students based on academic performance, like Provost's Academic Scholarship, STEM Scholarship, and Chancellor's Academic Merit Scholarship, to name a few.
As the first British university to set up a campus in Dubai in 2005, and having received a five-star accreditation by the Knowledge and Human Development Authority (KHDA) for three consecutive years, Heriot-Watt University Dubai has established itself as a pioneer in the higher education market in the UAE.
The University takes a multi-disciplinary approach to education based on knowledge sharing from different disciplines, thereby enhancing the depth of learning. Students benefit significantly from this approach as it establishes a strong foundation for their future careers. The Centre of Excellence in smart construction is one example that fosters creative collaboration between the research team, industry and UAE government within the construction sector.
Heriot-Watt graduates are highly employable and sought after by the best organisations worldwide, with over 90% in graduate level jobs or further study within six months of graduation.
The University's first learning space in Dubai opened at Dubai Knowledge Park (DKP) in 2005 and has over 4,000 students studying from more than 118 nationalities
The UK's Quality Assurance Agency for Higher Education has granted Dubai campus the highest possible rankings. Middlesex University's four global campuses – London, Dubai, Malta and Mauritius - also partner with some of the most prestigious international universities and other educational providers. Its programmes are taught in more than 100 institutions worldwide over.
Leicester's De Montfort University, one of the UK Pavilion's founding partners at Expo 2020 Dubai, officially opened its Dubai campus with an event on December 9, 2021.
The Dubai campus is being run in partnership between DMU and Study World Higher Education Services, the Academic Services Provider for DMU Dubai. Courses on offer include Cyber Security, Architecture, Psychology, Accounting and Finance, Engineering, Human Resource Management and Fashion Marketing – both undergraduate and postgraduate
Top Courses To Study In Dubai
Popular courses for Indian students in Dubai include:
Business Administration, Petroleum Engineering, Tourism & Hospitality, Accounts & Finance, Architecture, Aviation, Design, Psychology, Global Social Science, Advertising, Public Relations & Media, Business Information Systems, and Information Technology.
Eligibility Criteria And Average Fee For Undergraduate Degrees
The eligibility criteria for undergraduate programs in Dubai can vary depending on the university, but generally, the following apply:
Minimum 12 years of schooling with a 60 per cent or higher grade point average.
A competitive IELTS or TOEFL score, depending on the university's requirements
Students with more than 75% scores in ISC/CBSE or Cambridge English students may be exempt from English proficiency tests.
Average Undergraduate Fee- 37,500-70,000 AED per year (Approx Rs 8,35,005- Rs 15,58,675)
Eligibility Criteria And Average Fee For Postgraduate Programs
Dubai has witnessed a growth in the number of branch campuses of international universities with a focus on postgraduate programmes.
The following are the requirements for admission into a postgraduate programme in Dubai:
An aggregate of 60% or above in undergraduate degree.
Students applying to MBA programmes must have 2-4 years of relevant work experience
Average Postgraduate Fee-55,000- 75,000 AED per year (Approx Rs 12,24,677- Rs 16,70,000)
Working as a Student in Dubai
International students in Dubai have a variety of on-campus employment opportunities available to them, and there are also many top companies in the area, so internship and placement opportunities are plentiful. Learn more about working as a student in Dubai.
Visa Requirements to Study in Dubai
More information about the different visa types if you want to study in Dubai can be found here.
Scholarships in Dubai
Major scholarships for international students in Dubai include:
Khalifa University Scholarship
United Arab Emirates University Scholarships
Canadian Dubai Scholarship
Abu Dhabi University Scholarships
Mohamed bin Zayed University Scholarship
Study in Dubai FAQ
Study in Dubai
Are you ready to make the next big leap and study in Dubai? Arrange a free consultation with SI-UK today.