According to research conducted amongst students, teachers and leaders, blended learning is now the preferred learning and teaching model in the UK. Blended learning courses in the UK offer several advantages for international students, more so than the traditional on-campus learning in the present times. Due to the coronavirus pandemic, most universities in the UK moved to a blended learning approach for the 2020-21 academic intake.
A blended learning model allows international students to combine interactive online learning with face-to-face on campus learning. Quality teaching and assessment methods recognised by UK universities guarantee a superior learning experience such that students can continue their university studies without compromising on safety or quality.
Do not miss out on studying at a UK university due to the pandemic and start your undergraduate or postgraduate studies in the UK with a blended learning course in 2021.
Learn more about the benefits of blended learning below and if you want to study in the UK, arrange a free consultation with SI-UK India for more information on courses, applications, scholarships and visa.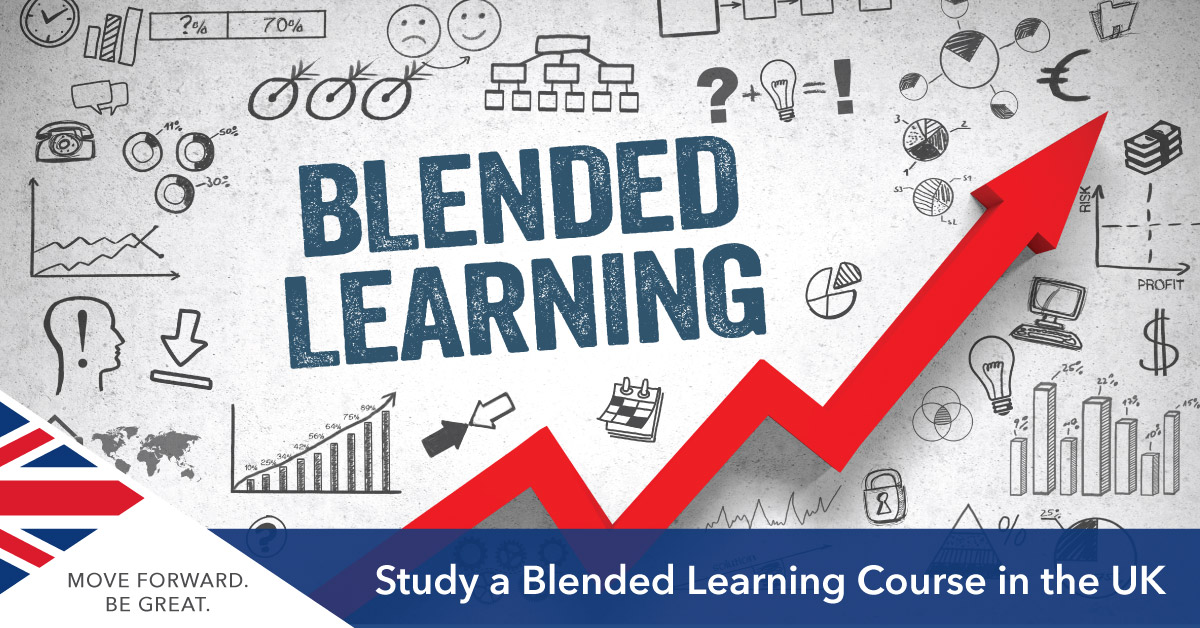 Ten Reasons to Study a Blended Learning Course in the UK
1. Safety
Blended learning is the perfect solution for international students during the coronavirus pandemic to continue their education safely from their home country until they are ready to join campus and travel abroad. Blended learning courses allow students to start their course at the scheduled start date and join campus at a later date without missing any of the classes.
2. Time-Saving
Blended learning allows students to save a lot of time spent on travelling to the university on a daily basis. Students have round the clock access to all study material online which helps to save a lot of their time.
3. Flexibility
Vast online resources and study material is available to students round the clock leading to easy access at all times and no schedule conflicts. Moreover, study resources can be accessed through multiple digital platforms including mobiles, tablets, laptops and desktops for enhanced flexibility.
4. Self-learning
It is an effective way to learn as it encourages self-learning where students look for information online independently rather than just sit in a classroom relying on the lecturer.
5. Soft-skills
This kind of learning is also helpful in improving soft-skills such as time management, critical thinking and team cooperation which are essential for professional success in a workplace at a later stage.
6. Student Experience
International students on blended learning courses get the best of both worlds. They benefit from interactive online classes, workshops and seminars as well as get access to face-to-face on campus classes, laboratories, sports facilities and other aspects of college life.
7. Better Tracking
Blended learning helps to track student progress more effectively and it is easier for teachers to identify a student's strengths and requirements.
8. Student Engagement
The inclusion of AR/VR technology in edu tech is resulting in a more inclusive learning experience for students. The education technology used for blended learning is constantly evolving for greater student engagement.
9. Peer Support
Blended learning module helps international students to stay connected with their peers from across the world at all times even when not on the campus meaning students have access to continuous peer support.
10. Better Communication
Better communication takes place through hybrid blended learning as students can use multiple digital platforms to connect and stay in touch with teachers and peers. The younger generation is more likely to communicate freely via digital platforms such as emails, text messages and social media rather than in-person communication.
Study in the UK in September 2021
The UK is the first country to start a vaccination programme for coronavirus and international students in the UK will also have access to it. Studying in the UK is likely to be completely safe by September 2021. Meanwhile, UK universities continue to offer blended learning courses for the January, March and May 2021 intakes.
If you want to study in the UK, book a free consultation with SI-UK India today to get your application started. Choose from 80,000 courses in over 200 universities with our easy 'Course Search'.
Other Related Articles: