Founded in 1832, Durham University is the third-oldest University in England after Oxford and Cambridge and is also a proud member of the Russell Group. The University ranked 92nd in the QS World University Rankings 2023.
The University is located in Northeast England, a region known for its rich heritage and natural beauty. Northeast England also has a lower cost of living and a fraction of the Southeast's population, making it a popular destination for many international students.
By studying at Durham University, you will join over 18,700 students from over 130 countries. One of the distinctive features of the University is its college communities, each offering a diverse and multicultural academic experience, with students and staff coming together from different communities and cultures.
Learn more about studying at Durham below and if you want to apply, arrange a free consultation with SI-UK India today. Our friendly consultants can help you study in the UK and provide expert guidance on submitting UK university applications error free thereby increasing your chances of securing admissions.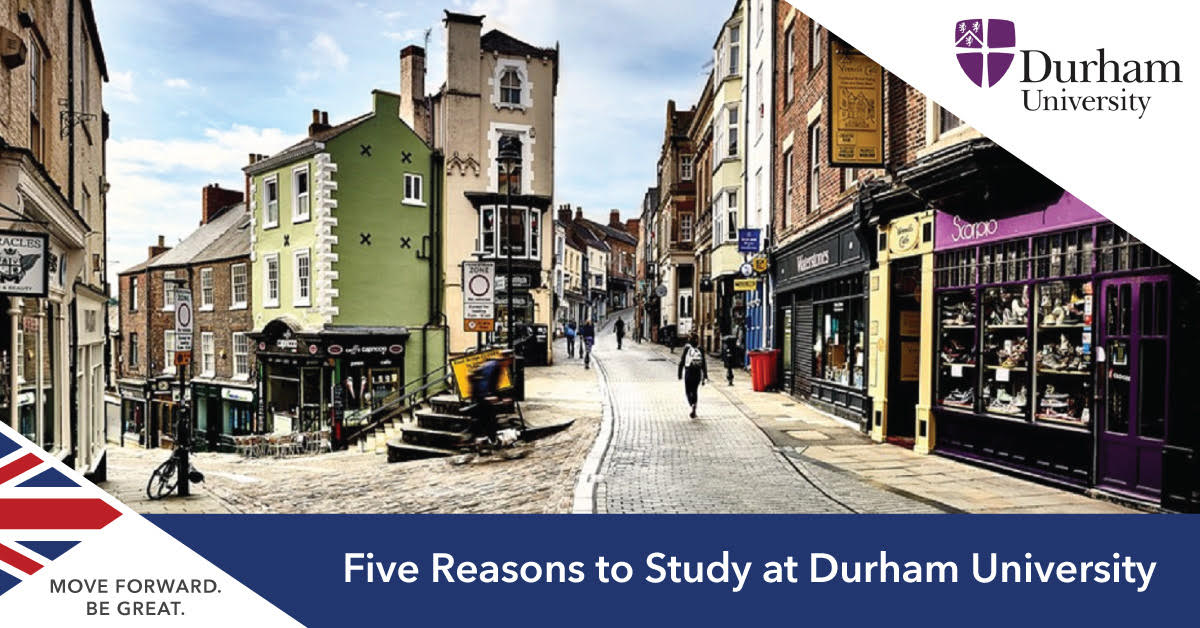 Five Reasons to Choose Durham University
1. Ranking and reputation
Durham University is a world top 100 university, currently 92nd position in the QS World University Ranking 2023. The University is also a regular in the world's top 100 for 19 individual subjects and within the top 10 for Theology & Religion and Archaeology in the QS World University Rankings by Subject 2022.
In the UK, Durham University is currently ranked 6th in the Times Good University Guide 2023 and the 2023 Guardian University Guide.
2. It is the 2023 sports university of the year
In 2012, Durham University invested £47 million in its sporting facilities. After an excellent sporting season in 2021-22, the University was awarded Sports University of the year by The Times and The Sunday Times Good University Guide 2023.
Sports is supported at Durham University in a big way and almost 75% of its students are engaged in some kind of sporting and physical activity. Durham is also Britain's top team sports university, supporting over 50 capped international athletes each year. Durham has the largest internal sports programmes in Britain and students can participate in 18 sports across 700 different teams on a weekly basis.
The award is based on success in the British University and Colleges Sport (BUCS) league, where the University was placed first for producing professional sportspeople and third in the overall league table for 2021-2022.
3. Business and Law programmes
Durham University leads the chart for a number of subjects, including business and law programmes. In the Research Excellence Framework 2021, the University's law school was ranked 5th in the UK for research environment, and 100% of Durham University's research was rated world-leading or internationally excellent.
The University's business school is also often highlighted as one of the UK's longest-established business schools, founded in 1965. Durham University's law school was ranked 7th in the world by the Financial Times Online MBA Ranking 2022.
Other Popular Durham courses to study include degrees in physics, economics, law, psychology and geography.
4. Collegiate setting
Durham has 17 different colleges where students become members of a distinctive community. These are residential and educational communities that help in improving personal effectiveness and developing intellectual curiosity.
While all teaching is done at academic departments, colleges provide an informal setting where students learn outside of their academic course. College communities which are a fantastic mix of students from all areas, subjects and study levels, help to shape their student experience and develop problem-solving, self-awareness and leadership skills.
5. Graduate employment
Once you are a student at Durham University, you can enjoy lifelong support from the University's Careers & Enterprise, regardless of what stage you are in your career. This support is open to both current and former students of the University.
Life at Durham
Student groups, clubs and societies
The Durham Students' Union is a representative student body which has over 250 different groups to join and learn new skills outside the classroom. Students societies are divided into eight broad categories including international and faith, media, arts and music, political and causes, academic, active, associations, and hobbies and games.
Riverside Bar and Cafe
The Riverside Bar and Cafe is a great place which has something for everyone. You can get together with friends, enjoy food and drinks, live sports, beautiful views and work during the day.
Music, Theatre and Arts
Durham has a total of 84 different music societies and holds about 80 music concerts every year with performances from student singers, conductors and musicians. The University offers lots of opportunities to participate and perform in choirs, bands and orchestras. There are 27 student-led theatre companies with over 90 productions annually offering students exciting opportunities to work backstage, direct, produce and act in 900 plus roles. The Durham Drama Festival in February is one of the most exciting events for students to get involved.
Study at Durham
If you are impressed with the University's profile and achievements and want to become a part of Durham University, arrange a free consultation with SI-UK India today to begin your application for the upcoming intake.