University classes the world over have moved online in these unprecedented times. A number of international education institutions are also offering online courses for overseas students to help them study from the comfort of their homes. Although online learning has become the most commonly used teaching platform these days, it can be challenging for first time learners or students who are used to the traditional instructor-led face-to-face classes.
Online learning has several advantages over traditional classes and can be extremely useful. But what are the best strategies to make the most out of online classes? How can you successfully plan your studies with e-learning techniques? We provide you here with some effective study tips to make your online learning experience fruitful and enjoyable.
UK universities are going ahead with their academic sessions as planned and you can learn more about studying in the UK and Covid-19 with SI-UK. Book a free consultation with our education counsellors for information and the latest UK university updates on admissions, entry requirements and applications.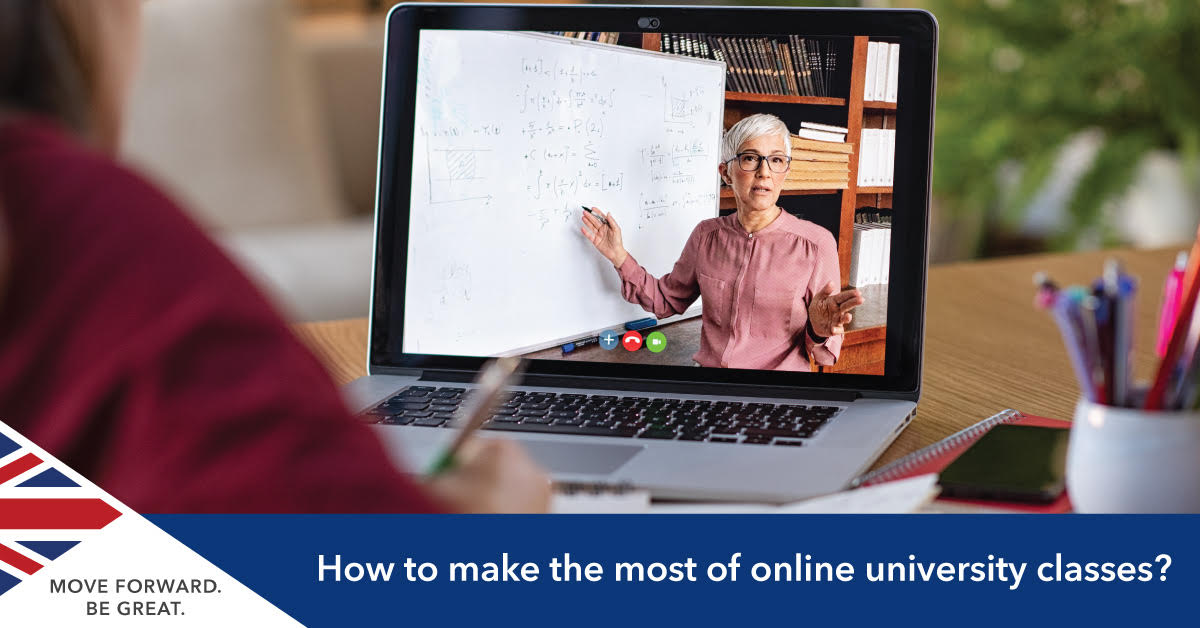 7 Tips to Make Online Classes a Success
1. Dedicated Space
For online learning to be effective it is better to create a dedicated space in the house where you always take your online classes. This place should be separate from your bed or sofa. Removing all distractions from the place of study and separating it from the area used for breaks helps to maintain focus during the online classes. A quiet place works better for getting quality study time and greater concentration. Moreover, a dedicated learning environment and a regular study place helps you to stay organised.
2. Plan Your Study
Making a study plan is essential to stay on track and achieve your goals within desired time. A study plan helps to avoid last minute rush and confusion and prepares you to deal with unexpected situations. Organise your time with a weekly schedule to assign specific hours for readings, assignment and other work. The study plan should be regularly adjusted and adapted in order to stay on track with your semester schedule.
3. Time Management
One of the biggest advantages of online classes is time flexibility. While online learning allows you to create an individual study schedule as per your preferences, it is very important to be accountable for your own time. Time management is indispensable for online learning and to avoid missing important deadlines or submitting subpar assignments in a rush.
4. Online Efficacy
A good, high speed internet connection is a prerequisite for taking online classes without interruption. Students must also have in place all software and tools before the start of online sessions. For instance students should be prepared with all online course materials, books and headphones etc. beforehand. It is better to learn how to navigate through the virtual classrooms or softwares used for teaching and stay well versed with all the online resources that your university has made available to help with your studies for instance the online libraries.
5. Optimise Use of Social Media
Social media can take up a lot of your study time by causing distractions while taking virtual classes. Limiting the use of social media during online classes can save a lot of time spent on unproductive activities. On the other hand connecting with your peers through various online platforms and social networks can be conducive for exchanging information,learning resources and staying motivated. Therefore, students must optimise their use of social media by participating in forums, accessing additional study materials and interacting with co-learners.
6. Learning Strategies
A vast amount of content is available online on any topic providing the flexibility to make your own learning strategy and choose the type of resource that is most effective for you. Students can make videos to summarise lectures, take handwritten notes or use breakout video rooms for discussions to get the most out of online learning in ways that they can relate to. It is also essential to stay connected with the lecturer or tutor, seek help and ask questions as and when required.
7. Taking Breaks

Online classes mean constantly looking at the computer screen for a long duration and sitting at one place. Taking a break at regular intervals helps in reducing physical as well as mental stress and rejuvenating the brain. Use the break to stretch, take a quick walk, get some coffee and snacks.
Study in the UK
UK universities are going ahead with their academic session and classes have moved online. Connect with SI-UK by booking a free consultation to learn more about UK University Autumn 2020 entry and start with your applications today.