Who are Paramedics?
Paramedics are usually the first ones to arrive in an emergency situation where healthcare professionals are needed. It is a highly critical role, dealing in trauma and accident care. Paramedics are a part of the ambulance crew, supported by an emergency care assistant/technician.
Paramedics are trained in using medical equipment which can revive or stabilize patients such as defibrillators and intravenous drips as well as administering drugs and oxygen. They often work alongside the police, firemen and rescue services.
Read below to find out about Paramedical Science in the UK and book a free consultation with us to apply to a UK university now.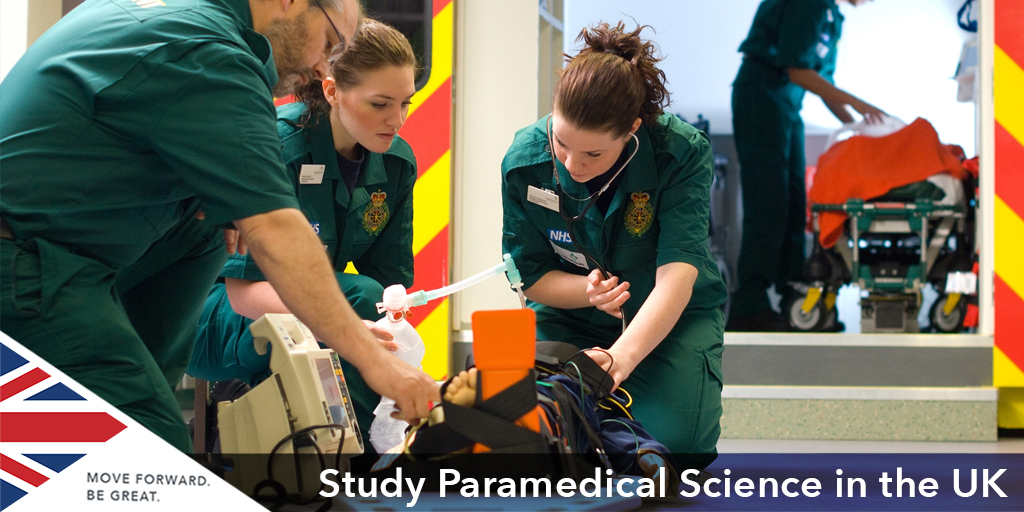 Entry Requirements
Students should have successfully passed 12th grade with science and biology to apply to paramedical courses.
You could do a full-time diploma or undergraduate course at a university, and then apply to the ambulance service as a qualified paramedic. To apply for the course you need to have a driving license; A-levels including a science, and five GCSEs at grade 4 or above including English language, math and science.
You can also apply directly to an ambulance service as a trainee paramedic (known as Student Paramedic), and study while you work.
Some students go on to study a postgraduate degree in paramedical science for job progression or entering into academics.
Skill Requirements
To be a successful paramedic you must possess certain skills like communication, listening, driving and responsibly using equipment and machinery. Along with these skills, you must have the ability to remain calm in stressful situations, work quickly yet carefully, be resilient, work alone and in a team, and step out at odd hours and work in rotational shifts.
Career as a Paramedic
Paramedics work in a wide range of out-of-hospital care services, including an ambulance or response car, the control room, an air ambulance (HEMS) team, or a hazardous area response team. Increasingly, paramedics are also helping to deliver acute care in hospitals and private healthcare. Teaching and research are other options.
UK Universities offering Paramedical Science courses
Listed below are some of the universities offering excellent paramedical science courses in the UK.
University of Hertfordshire
University of Central Lancashire
King's College London
University of Greenwich
University of Gloucestershire
Anglia Ruskin University
St George's University of London
University of Brighton
Study Paramedical Science in the UK
If you want to pursue a degree in paramedical science at a UK university, visit your nearest SI-UK India office or book a free consultation to apply to the best paramedical science courses today.