A career in motorsport engineering is glamorous, but the journey to get there can be competitive and tough. Motorsport engineering courses are in-demand at UK universities and students will need to channel their passion into study to get ahead of the competition.
What is Motorsport Engineering?
Motorsport engineering degrees focus on all aspects of modern race vehicles, from high-performance engines, use of hybrid power and power delivery, to high-performance aerodynamics and vehicle stability mechanisms and methodologies.
This industry requires total commitment from its engineers, and candidates will need skills, experience and qualification to make their mark. To make that first step on the ladder and get ahead, a UK degree is invaluable.
Learn more about leading motorsport engineering schools in the UK below and begin your journey to study in the UK by arranging a free consultation with SI-UK India today.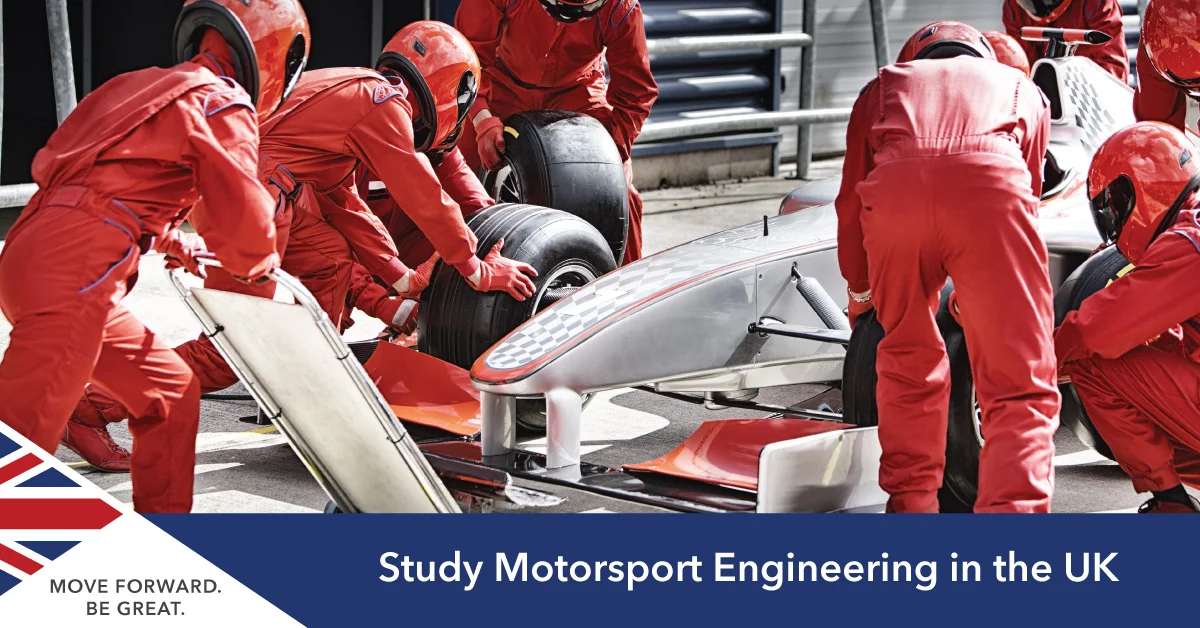 Why study Motorsport Engineering in the UK?
The UK's motorsport legacy is recognised worldwide. Programmes are developed and delivered from motorsport industry professionals, and you will engage with these professionals throughout your study, as well as being taught in state-of-the-art laboratories.
Entry Requirements for Motorsport Engineering
Motorsport Engineering is a full-time 3-year course at undergraduate level and a full-time 1-year course at postgraduate level.
Typical International Baccalaureate requirements: 35 points to include Maths at a higher level
Typical A-levels requirements: AAB-BBB including mathematics and physics, chemistry, design technology, electronics, computing or other suitable science subjects
Typical IELTS requirements: 7.0 overall, with no lower than 6.5 in any one component
Careers in Motorsport Engineering
A motorsport engineering qualification opens many potential pathways for successful students who have the ambition and drive to get ahead in this competitive field.
UK universities have had students go on to work for Mercedes F1, Morgan, Aston Martin, Rolls-Royce, JLR, Westbourne Motors and HCI Systems.
Best Universities to Study Motorsport Engineering in the UK
The UK is famous for its engineering courses because of the high-tech laboratories and terrific infrastructure. Here is the list of the best universities for motorsport engineering in the UK:
Cranfield University
With unrivalled industry links and facilities unique in the University sector, Cranfield University's approach to postgraduate education has been helping graduates secure roles in global engineering companies for over 70 years. Cranfield's motorsport engineering programmes will provide you "with a sound understanding of the fundamental scientific, engineering and managerial principles".
The University is also home to the FIA approved Cranfield Impact Centre and Cranfield Motorsport Simulation and the University offers a deep understanding of technology and management and how these work together to benefit the world.
University of Derby
Famous for its engineering department, the University of Derby offers a balanced approach to digital and technical skills, regularly ranking as one of the best motorsport engineering schools in the UK. Modules offer in-depth knowledge of various vehicles and systems along with chances of participating in various industry meetups and championships.
Oxford Brookes University
Oxford Brookes University offers taught postgraduate programmes that help develop a strong understanding in topics such as engineering design and management, dynamics, stress analysis and more. Numerous F1 teams, including Mercedes, Red Bull and Aston Martin, offer work placement opportunities for students studying Motorsport Engineering at Oxford Brookes.
University of Hertfordshire
The University of Hertfordshire offers flexible criterias and study options to those who have a keen interest in the multiple Motorsport Engineering programmes on offer. The University offers high-tech software and laboratories to assist learning, including the Cruden F1 race simulator, as well the rolling road dynamometer, one of only a few in the UK.
Coventry University
Coventry University is firmly established as a successful, forward-thinking higher education provider of distinctive courses. The University offers a chance to not just learn the basics of motorsport engineering, but develop other mechanical and professional skills as well, helping individuals learn the nuances of this field of engineering in depth.
Study Motorsport Engineering in the UK
A Motorsport Engineering degree ensures you earn while doing what you love. If you are interested in studying Motorsport Engineering in the UK, arrange your free consultation with SI-UK India today.