An MBA finance is a multifaceted degree that inspires students from a variety of academic backgrounds to develop a critical understanding of techniques and concepts on financial and risk management.
The UK, being home to some of the top business schools in the world, offers some of the best MBA finance courses. From MBA in banking and finance to MBA financial management, there are a plethora of options that students can choose from to study in the UK.
Moreover, studying MBA finance in the UK also opens up a range of career opportunities as the financial service sector in the UK alone recruits 30% of the graduates, followed by consultancy, technology and other global industrial sectors.
Learn more about studying a finance MBA below and if you would like to begin your application, arrange a free consultation with SI-UK India today.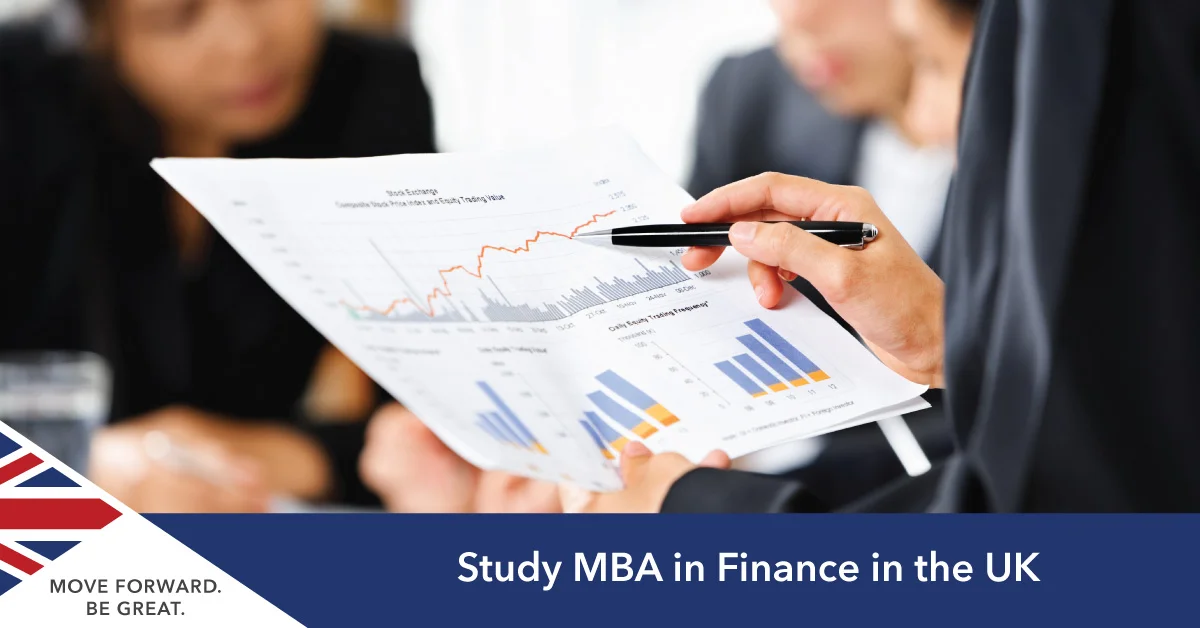 Why Should You Study MBA in Banking and Finance in the UK?
From being student-friendly to the affordable tuition fees, the UK is one of the preferred study abroad destinations amongst international students for many reasons. Here is why you should choose the UK to study MBA in finance.
Short course duration: The UK offers MBA programmes of 1-year duration, which makes studying in the UK a cost-effective solution for students
World-class education: 28 business schools were featured in the QS Global MBA rankings 2022, with 11 institutions ranked in the top 100 categories.
Excellent employment opportunities: The UK is home to some of the business and finance giants in the world. Top companies such as PwC, Deloitte, HSBC and London Stock Exchange are headquartered in the UK.
Varied progression options: Graduates also find themselves using their MBA in stock market and investment banking after the successful completion of a programme.
Popular UK Universities for MBA Finance
Finance is one of the most pursued MBA specialisations in the UK. MBA finance courses in the UK are offered as MBA in banking and finance, MBA financial management, MBA in finance and marketing and MBA accounting.
London Business School
London Business School boasts of a 90% employment rate for its MBA graduates and the MBA in finance is the flagship programme of the School. Candidates require an undergraduate degree of at least UK Second Class Honours, or any international equivalent degree with a GMAT score of 600 to study finance courses in the UK.
Imperial College Business School
Imperial College Business School, part of Imperial College London, one of the top ten universities in the world, is currently ranked 7th in the QS World University Rankings 2022. Imperial offers MBA Finance prime courses to a selective group of 50-55 students each year. Applicants need to have at least 3-years of work experience to apply for the course.
University of Birmingham
One of the most prestigious universities in the UK, the University of Birmingham holds a triple-crown accreditation from the Association of MBAs (AMBA), Association to Advance Collegiate Schools of Business (AACSB), and the European Quality Improvement System (EQUIS). Students need to gain at least 5-years of work experience before they apply for this course.
Anglia Ruskin University
An MBA programme from Anglia Ruskin University will help students to develop their leadership skills with hands-on experience and real-world assignments. Course fees are much lower for international students than many other universities, and it is also available as a two-year programme with a work placement.
University of Greenwich
An MBA in finance at the University of Greenwich focuses on sustainability, strategy, corporate governance, business decision making and finance. Greenwich's finance programme will provide students with a solid knowledge of business strategy and financial management. Applicants need to have four years of full-time work experience to apply for the course.
Study MBA Finance in the UK
To learn more about studying MBA in finance from the above top UK universities and many more, book your free consultation with SI-UK India today.