The Master of Fine Arts, or MFA, is a practice-based postgraduate degree intended to get work in art, design and other creative professions. It is a well-established qualification in arts subjects including designing, sculpting, drama, music, photography, pottery, interior designing and painting. The UK, in particular, offers a range of MFA programmes with a vast array of specialisations available. The MFA is normally longer than other masters degrees in all countries including the UK, with most programmes being of two years duration.
Who is a Master of Fine Arts Degree meant for?
MFA is suitable for creative individuals looking to make a career out of a passion. The degree is a specialist qualification for candidates with specific skills, experience and career goals, much like an MBA. It is often the highest level of formal qualification for practicing in the field of Arts and Design and is thus referred to as a 'terminal' degree. PhD-level qualifications are also offered in Creative Arts subjects, but these are meant for students who wish to teach and research and pursue an academic career. For those who want a little more flexibility, a Master of Arts offers a broader range of classes and prepares them for more diverse career opportunities.
Master of Fine Arts in the UK
Find out about studying for a Master of Fine Arts in the UK below. To apply to study Fine Arts in the UK, visit SI-UK or book your free consultation today.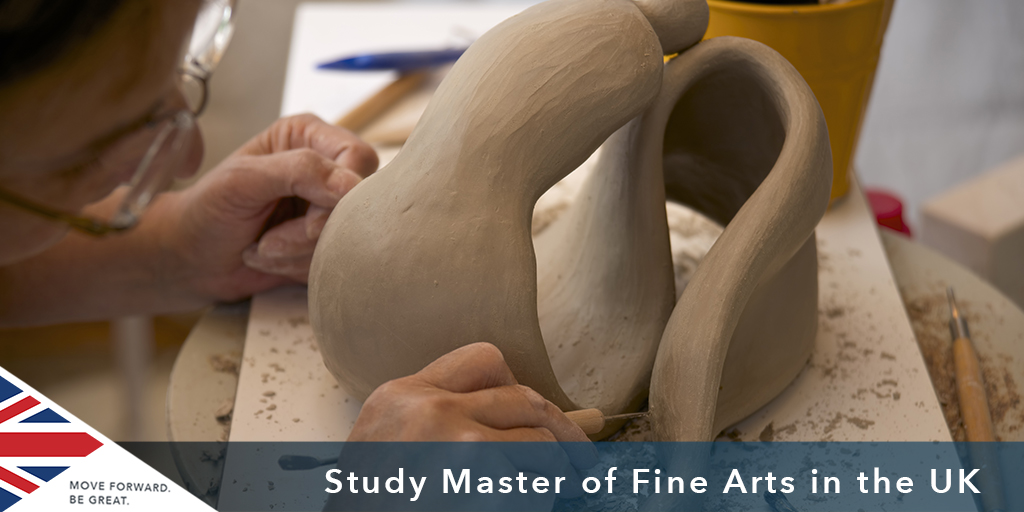 Entry Requirements
A candidate for an MFA typically holds a bachelor's degree prior to admission, but many institutions do not require that the candidate's undergraduate major conform to their proposed path of study in the MFA program. Admission requirements consist of a 'sample portfolio' of artworks or a 'performance audition'. You'll normally need to have the equivalent of a 2:1 or higher to get into one of the good institutes.
Careers in Fine Arts
Students move into careers in the creative departments of software companies, multimedia, publishing and advertising agencies, art studios; in museums, galleries, fashion, and the film industry. They would be involved in a range of roles including photography, illustration, graphic design, interior design and website design. Students can also go on to be a art historian, art dealer, art therapist or art educator. Some can work as a critic or an art specialist as well, but this would require some previous experience in the field. There is a good scope of freelancing in the fine arts.
Top 10 UK Universities offering Master of Fine Arts Courses
Listed below are the top ten universities offering excellent MFA courses in the UK as per the latest QS World University Rankings 2020.
Royal College of Art
University of the Arts London
The Glasgow School of Art
Goldsmiths, University of London
Loughborough University
University of Oxford
University College London
Edinburgh College of Art
Kingston University
Lancaster University
Study Master of Fine Arts in the UK
If you want to apply to study Fine Arts at a UK university, visit your nearest SI-UK India office or book a free consultation to inquire about the courses most suited for you today.