Marine engineering is an area of engineering focused on the design, development, innovation, production and maintenance of different types of equipment used as part of the internal system of ships and onboard sea vessels. Marine engineering is a vast field of expertise which combines other engineering disciplines such as electrical engineering, mechanical engineering, engineering design and control technology. The subject also blends into related subjects such as naval architecture, oceanography engineering and nautical science.
What will I study on a marine engineering course in the UK?
UK universities that offer marine engineering courses work closely with a wide range of scientists, such as oceanographers, biologists, marine archaeologists and economists. Courses are informed through these experts and you will:
Study more advanced subjects related to the design of conventional ships and the range of machinery and systems introduced through case studies and problem-based learning.
Study power and electrical systems, transmission and propulsion systems, as well as refrigeration and heating systems.
Gain practical experience through a hands-on module in manufacturing methods.
Study structures, fluids and thermodynamics, control, mathematics and business.
Specialise in your chosen discipline in marine engineering and marine systems.
Learn more about a selection of the best marine engineering degrees in the UK below (Edurank 2023) and begin your application to study in the UK by booking a free consultation with SI-UK India.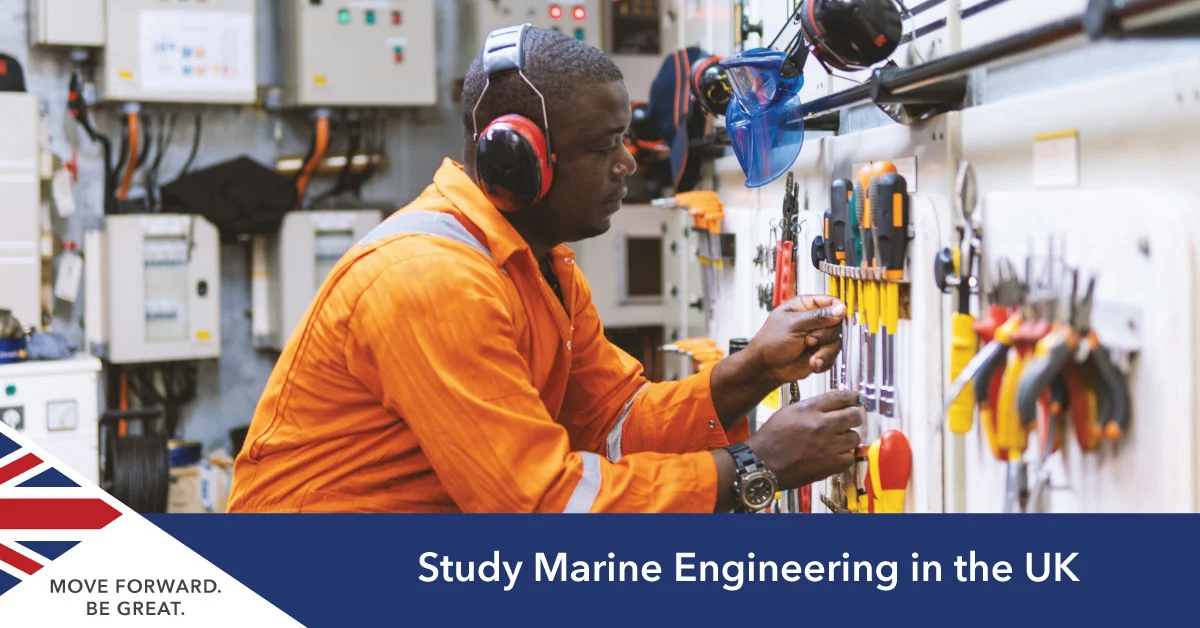 Top Five UK Universities for Marine Engineering
All of Southampton University's master's in engineering degrees are accredited by IMechE, RINA, and IMarEST, meeting the academic requirements for Further Learning and Chartered Engineer/Marine Engineer registration. Southampton's specialised MSc in Marine Engineering and Autonomy provides an advanced understanding of fundamental principles, methods, and applications of maritime engineering science and students will build expertise in subjects such as electrical theory, thermodynamics, and machine tribology and explore marine engineering systems crucial to ship design.
The degree also includes the study of diesel engines, steam and gas turbines, and electric propulsion, as well as dynamic response analysis of the main shaft and related components.
The University of Strathclyde marine engineering degree will equip students with the necessary skills to tackle engineering challenges on a variety of marine vehicles. Students will also gain an understanding of the significance of marine engineering in the successful design, construction, repair, and maintenance of marine vehicles.
Students who enrol for the Naval Architecture and Marine Engineering degree at the University of Strathclyde will delve into a range of specialised marine engineering subjects such as control theory, electrical systems, and marine engine design. Candidates will also study core naval architecture subjects in buoyancy, floatation, stability, and ship types, with the opportunity to develop more specialist knowledge as they progress.
Cranfield University specialist Marine Propulsion Technology option MSc in Thermal Power and Propulsion focuses on gas turbine application for marine graduate transportation and is suitable for graduates seeking a career in marine propulsion systems design, development, operation and maintenance.
While studying for a master's degree in marine engineering at Cranfield, students can choose from a range of optional modules and select an appropriate research project, while an intensive two-week industrial management course is offered to assist in achieving exemptions from some engineering council requirements. Graduates gain a comprehensive background in the design and operation of different types of propulsion systems for marine applications, with a particular emphasis on ship propulsion systems, ship auxiliary systems, propulsion system integration, alternative fuels, and regulatory frameworks.
The MSc in Marine Renewable Energy course at Heriot-Watt comprises eight taught courses and an individual research project, enabling students to specialise in a topic of their choice. The course has strong links with marine renewables stakeholders and is uniquely experienced in the geographical heart of marine renewables in the UK.
The degree focuses on technical, environmental, and economic drivers shaping the marine renewable energy industry. Guest lectures and practical sessions are part of the degree, giving students opportunities to meet developers and others involved in the renewable energy industry. Students take one core course each in the first two semesters and select three optional courses from a list of options. The programme culminates with an environmental dissertation in the third semester.
Course in focus: MSc Marine Renewable Energy
Entry Requirements: 2:2 honours degree or equivalent international qualification in a related subject area
International Student Fees: £17,320
The Marine Engineering MSc at Newcastle provides a comprehensive understanding of marine engineering on topics like ship propulsion machinery and transmission, system reliability, condition monitoring, and electrical systems. The course is ideal for practising professionals and recent graduates with backgrounds in marine engineering, mechanical engineering, naval architecture, offshore engineering, civil engineering, and ocean engineering.
The course structure helps students develop their analytical skills and knowledge in marine propulsion and transmission systems, control systems, systems reliability, maintainability, and marine technology. Graduates will have the ability to develop engineering solutions, conduct laboratory work or simulation with technical analysis, critically evaluate results and integrate information from various sources.
Course in focus: Mechanical Engineering MSc
Entry requirements: 2:2 honours degree or international equivalent in a relevant subject
International student fees: £27,600
Careers in marine engineering
Marine engineering graduates work in lots of different settings and industries, including:
Government, academia or the private sector
Marine engineering firms
Naval forces
Oil and gas industries
Mineral extraction companies
Architectural and boat-building firms
Transportation companies
Shipyards, ports
Scientific services
Marine consultancy
Survey agencies
Study a Marine Engineering Degree in the UK
Begin your journey towards becoming a fully qualified marine engineer by arranging a free consultation with SI-UK today.