LLM Business Law provides advanced legal education in the field of commercial and business law. The programme is designed to help students understand the legal framework governing domestic and international businesses, and students learn about the regulations, rules, and principles that apply to various business activities, such as corporate governance, financial services, intellectual property, competition law, international trade, and more.
An LLM Business Law aims to help students develop their analytical and critical thinking skills and allow them to specialise in a particular area of business law. The LLM in Business Law programme allows students to critically evaluate the legal issues affecting businesses, develop innovative solutions to complex problems, and communicate their ideas effectively.
Law is a sought-after degree in the UK for international students because of expert teaching, world-class facilities and groundbreaking legal research. A master's in business law typically lasts one year.
Learn more about studying business law in the UK below and begin your application by arranging a free consultation with SI-UK India.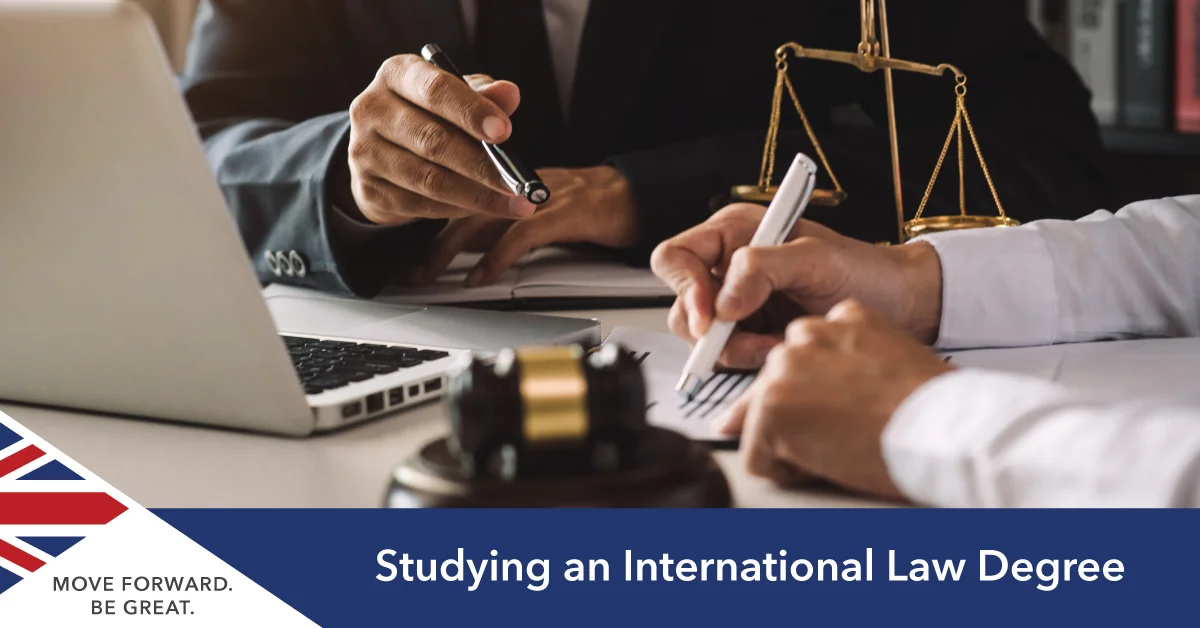 Best LLM Business Law Courses in the UK
London School of Economics is among the best law and business universities in the UK and globally. Its LLM programme offers flexibility for students to create a programme that suits their academic and professional objectives. Students can choose to expand their knowledge by engaging with diverse legal areas or focus on a particular subject area and graduate with a specialist LLM.
The International Business Law Specialism within the LLM in Business Law covers various modules such as Principles of Global Competition Law, Corporate Governance, International Business Transactions, International Trade Law, and Financial Crime. The Law School runs over 60 postgraduate degrees each year, divided between two teaching terms. Students are encouraged to think broadly and challenge themselves by taking courses that develop their legal education in ways that take them outside their comfort zone.
The International Business Law LLM at King's College London is a specialised postgraduate course designed to equip students with a practitioner perspective and the relevant skills to practice international business law with a major law firm or a multinational corporation. The programme focuses on international trading, financial/banking, and energy transactions and resolving international business disputes through arbitration and/or business litigation. Led by experienced academics and practitioners, the programme offers a unique student experience, drawing on the real-world experiences of staff and other practitioners, and emphasises innovative and problem-solving teaching methods.
The range of International Business Law LLM optional modules includes international and comparative trust law, banking law, taxation of business enterprises, world trade law, green finance, energy transitions & green tech, international investment law, corporate governance, international commercial arbitration, and insurance law.
The University of Manchester's LLM in International Business and Commercial Law is a postgraduate degree that gives students an advanced understanding of the legal framework governing commerce and finance in today's international market. The course encourages students to explore the legal challenges faced by multinational companies doing business worldwide and to analyse the fundamental legal framework for dealing with them. Students will study corporate governance, international trade transactions, and competition law.
The curriculum includes 30 different units each year, with a wide range of subjects across the legal spectrum, such as international trade and corporate law, financial services regulation, European law, intellectual property law, human rights law, corporate governance, and law and finance in emerging markets. It aims to develop a thorough knowledge of the legal fundamentals of international commerce and finance, gain deeper insight into specific problems and critical issues international business faces, and understand relevant academic debates and new developments in law.
The LLM International Commercial and Business Law is designed to provide an advanced understanding of regulating businesses in the UK, Europe, and worldwide. It is focused on contemporary developments and debates related to the traditional and emerging forms of legal governance of domestic, European and international commercial and consumer markets. The degree covers how good corporate governance and competitive markets are promoted, as well as how legal and soft law rules and codes regulate goods and services, internet activities, data protection, consumer protection, and the environment.
The curriculum consists of one compulsory module on Contemporary Issues in Commercial and Business Law, and four optional modules. The optional modules cover a range of topics in business law and allow students to tailor the course to their specific interests. It also provides research-led teaching that continually evolves to address the latest challenges and breakthroughs in the field.
Eligibility Criteria for LLM Business Law
The base requirements that all applicants need to fulfil to get admission in LLM Business Law in the UK include:
A bachelor's degree in subjects like LLB law, sociology, politics, economics, history etc from a recognised university with a minimum aggregate of 60% or more
IELTS or other English language test scorecards with a minimum value of 6.5 or above for successful admission
Cost and Scholarships for LLM
The average cost of studying in the UK can be anywhere between £20,000 to £40,000, depending on the choice of university. To support students, the universities in the UK offer many scholarships and grants to students in need. Here is the list of all the available aids provided to Indian students who wish to pursue their higher studies in the UK:
Chevening Scholarships
Rhodes Scholarships
Commonwealth Scholarship and Fellowship
GREAT Scholarship
Other scholarship programmes are also organised by the universities for needy or meritorious students. All these scholarships provide varied benefits to students who need help in supporting their higher education in the UK.
Study Business Law in the UK
If you are interested in studying for a master's in business law in the UK, arrange a free consultation with SI-UK India today.