Located within Greater London in the town of Kingston Upon Thames, Kingston University is home to over 18,000 students from 140 countries. At Kingston, students enjoy a vibrant student life while also fulfilling their ambition of studying in an academically conducive environment at one of the popular public universities in London.
A top 40 UK university, Kingston University London is one of the best UK universities for Indian students wishing to study in the UK due to its wide range of courses, stellar facilities, excellent location, notable alumni and international scholarships.
Learn more about why you should choose to study at Kingston University London below and apply free of cost with SI-UK today.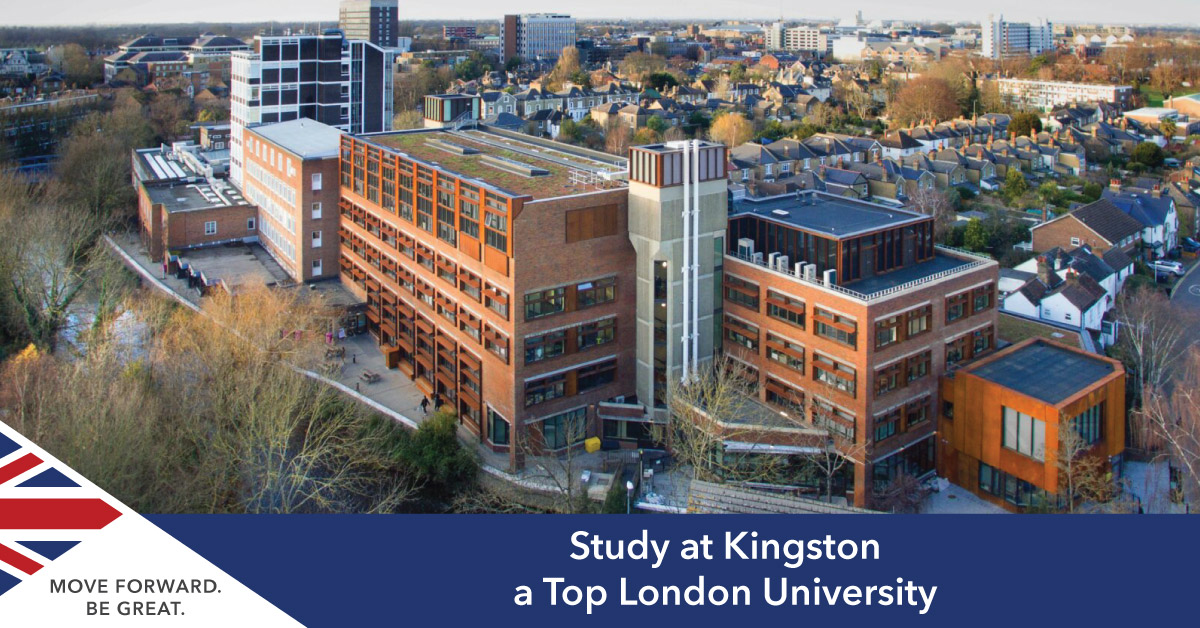 Why Choose Kingston University?
Rankings and Reputation
Kingston is ranked in the UK's top 40 as per the 2021 Guardian University Guide
A top 10 London University and ranked in the top 200 young universities in the world as per the Times Higher Education University Rankings
Top in London for education, fashion & textiles, pharmacy, sports science, journalism, biosciences and nursing studies
95% of graduates are in work or further study six months after graduating as per HESA
Kingston University Courses
Kingston University comprises four faculties, the Faculty of Art (Kingston School of Art), Faculty of Health, Social Care and Education, Faculty of Business and Social Sciences and Faculty of Science, Engineering and Computing. Each faculty offers a wide range of undergraduate and postgraduate programmes, several of which rank highly in the Guardian University Guide.
Popular Kingston University courses according to the Guardian League Table 2021 are in Fashion & Textiles, Journalism, Architecture, Design & Crafts, Sports Science, Education and Biosciences. The School of Art's fashion degree is considered amongst the best in the world according to leading sector influencer Business of Fashion.
State of the Art Facilities
Kingston has invested £123 million across its four campuses in equipment and facilities to offer an excellent practice-based learning environment for its students. Apart from the expected resources such as a 24 hour library, two cafes, a courtyard and event spaces and studios, the University offers many world-class, interactive learning, subject-specific facilities in all its faculties.
The Art School has 3D materials, moving image, digital media and photography workshops and a music recording and printmaking studio. The Engineering faculty has a LearJet Lab, flight simulator and Centre for Augmented and Virtual Reality. Other facilities include the Bloomberg trading room and an in-built hospital ward.
University Location
Kingston is a popular London university located in an affluent part of south-west London. Kingston upon Thames is only 30 minutes from central London and is known as one of the safest and happiest places to live in the UK. The University is well connected and a free inter-site bus service runs between the campuses, linking them together.
Kingston is full of history with a royal palace and an ancient market located in the town. It is also a shopper's dream with more than 500 shops and outlets, and has several vibrant pubs and restaurants situated by the River Thames. Kingston is home to two royal parks including the large Richmond Park and is close to other famous attractions such as the Kew Gardens.
Kingston Alumni
Graduating from Kingston will make you a part of the Kingston alumni which includes famous persons like actor Ben Barnes, guitarist Eric Clapton, artist Fiona Banner, sculptor David Nash, architect Alexander Yusuf, Harper Bazaar's editor Glenda Bailey and businessman Ratheesan Yoganathan. Students can network with the 200,000 plus fellow alumni and business and management students can also join the University's networking platform Kingston Connect.
Scholarships and Bursaries
Kingston offers some international scholarships and bursaries to Indian students who secure admission at the University. Students can avail postgraduate scholarships such as:
International Development scholarship worth £2,000
International Economics scholarship worth £1,500
Postgraduate Progression scholarship which offers 15% reduction in postgraduate course fee for international Kingston students
Externally funded scholarships at the university include:
Chevening Scholarships which cover the cost of a one year masters degree
Commonwealth Scholarships which cover the cost of a one year masters degree
Study at Kingston University
If you want further information regarding courses, scholarships and 2021 entry at Kingston University, contact SI-UK India and arrange your free consultation with our expert counsellors today.
Related Articles: