A UK healthcare management master's prepares students for academic and professional careers within the healthcare sector. Through postgraduate healthcare management courses, international students will learn the practical and theoretical aspects of management and leadership and how they can be applied in practice.
Learn more about studying a master's in healthcare management in the UK below and begin your application to study in the UK by arranging a free consultation with SI-UK India today.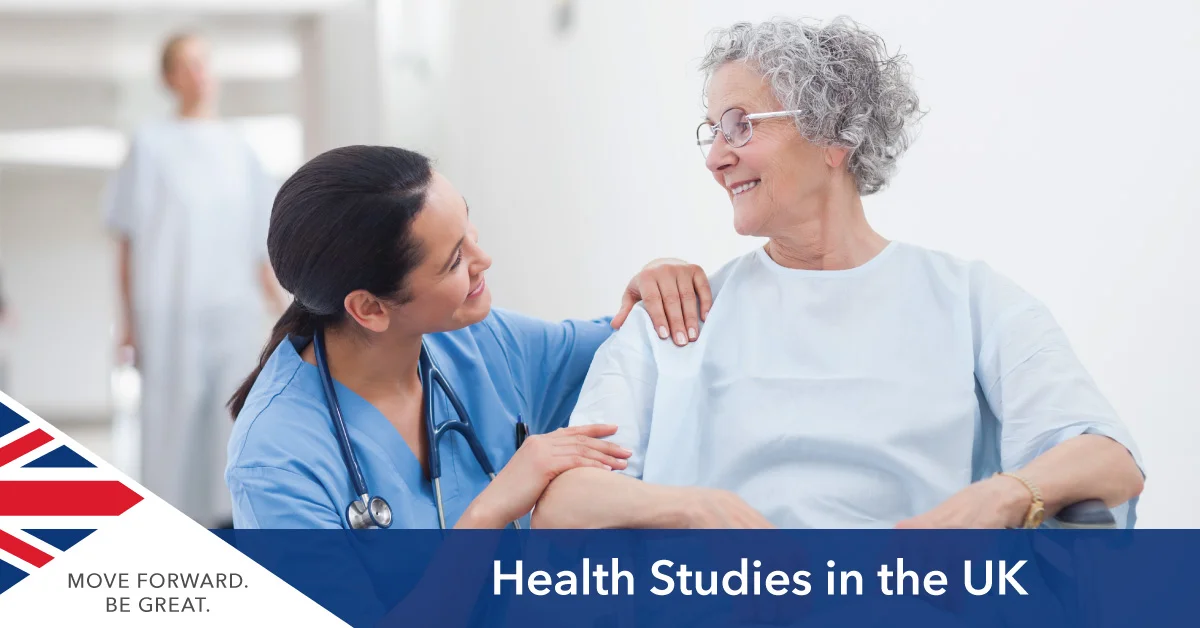 Types of Healthcare Management Masters Courses in the UK
Many programmes in the UK are specifically created for individuals and students who want to develop their leadership and management skills alongside their expertise in the healthcare sector. Successful completion of healthcare MBA programmes such as the MBA in Healthcare Management, MBA in Hospital Management and MBA in Hospital Administration will help you learn how to respond to the healthcare industry's biggest challenges in the 21st century.
For students interested in studying a one-year master's in healthcare, courses such as the MSc Healthcare Management, Masters of Health Administration and Masters in Hospital Administration will ensure you are ready to progress towards senior leadership roles in the healthcare sector.
Master in Healthcare Management courses is available both full-time and part-time. Many UK universities provide other specialisations closely related to healthcare management, such as a master's in healthcare administration or a master's in health policy.
Master in Healthcare Management Entry Requirements in the UK
Entry requirements for studying for a healthcare master's degree in the UK depend greatly on the university. However, general entry requirements are as follows:
A UK 2.2 degree in Bachelor in Healthcare Management or relevant courses from a recognised university, or...
At least two years of relevant work experience
Popular Healthcare Management UK Universities
City, University of London
City, University of London offers a Global Health Management degree which aids ambitious professionals worldwide in honing their applied business skills in a global and cross-sector context.
Through the MSc Health Management, students are provided with the tools to apply their business knowledge in various healthcare and global healthcare management contexts. By working on live projects while collaborating with a diverse cast of healthcare professionals, students enhance their interpersonal skills and gain valuable real-world experience with each other and industry experts.
Course in focus: MSc Health Management
Entry requirements: The prerequisites typically include obtaining a minimum 2:1 grade from a UK University or an equivalent overseas qualification. In some cases, a lower 2.2 grade or equivalent may be acceptable if accompanied by evidence of additional studies or relevant experience.
International fees: £16,320
Anglia Ruskin University
Modern healthcare is complex and requires leaders and managers with various skills. Anglia Ruskin University's MBA Healthcare Management programme provides the opportunity to develop the necessary skills while understanding how to view the healthcare industry through multiple lenses.
ARU also provides healthcare management degrees as an undergraduate degree, such as BSc (Hons) in Business and Healthcare Management.
Course in focus: MBA Healthcare Management
Entry requirements: A first degree with honours, achieving a minimum final classification of Lower Second (2:2) or its equivalent. Non-native English speakers are required to provide evidence of their English language proficiency. This can be demonstrated through a certified proficiency level of at least IELTS 6.5 (Academic level) or an equivalent qualification recognised by Anglia Ruskin University.
International fees: £18,100
Imperial College London
Imperial College London's Health Policy courses provide the opportunity to learn the underpinnings of health policy from international academics and practitioners.
Candidates will learn about health policy's role in quality patient care. Through a blended online and face-to-face teaching model coupled with personal study, individuals will acquire detailed theoretical knowledge of health policy. Students also get hands-on experience in studying quantitative and qualitative research methods that will enable them to carry out original studies.
Through Imperial's health policy course, students will be able to recognise how critics will challenge the emerging policy in terms of what works and what is actually the healthiest alternative. As they move forward in their career, students will see a comparative perspective that enables them to understand why different policies exist worldwide.
Course in focus: MSc in Health Policy
Entry requirements: A first degree with honours, achieving a minimum final classification of Lower Second (2:2) or its equivalent, in addition to an English language test for non-native speakers.
International fees: £37,800
University of Southampton
With the University of Southampton's health management courses, candidates will learn the skills to improve their leadership, managerial, and organisational skills. Students will be prepared to lead strategy and tactics as future health and social care leaders.
This master's program in Health Management at Southampton is ideal for aspiring medical, health and social care team leaders who aspire to make a difference at the highest levels of their field.
The course focuses on inspiring people and organisations to reach their full potential. It prepares students for supervisory or management positions in healthcare systems worldwide, whether as leaders or managers of medical or healthcare professionals.
Course in focus: MSc in Leadership and Management in Health and Social Care
Entry requirements: Applicants for a healthcare management degree should hold a 2.2 honours degree in a relevant subject, such as clinical, health, science, or social science. While having three years of work experience can be advantageous, it is not a mandatory requirement for admission.
International fees: £25,400
Career Opportunities in Healthcare Management
Health Policy Analyst: Analyses healthcare policies, regulations, and legislation to assess their impact on healthcare systems and organisations
Clinical Manager: Manages clinical trials in a specific clinical area, such as neonatal care or radiology, within pharmaceutical companies or research organisations.
Assistant Health Manager/Administrator: Oversees employees, finances, and procedures within a healthcare facility, with responsibilities including budget balancing, managing group practices with multiple locations, and reviewing projects.
Healthcare Marketing Manager: Develops and implements marketing strategies to promote healthcare services, attract patients, and enhance brand awareness.
Nursing Home Administrator: Oversees the entire facility and gains insights into the special requirements of patients in need.
Clinical Research Manager: Coordinates researchers, study participants, physicians, and pharmaceutical executives in clinical research.
Healthcare Management Scholarships
Various scholarships are available in the UK for studying healthcare management. Here are a few examples:
UCL GBSH Scholarships: The UCL Global Business School for Health offers a range of scholarships, such as the Roche UK MBA Health Scholarship, GBSH EMBA Award for Excellence, EMBA Health Future Impact Leaders Scholarships, GBSH MBA Award for Excellence, MBA Health Future Impact Leaders Scholarships, Global Healthcare Leaders Scholarship, Women Healthcare Leaders Scholarship, and UCL East London Scholarship.
London Business School Healthcare Scholarship: This scholarship, funded by the London Business School, offers up to 50% of tuition fees to successful MBA applicants working in healthcare, medical research, or pharmaceuticals. Preference is given to those interested in continuing their careers in the healthcare sector.
Master's Scholarships in Digital Health and Care: The Digital Health and Care Institute (DHI) in Scotland awards up to 20 full-time equivalent (FTE) Master's scholarships each year to students pursuing MSc or MRes studies in Digital Health and Care. These scholarships are funded by the Scottish Funding Council (SFC) and are administered through the University of Glasgow.
These scholarships aim to provide financial support and opportunities for exceptional candidates, focusing on promoting diversity in healthcare leadership and supporting individuals from underrepresented groups. Eligibility criteria, application deadlines, and specific requirements may vary for each scholarship programme.
Study Masters in Healthcare Management in the UK
Book a free consultation with SI-UK India today if you want to learn more about studying healthcare management in the UK.
Healthcare Master's FAQ
What degree is best for healthcare management?
The best degree for healthcare management is a Master's in Healthcare Administration (MHA) or a Master's in Business Administration (MBA) with a specialisation in healthcare management. These degrees provide a comprehensive understanding of healthcare operations and management principles, making graduates well-equipped for leadership positions in the healthcare field.
What is the role of healthcare management?
The role of healthcare management professionals is to oversee and coordinate the operations of healthcare companies. Healthcare managers are responsible for ensuring efficient delivery of services, managing budgets and resources, implementing policies, and leading teams.
What is a healthcare management course?
A healthcare management course is a structured programme of study that equips individuals with the knowledge and skills necessary to manage healthcare organisations effectively. It covers topics such as healthcare systems, healthcare policy, finance, leadership, and strategic planning.
What is the scope of healthcare management?
The scope is expanding due to the increasing complexity of the healthcare industry and the need for effective management. Healthcare managers can work in hospitals, clinics, long-term care facilities, pharmaceutical companies, insurance organisations, consulting firms, and government agencies. They can hold positions such as healthcare administrators, department managers, healthcare consultants, and healthcare executives.
How long is the healthcare management course?
Generally, a bachelor's degree in healthcare management takes around 3 to 4 years to complete. A master's typically takes 1 to 2 years to finish.