The gaming industry is one of the most thrilling industries to work in and is growing exponentially all over the world. If you are passionate about taking your interest in gaming to the next level and want to make a career out of it, then the UK is the place to be. The UK gaming industry is one of the biggest in the world with more than 32 million people in the UK playing games and participating in game festivals and gameathons.
Not only can you study some of the world's best programmes in gaming in the UK, but you can also find excellent high paying jobs when you have what it takes to stand out in the competitive UK job market. UK graduates have a lot to offer to employers thanks to their interaction with the best staff and students from the world-over and being in close contact with students from related disciplines such as programming and artificial intelligence.
About 200 gaming courses are offered at 130 UK universities at the undergraduate level, often within the department of Computer Science, and range widely from games design and esports to digital games theory and games journalism.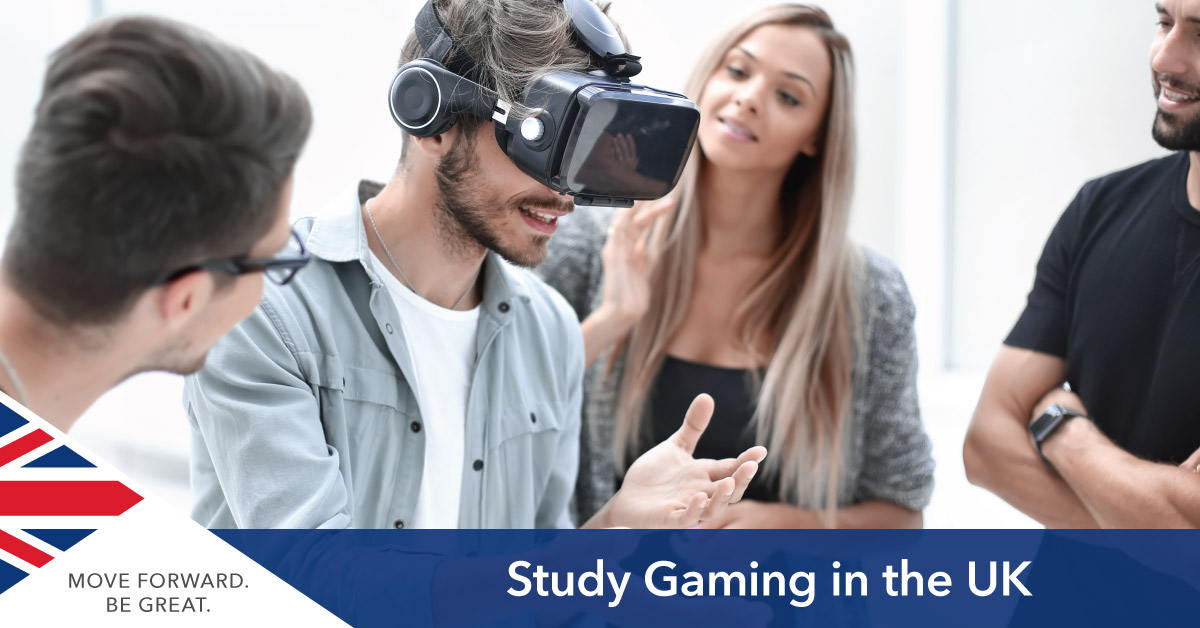 Gaming Careers in the UK
Employment in the field of gaming is widely available but is also competitive. Employers include IT companies, creative agencies, advertising and broadcasting enterprises and PR and communications companies. UK universities boast of international industry links and with the new post-study work visa, finding work in the UK is easier than before.
You can work within gaming art, design, programming or other support functions and can find employment as a games designer, games developer, applications developer, animator, graphic designer, game artist, VFX artist and software engineer.
Gaming Facilities at UK Universities
UK universities offer state of the art facilities and innovative teaching approaches for everything from visual effects to motion sensors to immersive experiences. There are gaming labs equipped with the latest graphic cards and new computer gaming engines. You will get the means to explore the latest and cutting edge technology in gaming in today's world used to develop video and phone games and virtual and augmented reality.
Best Universities to Study Games Design in the UK
1. Staffordshire University
The TEF Gold rated Staffordshire University is a leading institution for Computer Games. The University is also credited with launching the UK's first ever Esports degree and boasts good job prospects for graduates. You can study a gaming course accredited by TIGA, the UK's top gaming authority, at Staffordshire which focuses on both game development and programming within one course.
Course offered: Three year full-time BSc in Computer Games Design
2. Manchester Metropolitan University
One of the best universities in the UK for game design, Manchester Metropolitan University offers a gaming programme that will educate you in both gaming design as well as mobile gaming. The course also comes with a one year placement option, so that you can gain relevant experience at a gaming firm while studying at MMU.
Course offered: Three or four year full-time BSc in Games Design
3. Brunel University
Brunel University is a leading, forward-looking London university with a strong focus on graduate employability. It offers a blend of theory and practice in its games design programme to provide the knowledge and skills required to succeed as a gaming professional.
Courses offered: Three year full-time BA in Games Design and BA in Games Design and Creative Writing
4. University of Southampton
A founding member of the UK's top Russell Group of universities, the University of Southampton offers a course that provides a blend of the theoretical and creative aspects of gaming. You will study design, animation, storytelling and coding as part of the course which focuses on gaming art.
Course offered: Three year full-time BA in Games Design and Art
5. De Montfort University
Known for its innovative teaching and research in unique subjects, De Montfort University is a strong name when it comes to studying gaming programmes in the UK. The University's alumni have worked on famous games like Grand Theft Auto.
You can study how to design world-class games content designing and learn games technology and tools. You can opt for an additional year-long placement opportunity to gain vocational experience as well.
Courses offered: Three or four year full-time BA in Game Art and BSc in Games Production
6. Abertay University
A Scottish university best known for its expertise in computer games and design, Abertay University is home to one of the most prestigious game design schools in the world. Abertay was the first UK university to offer a range of Computer Games degrees and consistently ranks 'Top in Europe for Video Game Education' (Princeton Review).
Abertay offers a blend of creative skills and technical knowledge in its popular gaming course so as to help you excel as a games designer and producer.
Course offered: Three year full-time BA in Games Design and Production.
Study Gaming in the UK
Give the best possible start to your career by studying gaming at a UK university. Start your application by arranging your free consultation with one of our expert consultants today.
Related Articles