Event management involves planning and organising events whilst overseeing each aspect of the logistics involved in putting them together. Event managers are responsible for administering various types of events, including promotional, business, political, and social. They have to deal with vendor relationships, financial challenges, and staff management effectively to make the event successful.
With businesses, politicians, and public figures banking on big gatherings and meetings to connect with their audience, the relevance of event management has grown manifold in recent times.
In the UK, several universities offer top-notch event management courses, including Diploma and MBA in Event Management, preparing students for a rewarding career in this field. As a student who joins an events management course, you will gain an understanding of how events are envisioned, planned, staged, and tailored to global audiences. In addition, this will enable you to appreciate how events entertain, inform, and inspire others.
To learn more about the best event management colleges in the UK (Guardian University Guide 2023), read on below. Begin your application by arranging a free consultation with SI-UK India.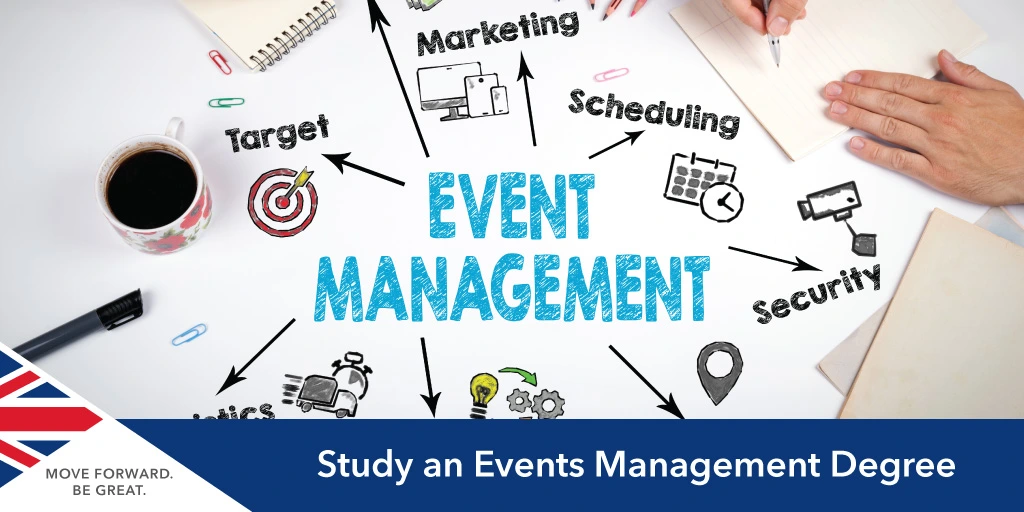 Top Five Universities for Event Management
De Montfort University is a 153-year-old institute of higher education in Leicester, known for its globally-reputed MSc in Cultural Events Management. The programme covers a wide range of topics, including event design, planning and management, marketing, and sponsorship. Students gain practical experience by organising events and festivals throughout their studies. DMU has strong links with the event industry, providing students with valuable networking opportunities and work experience placements.
Additionally, the event management course will equip you with strategic planning skills to organise events that achieve political, economic, and social objectives. It is an opportunity to learn from experienced tutors who have managed festivals, sports, MICE (meetings, incentives, conferences, and exhibitions), and non-profit events. Furthermore, you will attend talks by top industry experts, enhancing your understanding of the field.
The University of Lincoln offers MSc in Events Management, which covers everything from event planning and organisation to budgeting and marketing. It covers significant contemporary topics, including sustainability, entrepreneurship, the new marketing environment, and the role of events in society. The university has excellent industry connections so that students can benefit from guest speakers, networking events, and work experience opportunities.
With this internationally-focused course, you will have the opportunity to enhance your understanding of the dynamic socio-cultural, economic, and political contexts in which events are planned and executed. The programme aims to equip you with the knowledge and skills required for event management, providing you with high-level managerial and intellectual abilities upon graduation.
The University of Derby is a popular choice for students interested in pursuing a career in event management. The BA (Hons) Event Management course offers a comprehensive understanding of modern-day event management and business management skills. Students will explore events from diverse perspectives and learn about their economic, socio-cultural and political societal roles. They will become experts in identifying civic needs and planning community-led event projects to address urban problems.
The degree also covers the value of events in tourism and destination development and how to develop city-wide event strategies and policies and adapt to changing external environments while considering sustainability. Graduates will have a diverse skill set and knowledge of event safety legislation, research, financial management, team leadership, and project management. They will be equipped to succeed in the events industry with a 'can-do' attitude.
The University of Chester's BA (Hons) Events Management is a top rated course that covers a broad range of topics, including event design, planning and management, marketing, and budgeting. It strongly focuses on practical experience, with students required to organise events throughout their studies. This is considered an immersive experience in Events Management, providing students with access to industry exposure, interactive learning, and opportunities to manage their own events.
Volunteering is a crucial component, offering students a wide range of opportunities at events such as Christmas parades, sporting events, and music festivals. The course also emphasises developing essential skills for the competitive events management industry, working closely with AEME and industry stakeholders to ensure the course content is up-to-date and relevant.
International Event Management BSc (Hons) at the University of Surrey has a strong reputation for producing well-equipped graduates for a career in the events industry. Enrolling in Surrey's programme will allow you to develop specialised skills and knowledge in both event management and business administration. The course covers event planning and organisation, marketing, budgeting, and other internationally relevant topics.
The Event Management course at Surrey is rated as the best in the UK for tourism, transport, travel, and heritage studies. As a student, you'll have the opportunity to explore events on an international scale through the university's Professional Training placements. The school's intrinsic links with the industry, coupled with its proximity to London, provide you with ample opportunities to grow and succeed. As a student, you'll have the opportunity to explore events on an international scale through the university's Professional Training placements.
Study an Event Management Course in the UK
Are you considering studying for an event management course in the UK? Arrange a free consultation with SI-UK India to get all your questions regarding university selection and career options answered.