Environmental Engineering is a specialised discipline of Engineering which involves studying issues related to the environment and how to curb them. Environmental engineers dedicate themselves to providing solutions for waste and water management, sanitisation, utilising renewable sources of energy, dealing with pollution, global warming etc and ensuring sustainable development.
Masters in Environmental Engineering
Read below to find out more about studying a Masters in Environmental Engineering in the UK, or apply with SI-UK India by booking a free consultation today.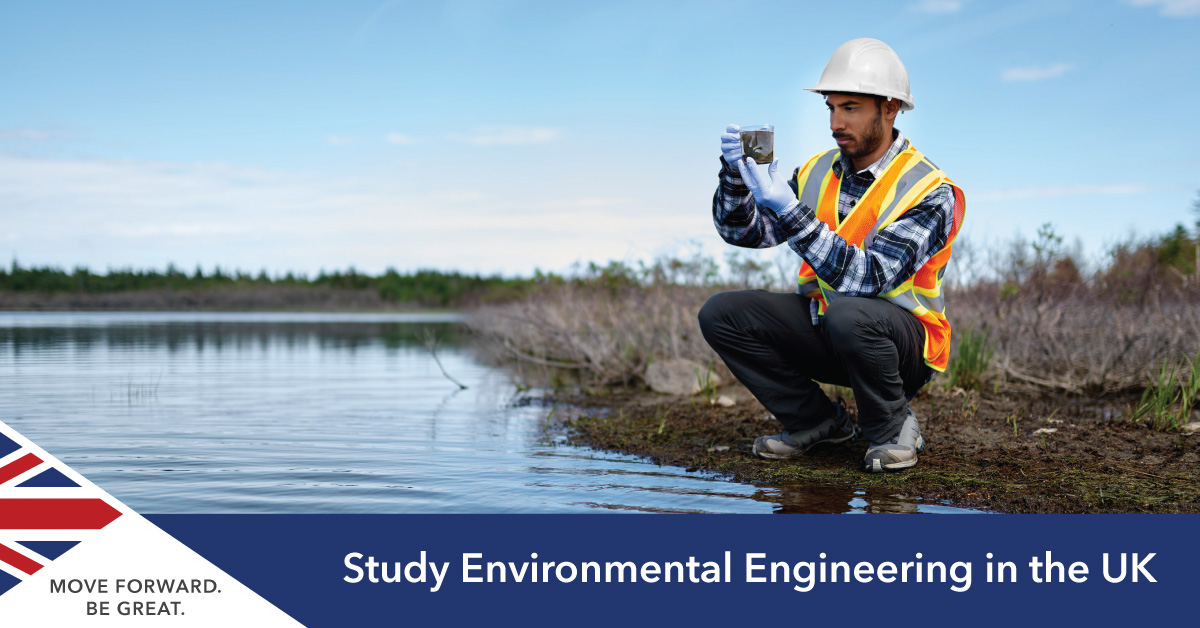 Why Study a Masters in Environmental Engineering in the UK?
The UK is home to some of the best engineering colleges in the world. Thousands of students apply each year to study at top universities in the UK for MSc in Environmental Engineering.
Universities accept graduates from all science subjects such as biology, chemistry, mathematics, etc.
Studying a masters in Engineering in the UK offers students a combination of theoretical and practical knowledge.
Students will have access to the best infrastructure and state of the art facilities at UK universities.
Students will get to participate in workshops and projects during their studies and will learn how to design and create new plans and systems for environmental preservation.
Students will be taught by some of the best professors and guest lecturers in the world and will develop an analytical mind and learn how to work in a challenging environment.
Environmental Engineering Scope
Pursuing an environmental engineering career has immense scope considering the rapid degradation of the earth and its natural resources. There is a huge demand for environmental engineering specialists today and environmental engineering finds a place in the critical occupation list in the UK. Companies that deal in chemical, mining and petroleum industries require people from the field.
Environmental Engineering Jobs
Students can take up jobs in the chemical, mechanical, electronic, automotive and thermal and radioactive industry amongst others. Also, the energy, gas, and oil sectors are profitable for building a career in the field. Lots of research work is being done in the field and students can join NGOs and public sectors undertaken by the government. Graduates can be employed as an environmental consultant, air quality inspector, greenhouse constructing engineer, wastewater engineer and water project manager to name a few.
The average salary in the UK after masters in Environmental Engineering is around £38,000. Students applying for September 2021 entry can benefit from the new post-study work visa or the Graduate Immigration Route which will allow them to live and work in the UK for two years post-completion of their degree.
Study at a Top Five UK University for MSc Environmental Engineering
Here are the best universities for studying a Masters in Environmental Engineering in the UK:
1. Cranfield University
The MSc Environmental Engineering at the School of Energy, Environmental Technology and Agrifood at Cranfield University provides students with the theoretical and practical knowledge needed to solve various challenges in the field of environmental engineering.
2. University of Leeds
The Environmental Engineering and Project Management MSc at the School of Civil Engineering at the University of Leeds provides working professionals with the skills and technical knowledge needed to keep up with the evolving field of environmental engineering.
3. University of Strathclyde
The MSc Environmental Engineering in the Faculty of Engineering offered at the University of Strathclyde, Scotland offers students the opportunity to build a career in environmental engineering by studying and learning real-world issues.
4. University of Greenwich
The MSc in Environmental Engineering offered in the Faculty of Engineering & Science at the University of Greenwich is for students who are keen on designing systems and applying new sustainable techniques to solid waste management, contaminated land and water and managing the resources of the earth.
5. Queen's University Belfast
The MSc in Environmental Engineering offered in the School of Planning, Architecture and Civil Engineering at Queen's University, Belfast, Ireland aims at developing in students critical analysis skills and an understanding of issues related to environmental engineering.
Study Environmental Engineering in the UK
If you are interested in studying an MSc Environmental Engineering in the UK, book a free consultation with SI-UK India today. Our expert education counsellors will help you select the right course and will also provide complete application and visa support.