Business economics courses help students build their knowledge across a broad area of economics. Through this course, students will develop the skills to understand the economical issues that one encounters in the business world.
A business economics course provides students with the required theoretical and practical skills that they will need to understand as well as implement economic decisions by managers, businesses and financial specialists.Candidates will learn about:
Microeconomics and macroeconomics
Ethics in business
Modern economics used in the modern world of business
Business strategy
Business economics is also known as managerial economics, covering the foundation of managerial economics that includes financial markets, business practice, data analytics, accounting and finance, as well as applied economics. In master economics courses, students will further learn about econometrics, labour economics and globalisation.
Business Economics Courses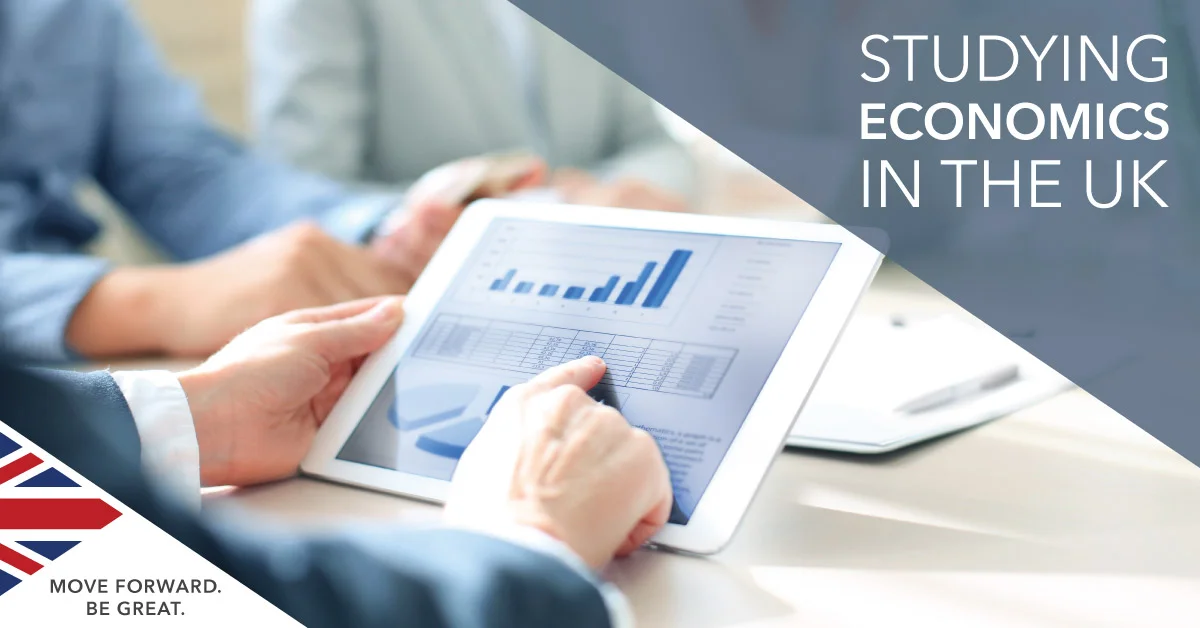 Career After Business Economics Courses
Business economics degree courses help candidates develop problem solving, flexibility, communication and commercial awareness skills which are highly valued by employers.
Some of the common professions that candidates move into after completing courses in managerial economics are:
Business Account Manager
Business Analyst
Trainee Chartered Accountant
Sales and Marketing Manager
Associate Consultant
Paraplanner
Corporate finance associate
Financial Services controller
Operations Analyst
Associate Analyst
According to Glassdoor, the average salary of a business economist graduate in the UK is £41,324.
Entry Requirements for Studying Business Economics in the UK
Entry requirements for international students to study business/managerial economics in the UK depends on the course level and discipline.
- BSc Business Economics
BSc Business Economics provides students with a solid knowledge on both empirical and theoretical methods that can be applied in the world context of Managerial economics.
Through this BSc course, students will gain a strong understanding of firm and individual behaviour under price determinism, uncertainty and discrimination.
The entry requirements for international students to study managerial economics are:
A-Level: A*AA - AAA
International Baccalaureate: 38/766 - 36/666
BTEC: D*DD - DDD
GCSE: B or 5-A or 7
English Language Requirements
IELTS and IELTS Indicator: 6.5 overall and no less than 6 in any other section
TOEFL iBT and TOEFL iBT Home Edition and TOEFL iBT Paper Edition: 90 with minimum scores of 21 for writing, 21 for listening, 22 for reading and 23 for speaking.
PTE Academic: 67 with no less than 64 in all communicative skills
- MSc Business Economics
A Master of Science in Managerial Economics enables students to analyse real-world economic issues that are faced whilst dealing with modern day business. Managerial Economics and Business Strategy, one of the general courses offered under masters in managerial economics, focuses on the multiple aspects of decision making in corporate and organisational performance.
During the Master of business economics course, students will build undergraduate level knowledge and become a competent economist with sharp skills of broad business perspective and perception.
Bachelor's degree with an overall mark of at least 50-65% depending on the UG university
English Language Requirements
IELTS (Academic): 6.0 overall, including at least 5.5 in each component
TOEFL (iBT): 80 overall, including at least 17 in Listening, 18 in Reading, 20 in Speaking, 17 in Writing
Pearson (PTE Academic): 59 overall, including at least 59 in all four skills
- MBA in Economics
An MBA in Economics is the same as a traditional MBA, where the elective classes are focused on economics. Through MBA in economics, students will develop a deep understanding of business economics that are rooted to the economic principles such as:
Local economies
Global markets
Pricing indices
Public policy
Purchasing power
Consumer behaviour
Top Universities in UK for Business Economics
The best five universities in the UK for business and economics, as ranked by THE World University Rankings 2022, are as follows.
1. University of Manchester
The University of Manchester is a leading UK university located in the northwest of the UK. Flexible management programmes at the University allow students to cosu on what interests them the most. In the first year of Manchester's BSc Management (International Business Economics) programme, students will take modules on Financial Decision Making, Fundamentals of Management Accounting and Economics Principles.
2. University of Surrey
Located in the town of Guildford, the University of Surrey is home to 16,000 students from 140+ countries. Surrey's BSc Business Economics courses will help students develop skills that are required to analyse and solve today's complex and challenging economic environment. Through this course, students will learn how businesses interact, how managers take strategic decisions and the role of businesses in the economy.
3. University of Glasgow
The University of Glasgow is the fourth oldest university in the English-speaking world and one of the world's top 100 universities. Currently, the University has over 26,000 students from over 120 countries enrolled, whilst. Glasgow is also a member of the prestigious Russell Group of UK Research Universities. Through Business Economics courses at the University of Glasgow, students will study the principles of microeconomics and macroeconomics, applying specific models and concepts to real world scenarios.
4. Newcastle University
Located in the heart of one of the UK's most dynamic and student-friendly cities, Newcastle University is a founding member of the elite Russell Group and has an international reputation for academic excellence. The university is currently home to 28,000 students, of which 5,400 students are from over 115 countries. Newcastle's Economics and Business Management (BA Hons) will prepare students for a career with knowledge of key economics concepts as well as principles that are highly valued by employers.
5. University of Exeter
The University of Exeter offers a BSc Business Economics course that covers a comprehensive and practical understanding of the economic decisions that are faced by businesses, along with developing the skills and ability to analyse the social environment and economical scenarios in which the decisions are taken. Through Exeter's BSc Business Economics course, students will develop a strong understanding of economics, accounting and management.
Study Business Economics in UK
To learn more about studying managerial economics in the UK, book your free consultation with SI-UK India today. Business economics courses at the University combine a broad basis of economics with core focus on how managers make decisions and how business operates.