Anthropology is the study of humankind, our origins, forms of social organisations and different ways of interaction across cultures and environments.
Anthropology looks at globalisation processes such as the spread of a free market economy, the revolution of information and technology, rapid urbanization, and transnational migration taking place worldwide, affecting cultural change at an increasing pace. If you are interested in people, their history and way of work, international relations and languages then this field might be the subject area for you.
A UK degree in Anthropology will provide you with a unique set of skills for working with people. You will:
Gain a deep understanding of human society, contemporary cultural & ethnic differences
Learn people's perspectives in social, political & economic context
Have transferable skills such as communication, problem-solving & team-working
Discover the ability to gather & process information as well as construct convincing and well presented arguments
Help you analyse human rights, multiculturalism, religion, beliefs, gender roles, and politics
Learn theories and methodology with research work and field trips
Learn more about the best universities to study Anthropology in the UK below (QS World University Rankings by Subject 2022) and if you would like to begin your application, arrange a free consultation with SI-UK India.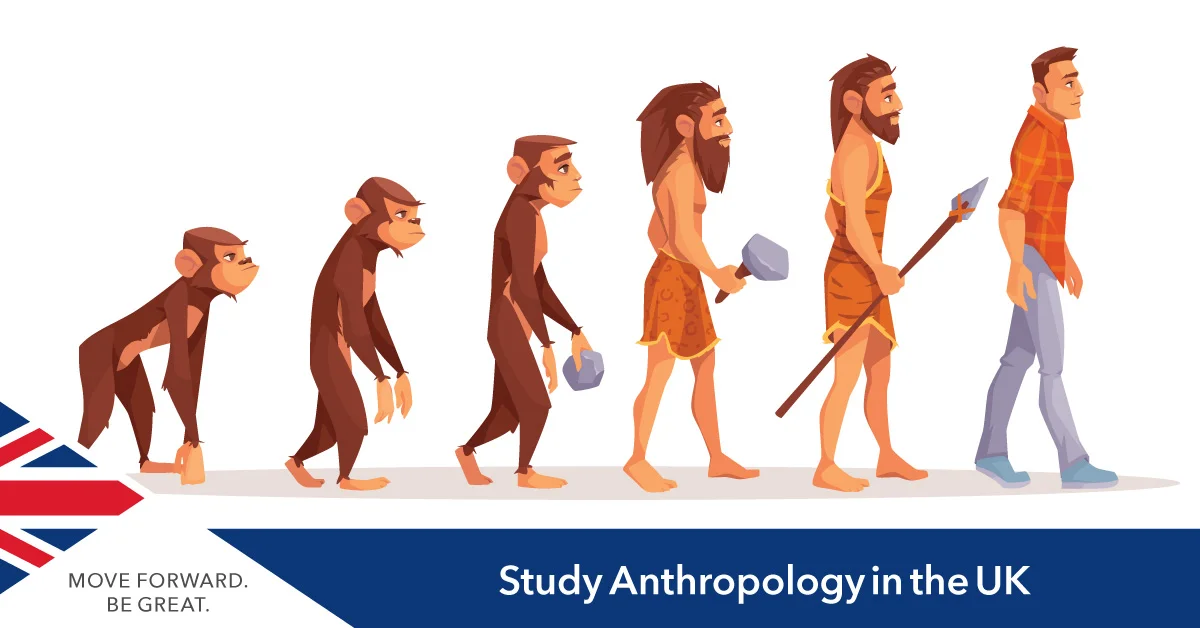 Best Five UK Universities for Anthropology
The University of Cambridge Department of Social Anthropology is dedicated to the study of social and cultural anthropology. The department offers undergraduate and graduate programmes in social anthropology and conducts research on various topics in the field, including economic anthropology, political anthropology, medical anthropology, and the anthropology of religion.
Undergraduate anthropology courses at the University of Cambridge, such as The Human, Social, and Political Sciences (HSPS), are designed to provide students with a broad foundation in social science disciplines, focusing on interdisciplinary study. It allows students to delve deeper into their areas of interest and continue to explore the interconnections between different offshoots of social sciences.
The School of Archaeology at the University of Oxford is a renowned research and teaching institution that specialises in the study of archaeology and human evolution. It offers a range of undergraduate and graduate programmes in archaeology, as well as opportunities for students to participate in fieldwork and excavations in the UK and worldwide.
The School has a strong reputation for academic excellence, and its faculty are renowned experts in their fields, focusing on cutting-edge research into the archaeology of the past, including human evolution and the cultural heritage of the ancient world. Undergraduate courses in anthropology at the University of Oxford offer a comprehensive and interdisciplinary programme in Archaeology and Anthropology. The courses cover the study of human diversity from prehistory to the present day through a combination of theoretical and practical approaches.
The programme includes practical laboratory sessions, fieldwork, artefact handling and analysis, and a dissertation. Students are encouraged to participate in internships and research opportunities, both in local and national museums, as well as abroad.
Oxford anthropology course to consider: Archaeology and Anthropology
Entry requirements: A Level: AAA or equal international qualifications
International fees: £35,080
UCL's Anthropology department is known for its commitment to interdisciplinary research and critical engagement with pressing social and cultural issues. The faculty of UCL Anthropology consists of experts from medical anthropology, urban anthropology, the anthropology of religion, and the anthropology of development.
The department is dedicated to providing students with a rigorous and innovative education and encourages students to participate in fieldwork, research projects, and other opportunities to engage with the wider anthropology community. The BSc in Anthropology is a popular undergraduate anthropology course at UCL that examines the environmental, cultural, social, and material aspects of human beings and their evolution.
Practical learning opportunities are provided through engagement in the UCL Ethnography Collections, hominin and primate specimens in the Biological Anthropology Collection, and writing for the in-house print magazine and student-run blog.
The Department of Anthropology at The London School of Economics focuses on studying human society and culture and approaches the subject from a range of theoretical and empirical perspectives. The department also hosts a vibrant community of students and postdoctoral researchers, fostering an intellectually stimulating environment for learning and research.
LSE's undergraduate anthropology course is available as a joint honours programme in anthropology and law with equal emphasis on both subjects, allowing students to fully understand what it means to be human while obtaining a qualifying law degree.
The degree allows students to engage in contemporary debates surrounding social justice, multiculturalism, and global change. It also offers full training in anthropological research methods, including ethnographic study, summer fieldwork placements, and a year abroad at one of the department's global partners.
LSE anthropology course to consider: BA Anthropology and Law
Entry requirements: A Levels: AAB or equal international qualification
International fees: £24,720
The Department of Anthropology and Sociology at SOAS focuses on the study of societies and cultures from around the world. The department provides a comprehensive education in the fields of anthropology and sociology, with a strong emphasis on critical and comparative perspectives.
The SOAS Anthropology Department also sponsors several lecture series open to students. The diverse student body provides a rich environment for cultural and intellectual exchange. Undergraduate anthropology courses at SOAS, University of London, are designed to provide students with a solid understanding of the key concepts, theories, and methodologies of anthropology and sociology, as well as the skills to apply this knowledge in real-world settings. The department has a long-standing commitment to fieldwork and research and provides students with opportunities to participate in fieldwork projects in various parts of the world.
This degree programme offers a unique approach to understanding cultural differences, political dynamics, social conflict, and human creativity by combining humanities and social sciences grounded in real-world research.
SOAS anthropology course to consider: BA Social Anthropology
Entry requirements: A Levels: ABB or equal international qualification
International fees: £21,160
Careers in Anthropology
A degree in Anthropology opens up avenues of employment in a wide variety of sectors.
Graduates find employment in government agencies, NGOs, businesses, colleges and universities, social & welfare, museums, community organizations, education, public health & human services, international studies, ethnic & gender studies, banking, retail and manufacturing and research centres.
Study Anthropology in the UK
If you want to learn more about studying Anthropology in the UK, arrange a free consultation today with SI-UK.