Actuarial science is a discipline that involves the application of mathematical skills to assess risks and resolve issues and problems for industries such as the insurance and finance industry. Actuaries and analysts assess the financial impact of risk and uncertainty. They are business professionals who have a thorough understanding of finance and business, and model the world around them, evaluating the probable impact of future events.
Why Study Actuarial Science in the UK?
Over 100 courses are offered in Actuarial Science at over 30 universities in the UK. Most of these universities rank well globally such as LSE, Warwick and Manchester, and students come from all over the world to study in them. These universities offer great prospects to students applying for work after the completion of their degree. Students in this field can secure a brighter future as actuaries are valued and respected with a high demand worldwide.
Studying Actuarial Science
Learn more about studying Actuarial Science below or book a free consultation to find out about Actuarial Science courses with SI-UK India today.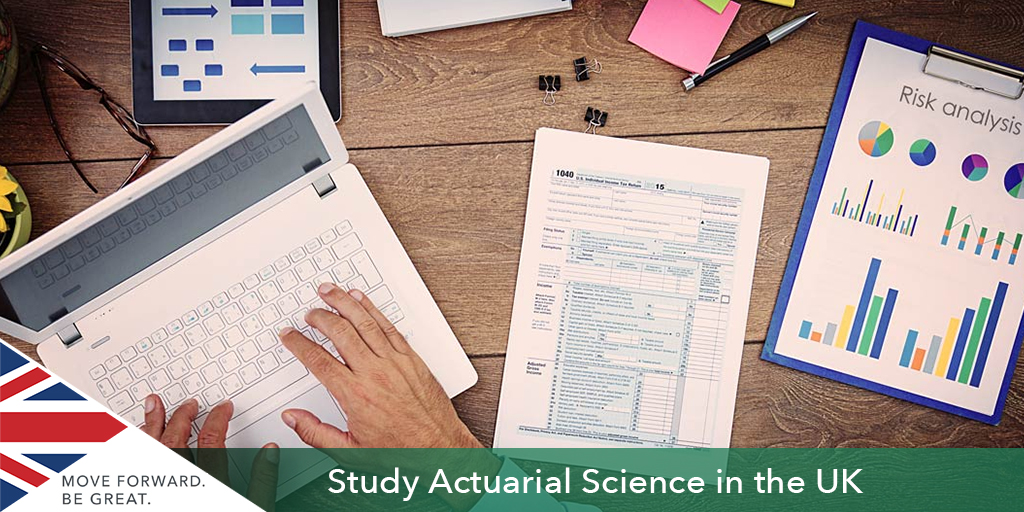 Entry Requirements to Study Acturial Science in the UK
The discipline is meant for students who have a love of numbers and have studied and excel at Math, Statistics, Calculus and Computer Science.
At postgraduate level, the subjects needed are Calculus, Algebra, Statistics, Probability, Computer Science, Finance, Economics, Business and Actuarial Science (if available).
Most employers are looking for graduates with at least a 2:1 degree and excellent A-levels or equivalent in Maths and related subjects. They favour candidates with a degree in any numerate discipline.
To grow to be a certified actuary, you need to become a student member of the Institute and Faculty of Actuaries (IFoA) and pass a series of actuarial exams by them.
Careers in Actuarial Science
A career as an actuary offers a wide range of opportunities. Actuaries work in the areas of banking, corporate finance, investment management, life, healthcare and general insurance and pensions. Graduates in the UK work in financial and other organizations such as KPMG, Lloyds Bank, Grand Thornton, Government Actuary's Department, NFU Mutual, Milliman, HISCOX, First Actuarial, Aviva and AON.
Top 10 Actuarial Science Universities in the UK 2020
Students applying to study Actuarial Science should pursue their undergraduate degree at a university that offers courses recognized by the IFoA. This can give them exam exemptions based on good performance under the IFoA in UK.
Listed below are the best universities to study Actuarial Science in the UK.
Bayes Business School
London School of Economics and Political Science
Heriot-Watt University
University of Warwick
University of Southampton
University of Manchester
Queen Mary University London
Kent university
University of Leicester
University of Leeds
Study Actuarial Science in the UK
If you want to pursue a degree in Actuarial Science at a UK university, visit your nearest SI-UK India office or book a free consultation to learn about the best courses and universities suited for you to become an actuary today.