STEM courses, which encompass Science, Technology, Engineering, and Mathematics, are academic courses designed to cultivate skills and knowledge in these dynamic fields.
They serve as a sturdy foundation for individuals seeking careers in research, technology, innovation, and problem-solving, covering a wide array of subjects like biology, chemistry, computer science, engineering, mathematics, and physics. STEM programmes offer an all-encompassing curriculum that combines theoretical concepts with practical applications through engaging laboratory work, experiments, and projects, and students develop critical thinking, analytical reasoning, and problem-solving abilities while gaining expertise in scientific methods and technological tools.
The demand for graduates with STEM degrees is exceptionally high across diverse industries, owing to their proficiency in emerging technologies, inventive mindset, and quantitative analysis skills. STEM careers provide enticing prospects for cutting-edge research, development, design, and implementation of solutions in fields such as healthcare, energy, environment, communications, and technology. With career paths ranging from engineering and software development to data analysis and biomedical research, STEM degrees present an excellent choice for individuals driven by a passion for pushing the boundaries of knowledge and making a positive impact on society.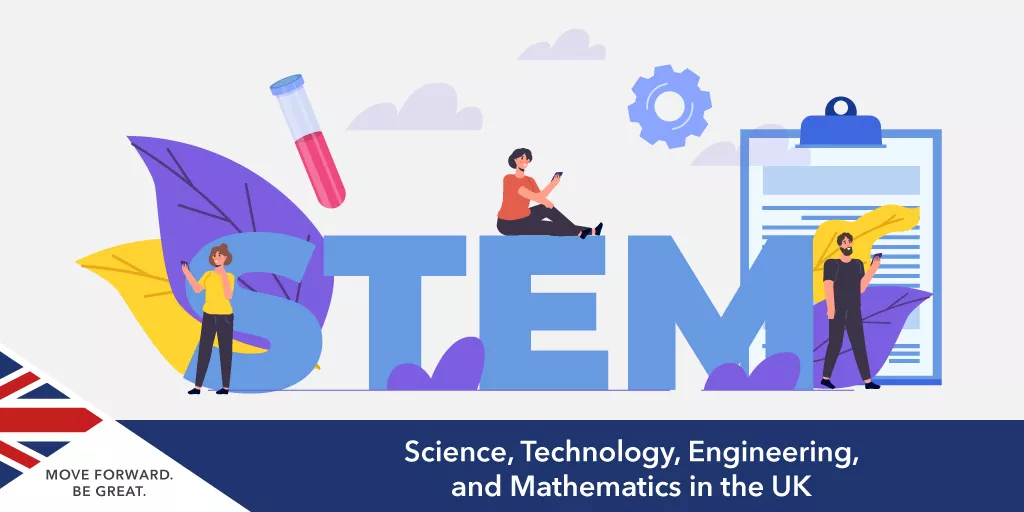 Types of STEM Course
Science: Immerse yourself in a vast realm of knowledge encompassing physics, chemistry, biology, environmental science, astronomy, and geology. Science degrees unravel the intricacies of the natural world through hands-on experimentation and meticulous data analysis. Unveiling the laws and mechanisms governing various phenomena becomes an exhilarating quest.
Technology: Embark on a journey where scientific prowess converges with practical problem-solving. Technology degrees, including computer science, information technology, software engineering, and data science, equip students with the skills to apply scientific knowledge to real-world challenges. The fascinating domains of programming, algorithms, computer systems, and software development unveil their secrets.
Engineering: Ignite your creativity as you delve into the captivating world of engineering. Engineering degrees empower aspiring innovators to design, develop, and construct awe-inspiring structures, machines, systems, and processes. Civil engineering, mechanical engineering, electrical engineering, chemical engineering, aerospace engineering, and biomedical engineering are just a few branches that offer a wealth of opportunities. By merging mathematical principles, physics, and other sciences, students tackle intricate engineering problems head-on.
Mathematics: Embark on a journey of logical reasoning and numerical wizardry through mathematics degrees. These courses explore various branches, such as pure mathematics, applied mathematics, statistics, and actuarial science. Mathematics degrees nurture sharp problem-solving skills, mathematical modelling prowess, and incisive analysis, preparing graduates to conquer complex challenges.
In the ever-evolving job market, STEM subjects reign supreme, and employers increasingly seek professionals equipped with expertise in these fields. The multidisciplinary nature of STEM degrees unlocks a plethora of rewarding career paths, ranging from groundbreaking research and cutting-edge technology development to engineering marvels, data analysis, teaching, and beyond.
Popular STEM Courses
There are many popular STEM courses that are in high demand because they are essential in different industries. Here are some of the popular STEM courses:
Data Science and Analytics: With the increasing amount of data being generated, there is a need for professionals who are skilled in data analysis, machine learning, and statistical modelling.
Electrical and Electronics Engineering: This field focuses on studying electrical systems, electronics, telecommunications, power systems, and control systems.
Mechanical Engineering: It involves studying mechanical systems, thermodynamics, materials science, robotics, and manufacturing processes.
Mathematics: Mathematics is a foundational subject for many STEM fields. Advanced mathematics courses covering topics like calculus, linear algebra, probability theory, and mathematical modelling are highly valued.
Biotechnology: Biotechnology combines biology, chemistry, and engineering principles to develop products and technologies for applications in healthcare, agriculture, and environmental science.
Aerospace Engineering: It involves designing, developing, and maintaining aircraft and spacecraft.
Chemical Engineering: It combines principles of chemistry, physics, and engineering to design and operate processes that convert raw materials into valuable products, such as pharmaceuticals, fuels, and polymers.
Entry Requirements for STEM Subjects
Entry requirements for STEM subjects vary, but generally, a strong academic background in subjects like mathematics, physics, chemistry, or computer science is necessary. For undergraduate degrees, you'll typically need a high school diploma or equivalent, along with standardised test scores.
Non-native English speakers might need to demonstrate English language proficiency through tests like the TOEFL or IELTS. Additionally, universities may request recommendations and a personal statement that showcase your interest in the field. It's crucial to thoroughly review the specific requirements of the universities or courses you're interested in, as they can differ.
STEM Careers
Data Scientist: A STEM degree opens up exciting possibilities in the field of data science. As a data scientist, you'll have the opportunity to develop cutting-edge algorithms, construct sophisticated models, and uncover patterns that can revolutionise industries across the board.
Software Engineer: The demand for STEM graduates in the software engineering field is soaring. As a software engineer, you'll be at the forefront of designing, developing, and maintaining innovative software applications and systems.
Biomedical Engineer: This interdisciplinary field merges engineering principle with medical and biological sciences to create revolutionary medical equipment, devices, and healthcare solutions. By contributing to advancements in healthcare technology, you'll play a pivotal role in improving patient care and enhancing the overall well-being of individuals.
Environmental Scientist: STEM graduates possess the power to make a lasting impact in the realm of environmental science. Environmental scientists delve into the intricacies of the environment and its interactions with human activities. With your expertise, you can catalyse positive change and preserve our planet for future generations.
Financial Analyst: As a financial analyst, you'll navigate the intricate world of investments, meticulously analyse financial data, and provide sound recommendations to businesses and individuals. Your exceptional analytical and quantitative skills will enable you to evaluate market trends, assess risk, and make informed financial decisions.
With a solid foundation in science, technology, engineering, or mathematics, you possess the potential to embark on a fulfilling career in a diverse range of industries.
STEM FAQ
Q. What are STEM courses in the UK?
STEM courses in the UK refer to courses focused on the disciplines of Science, Technology, Engineering, and Mathematics. These courses are designed to provide students with a strong foundation and practical skills in these fields, fostering innovation, problem-solving, and critical thinking.
Q. Why study a STEM course in the UK?
There are several compelling reasons to consider studying a STEM course in the UK. First and foremost, UK universities have earned a global reputation for their academic excellence and pioneering research, ensuring a high-quality education. Furthermore, the UK boasts a thriving STEM industry, offering great job prospects and a pressing need for skilled individuals. By studying in the UK, students can immerse themselves in a diverse and multicultural environment, promoting cross-cultural understanding. Additionally, the availability of scholarships and funding options for international students makes the UK an appealing choice for pursuing STEM education.
Q. Which schools are best for STEM in the UK?
The UK is home to several esteemed institutions renowned for their excellence in STEM education. Some of the top universities for STEM courses include the University of Cambridge, Imperial College London, University of Oxford, University College London (UCL), and the University of Manchester. These institutions consistently rank highly in global university rankings, possess strong research facilities, and offer a wide range of STEM degrees across various disciplines.
Q. What is the most popular STEM subject?
Among the STEM subjects, computer science is often considered the most popular. In recent years, there has been a significant increase in the demand for computer science courses and related fields such as software engineering and data science. This surge in popularity can be attributed to the growing importance of technology in various industries, the rise of digital transformation, and the increasing need for skilled professionals in areas such as programming, artificial intelligence, cybersecurity, and web development.
Q. What is the hardest STEM course?
One course often regarded as challenging among STEM subjects is Quantum Mechanics. It delves into the fundamental principles of physics at the atomic and subatomic levels, requiring a solid understanding of complex mathematical concepts and abstract thinking. Quantum Mechanics explores the behaviour of particles, wave-particle duality, and quantum superposition, making it a demanding and intellectually rigorous subject for many students.