Deciding to study abroad and far from home is a mixed bag of emotions. It's a thrilling adventure that opens doors to endless possibilities and personal growth. Immersing yourself in a new culture, exploring landscapes, and forming new connections brings a sense of excitement. It can also fill you with apprehension and longing for familiar faces and the comforts of home.
Learn below how you can make the most of your time in the UK, thrive academically, create lasting memories, form enduring friendships, and embark on a journey of self-discovery.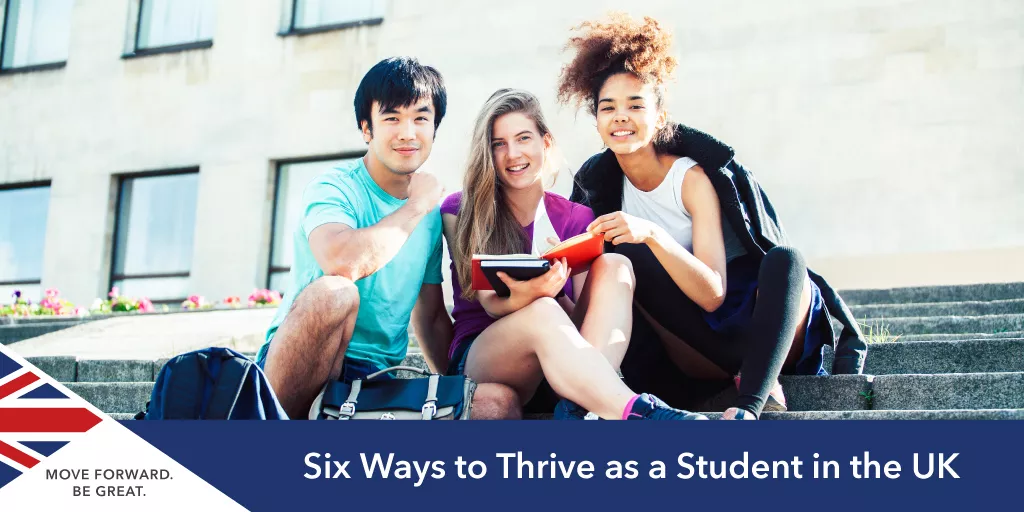 How to Live Your Best Life as an International Student in the UK
1. Manage money effectively
One concern that most international students have is the cost of living in the UK. It is essential to create a budget outlining your income, savings and major expenses. Track your spending to ensure you stay within your budget or financial limits, prioritise essential expenses and maintain an emergency fund for unexpected events.
Students in the UK are offered numerous student discounts available across various sectors such as transportation, entertainment, shopping, and dining. Here are a few ways to save:
National Railcard: A national railcard will help you save around 30 per cent on almost every train journey in the UK. You can make the most of this railcard discount if you are a student pursuing a full-time course, as in that case, you will be eligible for special student discounts.
TOTUM(UK): Also known as the UK's number one, this discount card is supported by the National Union of Students and helps you get discounts for dining out, fashion, fitness and travel. With TOTUM Pro, you can access the full range of discounts on many items and services. Alternatively, you can opt for a free TOTUM Lite card. Not just this, your TOTUM card serves as proof of age, allowing you to leave important documents like your passport and driver's licence safely home when enjoying nights out.
UNiDAYs: Valid for the UK, Australia, and a few other countries; signing up for UNiDAYS is completely free. To create an account, all you need is your academic email address. With UNiDAYS, you can get student discounts with brands such as ASOS, Apple and Urban Outfitters.
2. Learn the transport system
Public transport in the UK is extensive, efficient and offers convenient options for students to travel within cities and across the country. Buses are a common mode of transportation in the UK, providing excellent coverage within cities and towns. Students often benefit from discounted fares, such as weekly, monthly, or term passes, which can offer significant savings.
Major cities like London, Newcastle, Manchester, Glasgow, and Birmingham have underground or metro systems that provide quick and efficient transportation within the city. In London, the famous London Underground, commonly referred to as the Tube, is a vital mode of transportation for students and offers student discounts on fares.
3. Become familiar with your location
Choosing the right place to live as a student in the UK is crucial, as it significantly impacts your overall experience, well-being, and academic success. Every individual's preferences and circumstances are unique, so it's important to take the time to thoroughly research and weigh the factors that matter most to you when choosing your accommodation.
Living close to your university can save you commuting time and expenses, making it more convenient to attend classes, access library resources, and participate in campus activities.
Research the safety and security of the neighbourhoods you are considering. Check if the accommodation provides necessary security measures such as secure entry systems or on-site security personnel. Explore the different types of accommodation available, such as halls of residence, private student accommodations, shared flats etc. and consider the facilities and amenities offered, including Wi-Fi, laundry facilities, study areas etc.
Consider the proximity of essential amenities such as supermarkets, pharmacies, and healthcare facilities. Check the availability of Indian restaurants and stores if that is important to you. Living in an area with easy access to these services can make your daily life more convenient.
Consulting with your university's accommodation office or seeking advice from current students can also provide valuable insights into the best options for your specific needs.
4. Mingle with the locals
The experience of studying abroad as an international student extends far beyond the classroom. Understanding and respecting local customs not only promotes cultural sensitivity but also facilitates integration into the host country's society.
British culture places a strong emphasis on politeness and courtesy. Saying "please," "thank you," and "excuse me" is considered essential in daily interactions. Use these phrases generously to show respect and appreciation.
Practising queueing, respecting personal space, punctuality, and proper dining etiquette fosters positive interactions and enhances your overall experience, making your stay in the UK more enjoyable. Familiarise yourself with local customs and traditions, such as standing for the national anthem or observing moments of silence. This shows cultural sensitivity and respect for the country's heritage.
By embracing these etiquette tips and demonstrating good manners, you can navigate social interactions with ease and show respect for British culture as an international student in the UK.
5. Get a global perspective
Living in the UK as an international student offers a unique opportunity to gain a global perspective on various aspects. The UK attracts students from all over the world. Building relationships with fellow international students in the UK fosters a vibrant global community for idea exchange, cultural learning, and expanding your network.
Step out of your comfort zone, push yourself to try new experiences, explore different cities, attend lectures on global topics, and engage in discussions with individuals from diverse backgrounds.
The UK's strategic location allows easy access to other European countries. Take advantage of affordable travel options and explore different cultures, languages, and customs within Europe.
6. Have fun and unwind
While it is perfectly natural to get caught up in the pressures of adulting and academics, remember to let loose once in a while and have some fun. Balancing academics with recreational activities can contribute to a well-rounded experience.
Take time to explore the UK beyond your university city. The country has a rich history, stunning natural landscapes and parks and vibrant cities. Plan trips during holidays or weekends to visit famous landmarks, cultural sites and experience the local culture. Dining out can be expensive, but you can still enjoy the local cuisine on a budget. Look for student-friendly eateries and street food markets, or cook meals at home with friends, a cost-effective and fun way to experience different flavours.
Keep an eye on local listings for free or low-cost public events such as concerts, street performances and open mic nights. These events often showcase local talent and provide an opportunity to enjoy live entertainment without spending much.
The UK is a treasure trove of opportunities and experiences for international students waiting to be discovered. All it takes is a leap of excitement and a willingness to embrace the adventure to forge lifelong friendships and create cherished memories along the way.
Being an International Student in the UK FAQ
Q. How do I manage my money while travelling abroad?
To manage the budget while studying and living abroad, try to make the most of student discounts, shop at cheaper stores, and cut back on eating out and other extravagant lifestyle choices as much as possible. In order to maintain smooth transactions, research local currency exchange rates and ATM fees beforehand and make it a habit to track your expenses.
Q. How do I manage my living expenses while studying abroad?
When studying abroad, create a budget to track your living expenses. Research the cost of living in the destination country, explore affordable accommodation options, cook your meals instead of eating out frequently, and take advantage of student discounts for transportation and entertainment.
Q. Where is the best place for Indians to live in London?
Indians in London often find areas like Southall, Wembley, and Hounslow appealing due to their vibrant Indian communities, easy access to Indian grocery stores, and cultural diversity.
Q. What is the main transportation in the UK?
The main modes of transportation in the UK are trains, buses, and the London Underground (also known as the Tube). These options provide extensive coverage across the country, with trains being handy for longer distances.
Q. How is the transport system in the UK?
The transport system in the UK is generally well-developed and efficient. Trains offer intercity and regional connectivity, and buses serve both urban and rural areas. However, delays and disruptions can occur, so it's advisable to check for updates and plan accordingly.
Q. What is the best way of transportation in the UK?
The best way of transportation in the UK depends on factors like distance, location, and personal preferences. Trains are often faster for longer journeys, while buses offer affordability and coverage in various areas. In London, the Tube is frequently the most convenient mode for getting around the city due to its extensive reach.
Q. What is British etiquette?
British etiquette emphasises politeness, queuing, and respecting personal space. It is almost customary to say "please" and "thank you," hold doors for others, and wait in line patiently. Being respectful, considerate, and observing local customs will help you navigate social interactions in the UK.