When it comes to pursuing higher education abroad, the UK and USA are undoubtedly the most sought after destinations. This is owing to a number of factors such as quality of education and research, global exposure, infrastructure and facilities and campus life experiences. But when choosing between the two to study abroad, despite sharing the same language there are several differences between the countries and their education systems which should be taken into account.
Read on to know what factors make the UK a better destination to study abroad, If you want to find out about education in UK universities, book a free consultation with SI-UK India today.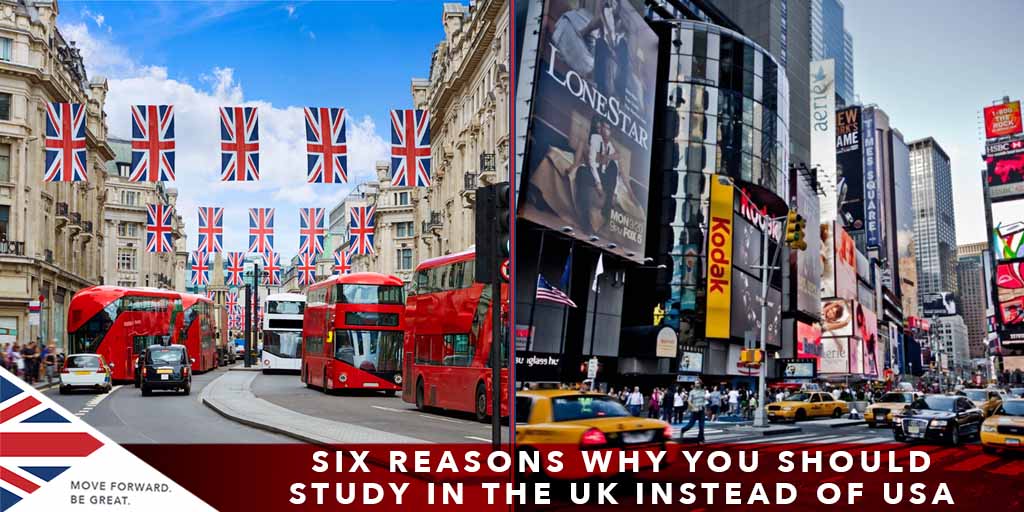 Six reasons why the UK is better than USA for Higher Education
According to various international student data, the percentage of Indian students enrolled in UK universities is more than that of US universities. There are reasons for this, as listed below.
1. Length of a UK degree vs. US degree
A UK degree at the undergraduate level is typically of three years, postgraduate level is one year and PhD is three years. As opposed to this, US degrees are typically longer with undergraduate degree of four years, postgraduate degree in two years and PhD of five years. This means you can complete your education faster and also gain employment sooner when studying in the UK.
2. Post-study work visa
You get to stay and work in the US for maximum one year without a proper job offer after completing your degree, whereas in the UK with the new post-study work visa you can stay on for two years. This gives you a higher chance of recovering some of the education costs incurred and finding permanent employment in the UK.
3. Courses
Though the UK has fewer universities than US, the variety of courses offered in the UK is ample, with unique courses available like Applied Golf Management and Stand-Up Master's Degree among others.
4. Fees and living expenses
The fees charged for the same class of universities is lesser in the UK than it is in the US. Also as degrees in the UK are shorter, the overall costs and living expenses are logically lesser.
5. Student Life
The UK offers a culturally diverse environment with more number of international students coming in than US, thus providing more international exposure. The UK dorm life, sports and clubs, pub crawls and theatres and music festivals keep students entertained.
6. Cultural Experience
The British life and culture is truly unlike any other, with the rich history and architecture, the famous countryside, raging pub culture, traditional English breakfast and the famous fish and chips. There's the added advantage of easily exploring Europe during your stay.
Study Abroad in the UK
If you are thinking about enrolling in a course at a UK university and need guidance and assistance for the same, book your free consultation with SI-UK in your nearest city today.