Cranfield University is the UK's only exclusively postgraduate university offering specialist taught and research degrees in areas such as management, aerospace, defence, environment, energy, manufacturing and the water sector. The University is famous for its international outlook, world-class facilities, unrivalled teaching quality and close links with industry.
Cranfield is considered number one for studying several specialist programmes but is not listed in standard university ranking tables such as The Guardian and Times Higher Education as it is a postgraduate only university.
Learn more about why you should study masters at Cranfield University below, or start your application process by booking a free consultation with SI-UK India today.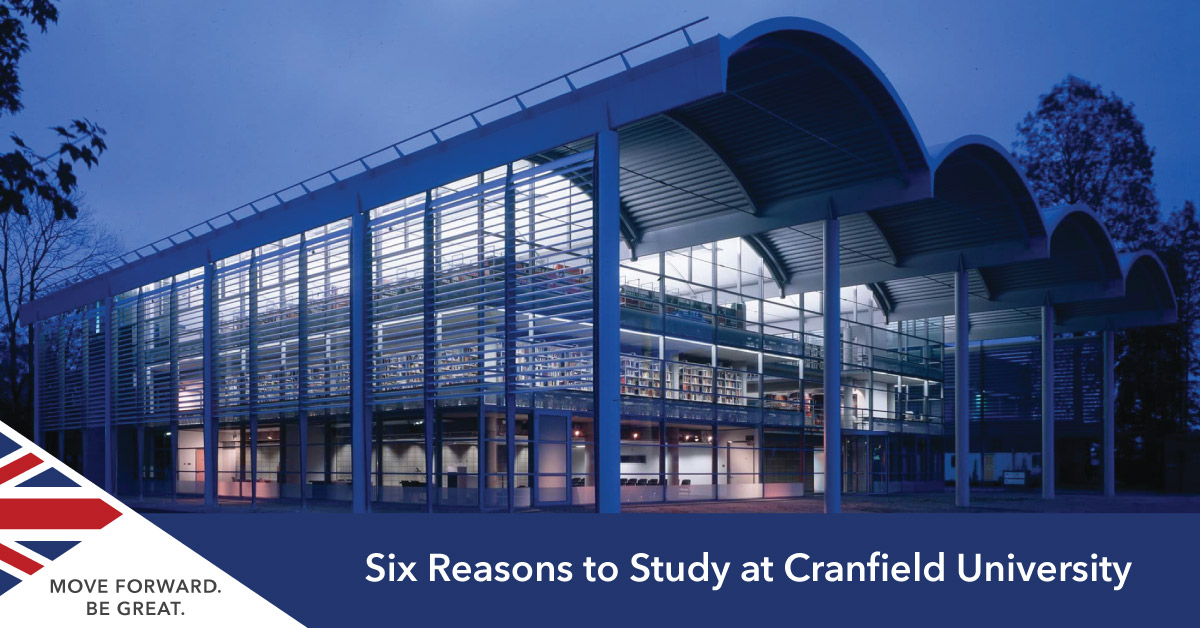 Why Study a Masters at Cranfield University?
1. Rankings and Awards
Cranfield is ranked number one in the UK for studying aerospace engineering and for transport and automotive postgraduates. (HESA 2019)
The University ranks in the top five in the UK for Engineering - Mechanical, Aeronautical and Manufacturing (QS World University Rankings 2020)
It is a UK top ten university for commercial research, consultancy and professional development (HESA 2019)
Cranfield School of Management consistently ranks in the top ten for its MBA and executive education programmes (Financial Times rankings, the Economist rankings, Forbes MBA rankings and Times Higher Education/Wall Street Journal World University Rankings)
Cranfield is six times winner of the prestigious Queen's Anniversary Prize for Further and Higher Education for its excellent teaching and research output
2. Teaching and Research Quality
Cranfield's teaching quality is independently assessed by the Quality Assurance Agency (QAA) and has received the highest recommendation that is given out by them
Teaching at Cranfield focuses on developing superior skills informed by real-world practice
The course content is informed by industry and is regularly reviewed by Cranfield's industry clients and partners so that it meets the changing needs of the different sectors
81% of Cranfield's research is recognised as 'world-leading' and 'internationally excellent' according to the latest Research Excellence Framework (REF 2014
Cranfield offers an excellent student to staff ratio, in fact one of the best in the UK, with one member of academic staff to every five students. This means students enjoy more individual attention and therefore gain the most out of studying an international degree
3. Academic Staff
The staff at Cranfield comprises of internationally recognised academic experts, several of whom are also specialists in industry. Thus students enjoy the best of both worlds that is theoretical knowledge as well as practical skills, learnt by solving real-life challenges.
4. Infrastructure and Facilities
At Cranfield, students enjoy access to unique, large scale, world-class specialist facilities which are unheard of at other UK universities. It is the only university in the UK and in Europe to have its own airport and runway. It has a Crash Impact Centre which is one of three FIA approved test centres in the world used for Formula One cars. Many facilities at Cranfield are front-line resources for the whole country, such as the National Flying Laboratory Centre and the National Reference Centre for Soils. Apart from these, the University offers all the usual facilities such as a Student Advice Centre, careers services, extensive library facilities, canteens, etc.
5. Links with Industry
Cranfield University has strong links with industry, with about 1500 industrial partners in over 40 countries. The programmes at Cranfield are informed by industry and equip graduates with the knowledge and skills relevant to today's world. Partners include top brands and companies like Jaguar, Airbus, Rolls Royce, Unilever and Coca Cola.
6. Career and Employability
Cranfield has a Career Development Service which provides guidance, counselling and coaching as well as opportunities to help students launch off their personal career journeys
Cranfield has an online career portal, Cranfield Symplicity, which regularly features jobs and employers who are interested in hiring the University's graduates
The University holds several networking events, conferences and workshops, career fairs and recruitment days, and regularly hosts guest speakers
Cranfield graduates have access to one of the most influential 60,000 plus alumni communities in the world, with over 20 international alumni communities in countries such as India, China, Russia and Switzerland
All students enrolled in programmes at Cranfield get to carry out real research for the University's industrial partners through group projects as part of their thesis
A whopping 97% of Cranfield graduates are in employment or further study six months after graduation and are employed in famous organisations such as Oxfam, Unilever, Rolls Royce and Deloitte
Study at Cranfield University
Enhance your career prospects by applying to study a specialist postgraduate degree at Cranfield with SI-UK. Book a free consultation to talk to our experts today.
If you would like to meet Cranfield University and other universities in the UK, you can also attend SI-UK's popular and exclusive virtual UK University Fair for Indian students being held on Saturday, February 27th from 12-5 pm. Almost 70 UK universities and international admissions officers are going to be available to meet and entry is absolutely free. Register for the fair today!
Related Articles: