Studying in the UK is a life-changing experience for Indian students who want a quality education, world-recognised degree, familiarity with international culture and building strong networking with peer groups.
The cost of studying at a UK university can be expensive though. Luckily, there are a wide range of scholarships & bursaries offered by the UK Government and universities to assist students and lessen their financial burden. Scholarships can be partial or fully paid depending upon the courses and welcome all eligible students to apply.
Learn more about scholarships funded by the UK Government below, as well as external organisations and UK universities.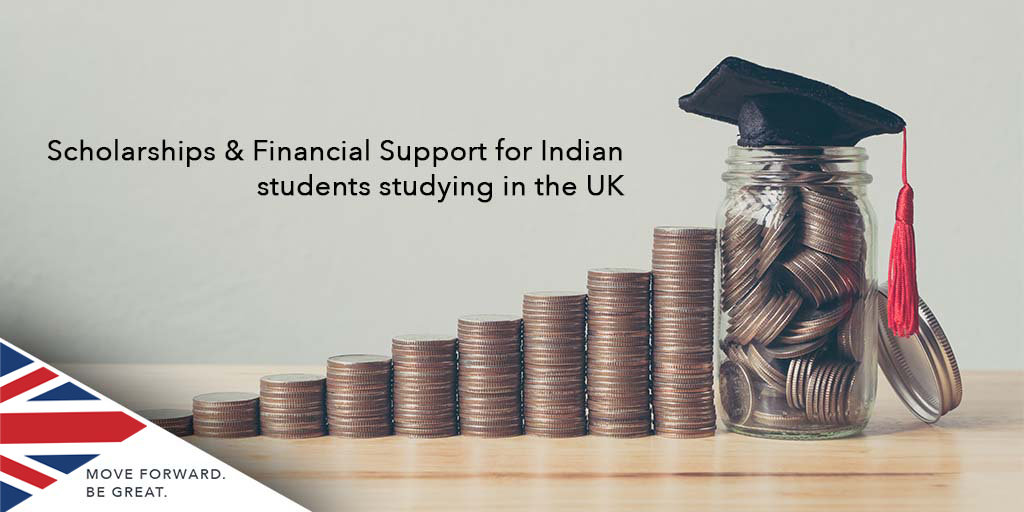 Great Scholarships
GREAT along with partnered UK universities offer full tuition scholarships awarded to selected undergraduate and postgraduate full-time students for one year of study only.
Commonwealth Scholarship & Fellowship
Commonwealth Scholarships Commission offers funding to students who can make a significant contribution to India after completion of one year taught master's course or equivalent or doctoral degree of up to 3-4 years' duration. The scholarship covers tuition fee, economy return international level and adequate maintenance and other allowances.
Charles Wallace India Trust Scholarships
Charles Wallace India Trust scholarships are awarded to Indian students with artistic, academic and professional ambitions supporting them to fulfil career goals, spend time in the UK & strengthen their global contacts.
British Chevening Scholarships
Chevening Scholarships covering tuition fees, a living allowance at the set rate, an economy class return airfare to the UK and additional grant to cover essential expenditure are funded by the UK Foreign and Commonwealth Office and partner organizations and provide full or part funding for the outstanding scholars pursuing one-year master's degree.
Saltire Scholarship
Saltire scholarships are offered to Indian students studying undergraduate, masters or doctoral courses in the UK in the fields of creative industries, life sciences, technology, financial services and renewable & clean energy.
70th Anniversary Scholarships
The British Council has given 100 women scholarships to study STEM courses on the occasion of its 70th anniversary in India. British Council offers 2nd round of 70th Anniversary Scholarships worth £1 million for 70 Indian women who are going to pursue master's in STEM fields in the UK.
UK University Scholarships
A range of scholarships, bursaries and award schemes are offered by many UK Universities to support international students' studies in the UK.
a) Gates Cambridge Scholarships
b) Rhodes Scholarships at University of Oxford
c) University of West England Chancellor's Scholarships
d) University of Sussex Chancellor's International Scholarships
e) University of Westminster International Scholarships
f) Edinburgh Global research scholarships
g) Bristol University International Office Scholarships
h) University of Birmingham International Scholarships
i) Queen's University Belfast International Scholarships
j) Swansea University Undergraduate Scholarships
k) Aberystwyth University International scholarships
l) Cardiff University Elite International Scholarships
m) Kingston University Scholarships
n) University of Nottingham Scholarships
Applying for Scholarships in the UK
If you are interested in knowing more about studying in the UK, UK university scholarships, financial support and bursaries, arrange your free consultation today with SI-UK India.
Related Articles:
Applying for Scholarships at UK Universities
UK University Scholarships for Indian Students