If you are interested in studying in the UK and are looking for a university from where you will graduate with more than just a qualification, then the University of York is a great option for you to consider.
Studying at the University of York means getting immersed in knowledge and gaining the opportunities to grow and succeed in your career. Learning at York is not limited to academic excellence but includes allround professional development and an unmatched student experience.
York is a leading Russell Group university rated Gold by the Teaching Excellence Framework. Students can choose from a wide range of over 300 professional courses at undergraduate and postgraduate level. York is a beautiful city voted as one of the best places for living in Britain and students joining York have much to enjoy and experience.
Learn more about studying at the University of York below and if you wish to begin your application, arrange a free consultation with SI-UK India today.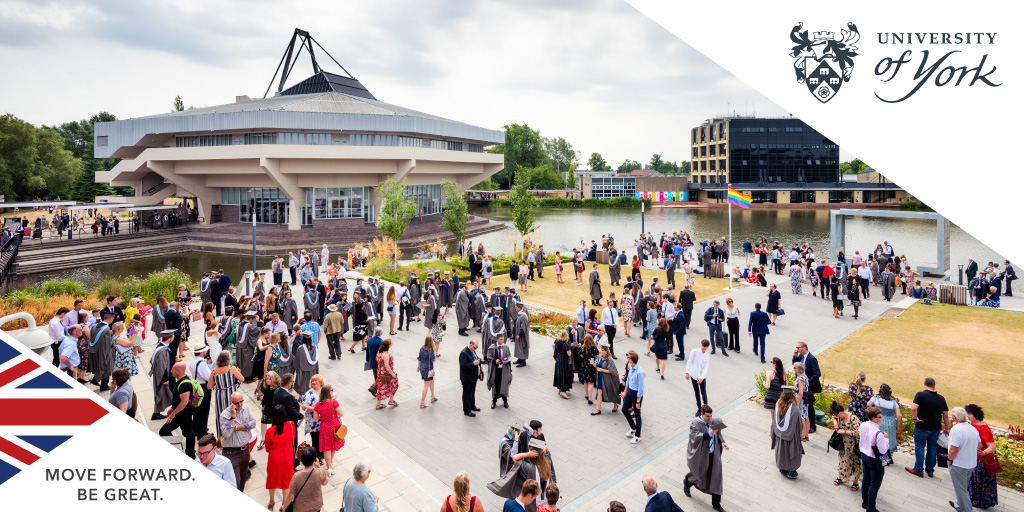 Why Study at York?
York is ranked 16th in the UK (Guardian University Guide 2021)
Placed in the top 5 of all Russell Group universities for academic support and learning opportunities as per the national student survey with an overall satisfaction score of 85.39%
Outstanding graduate prospects as York is a top 25 university most targeted by leading employers
It is a campus based university with 500 acres of parklands and is the winner of the Green Flag award for the sixth time
On-campus accommodation is available for all students at the University of York
Located in a safe and student friendly city of York, voted several times as one of the best place to live and visit in the UK
Award winning personnel development, training, placement and graduate mentoring schemes for giving a head start for a brighter future
Over 30 departments offering popular courses in law, nursing, politics, social sciences, arts and humanities, economics, management and finance
Scholarships at the University of York
A number of scholarships are available at the University of York for Indian students. These scholarships are offered on a range of courses at undergraduate and postgraduate level which include:
Academic Excellence Scholarship (For Undergraduate and Postgraduate programmes)
Vice-Chancellor's Scholarship (For Undergraduate programmes)
York Graduate Research School Scholarship (For Postgraduate Research)
Wolfson Postgraduate Scholarship (For Postgraduate Research in Humanities)
The University awards over 100 scholarships each year to international students in the range of £2,500 to £15,000. The scholarships recognise academic excellence and are awarded as a discount towards the international tuition fee.
To learn more about the University of York scholarships and application, speak to one of our UK education experts by arranging a free consultation today.
Student Life at York
Student life at York offers an unrivaled experience with students having much to look forward to on campus as well as in the city.
Accommodation is available for undergraduate and postgraduate students around the nine college communities at York's parkland campus. Catered and self- catered apartments, shared or en suite accommodation, students can select from a range of options for different budgets.
There are over 65 sports clubs and fitness centres at York with award winning facilities including a competition-standard swimming pool, floodlit 3G football pitches, an Olympic-sized outdoor velodrome, floodlit road cycle circuit, athletics stadium and 39 acres of grass playing fields.
More than 200 student societies at the University of York are a great way to meet new people and indulge in your interests and passion. These include societies for music, dance, band, comedy, concert, independent radio and TV station, environment and entrepreneurs society and many other international societies which are all supported by the Student's Union.
York is well connected with other major cities in England with great rail links and nearby airports making it easy for students to explore the rest of the UK and meet with friends from other universities.
Study at the University of York
If you want further information regarding scholarships, entry requirements, student life, facilities and 2021 entry at the University of York, contact SI-UK India to arrange a free consultation today. Our team can help with your application and answer any questions you may have.
Other related articles: