Are you considering sending your child to study abroad? The idea of studying in a foreign country may seem daunting at first, but rest assured; it is an adventure that holds incredible potential for your child's personal, academic, and career growth. The experience of studying abroad goes far beyond textbooks and classrooms, offering a transformative journey that can shape their future in profound ways.
Studying abroad provides your child with access to world-class educational institutions that offer cutting-edge programmes in various fields of study. They will have the opportunity to learn from renowned professors, engage in innovative research, and experience different teaching methods that foster critical thinking and creativity.
Learn below more about the questions that you should ask when planning to send your child to study abroad, or book a free consultation with SI-UK.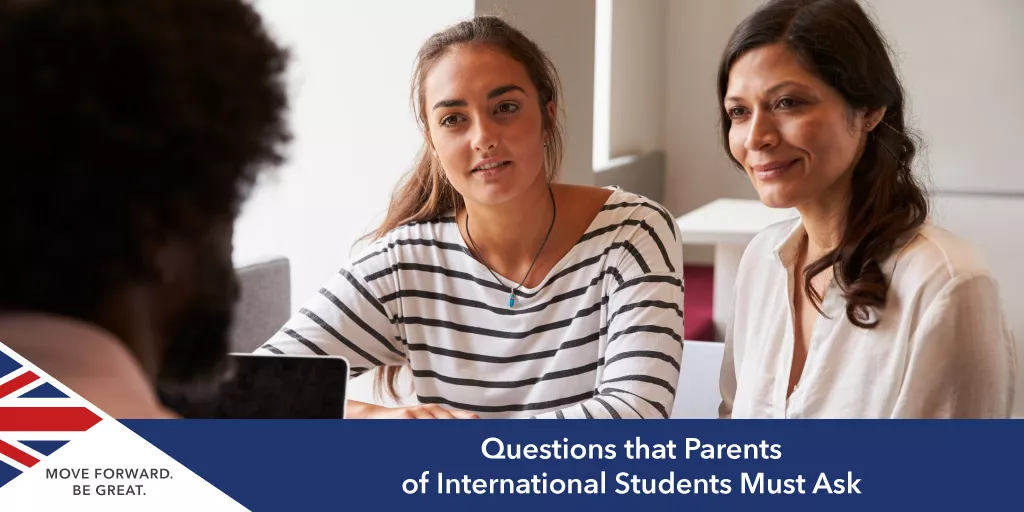 Questions to Ask Before Your Child Studies Abroad
Why should I let my child study abroad?
Studying abroad opens doors to a world of possibilities for your child. It allows them to immerse themselves in a new culture, gain a global perspective, and develop valuable skills that will set them apart in the increasingly competitive job market.
By studying abroad, your child will have the opportunity to expand their horizons, make lifelong friendships, and become more independent and self-reliant. Moreover, studying abroad enhances language proficiency, cross-cultural communication skills, adaptability, and problem-solving abilities.
How do you pick a study abroad programme?
Choosing the right course to study abroad is crucial to ensure a fulfilling and enriching experience for your child. Start by considering their academic goals, career aspirations, and personal interests. Research universities and programmes that align with their field of study and offer a curriculum that matches their academic needs. Additionally, take into account factors such as the location, cultural opportunities, extracurricular activities, and support services provided by the university.
When should my child start with the application?
The application process for studying abroad can be time-consuming, so it's important to plan ahead. Ideally, your child should start preparing their application at least one year in advance. This allows them ample time to research universities, prepare for standardised tests, gather necessary documents, and complete application forms. Remember to keep track of application deadlines and submit the required materials well in advance to avoid any last-minute rush.
What are the basic documents required to make an application?
When applying to study abroad, there are several essential documents that your child will need to submit. These typically include academic transcripts, letters of recommendation, a statement of purpose, standardised test scores (such as the SAT or TOEFL), a resume or curriculum vitae, and proof of financial support. It's important to ensure that all documents are accurate, up-to-date, and meet the requirements of the university or degree they are applying to.
How does it help my child's career graph?
Studying abroad can significantly enhance your child's career prospects. Employers today value the international experience and global perspective that studying abroad offers. It demonstrates qualities such as adaptability, cultural sensitivity, independence, and problem-solving skills.
Additionally, studying abroad often provides opportunities for internships, networking, and exposure to industry professionals, giving your child a competitive edge in the job market. The connections and experiences gained while studying abroad can open doors to exciting career opportunities both domestically and internationally.
Why should I send them to a country with no acquaintances?
Sending your child to a country where they have no acquaintances might seem daunting, but it can be a transformative experience. It pushes them out of their comfort zone and encourages personal growth and independence.
They will have the chance to build new friendships, develop a global network, and gain a deeper understanding of different cultures. Universities often provide support services and resources to help international students adjust to their new surroundings, ensuring their safety and well-being.
How can I ensure they stay safe while they're abroad?
Ensuring the safety of your child while they are studying abroad is a top priority. Start by researching the safety record and reputation of the country and city they will be living in. Encourage your child to stay informed about local laws, customs, and potential risks.
It's essential to maintain open lines of communication and establish emergency contact plans. Familiarise yourself and your child with the resources available, such as campus security, local authorities, and the support services offered by the university.
What are the accommodation options for my child?
Universities typically offer a range of accommodation options for international students. These can include on-campus dormitories, shared apartments, homestays, or private rentals. Each option has its own advantages, and the choice depends on your child's preferences, budget, and desired level of independence. Encourage your child to explore the housing options provided by the university and consider factors such as location, cost, facilities, and proximity to campus.
What if my child goes through culture shock?
Culture shock is a common experience when studying abroad, and it's important to prepare your child for this possibility. Encourage them to learn about the local culture, customs, and traditions before their departure.
Discuss potential challenges they may face and provide them with strategies to cope with culture shock. Universities often have support services, such as counselling or international student associations, that can assist your child in navigating cultural adjustments and provide a support system during their transition.
How can SI-UK help
At SI-UK, we understand the complexities of studying abroad and aim to support students and parents throughout the entire process. Our experienced consultants provide personalised guidance, helping you and your child make informed decisions about university choices, study abroad scholarships, and the application process.
We offer comprehensive services, including assistance with documentation, visa applications, and interview preparation. Book a free consultation with SI-UK India to learn more about how we can assist your child as they embark on their study abroad journey.
FAQ
What are the best universities in the UK to study?
When it comes to the best universities in the UK, there are several renowned institutions that consistently rank high in global university rankings. Some of the top universities in the UK include the University of Oxford, the University of Cambridge, Imperial College London, University College London and the London School of Economics and Political Science.
How to convince Indian parents for abroad studies?
Convincing Indian parents about studying abroad may require open communication and addressing their concerns. Start by explaining the benefits of studying abroad, such as exposure to a global education system, diverse cultural experiences, enhanced career opportunities, and personal growth. Assure them of your commitment to your education and career goals, and offer to involve them in the decision-making process by addressing any concerns they may have.
What are the eligibility criteria to study master's in the UK?
The eligibility criteria for studying for a master's in the UK vary depending on the university and course. Generally, applicants are required to have a bachelor's degree or equivalent qualification in a related field from a recognised institution. English language proficiency is also crucial, and most universities accept standardised English language tests such as the IELTS or TOEFL.
Can I study and work in the UK simultaneously?
Yes, international students studying in the UK are permitted to work part-time while pursuing their studies. As of 2023, students can work up to 20 hours per week during term time and full-time during scheduled breaks.