Preparing for an English language test is a crucial step towards achieving your academic and career goals. Whether you are planning to study abroad, seek employment opportunities in English-speaking countries, or enhance your language skills, a systematic and well-planned preparation approach is essential.
From understanding the test format to improving your language skills, and from creating a study plan to seeking additional resources, there's a lot that goes while preparing for your English Language Test to study abroad. Below we have outlined the nine practical steps that will help you effectively prepare for an English language test.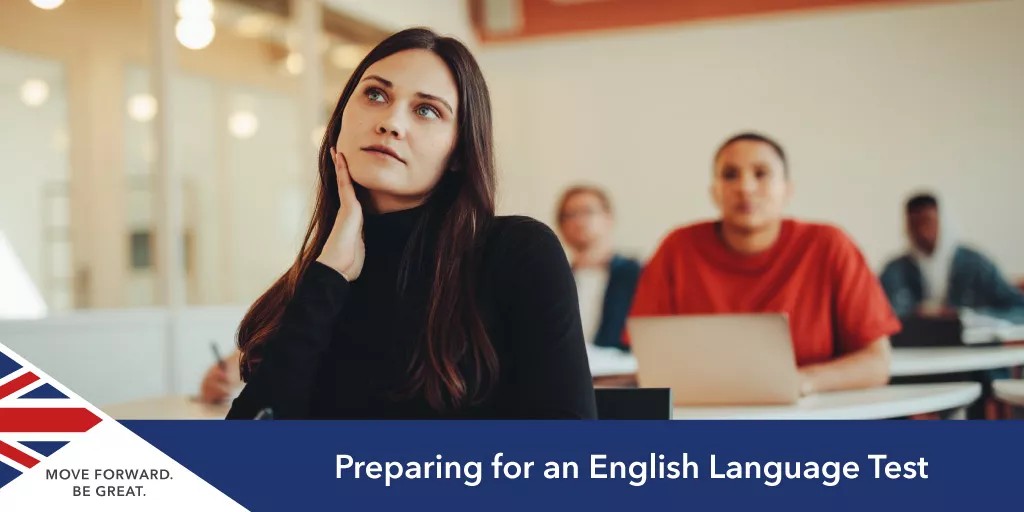 9 Steps to Prepare for an English Language Test
Step 1: Understand the Test Format
Familiarise yourself with the structure, sections, and timing of the English language test you will be taking. This understanding will help you create a study plan and allocate appropriate time for each section.
Step 2: Assess Your Current English Proficiency
Take a practice test or evaluate your language skills to identify your strengths and weaknesses. This self-assessment will guide your preparation and enable you to focus on areas that require improvement.
Step 3: Set Clear Goals
Define your target score or proficiency level. Having a specific goal will keep you motivated and give you a clear direction during your preparation.
Step 4: Create a Study Plan
Develop a study plan that outlines the topics, skills, and areas you need to cover. Break down your preparation into manageable daily or weekly tasks, allocating time for each skill area (listening, reading, writing, speaking) and incorporating regular practice sessions.
Step 5: Use Authentic Study Materials
Utilise authentic study materials designed for the specific English language test you are preparing for. These materials can include official practice tests, sample questions, textbooks, online resources, and test preparation books.
Step 6: Practise Regularly
Consistent practice is crucial for improving your language skills. Set aside dedicated time each day or week for practice sessions. Work on sample questions, complete practice tests under timed conditions, and focus on improving your speed, accuracy, and overall performance.
Step 7: Improve Language Skills
Focus on enhancing your English language skills in all areas: listening, reading, writing, and speaking. Engage in activities such as listening to English podcasts, reading English newspapers or books, writing essays or articles, and engaging in conversation with native English speakers or language exchange partners.
Step 8: Seek Additional Resources and Support
Explore additional resources to supplement your preparation. This may include test preparation courses or utilising language learning apps.
Step 9: Review and Track Progress
Regularly review your progress and identify areas that need further attention. Analyse your practice test results, review incorrect answers, and seek feedback to understand your mistakes and improve. Track your progress to stay motivated and adjust your study plan as needed.
English Language Test Format
English proficiency tests typically consist of four sections- Reading, Listening, Writing, and Speaking.
Reading: This section evaluates your ability to understand and interpret written passages. You will be required to read a variety of texts, such as articles, essays, and excerpts from books, and answer questions that assess your comprehension, vocabulary, and inference skills.
Listening: In the listening section, you will listen to a series of audio recordings, such as conversations, lectures, or interviews, and answer questions based on what you hear. This section assesses your ability to understand spoken English, including details, main ideas, and speaker attitudes.
Speaking: The speaking section measures your fluency in communicating in English. You may be asked to engage in tasks such as introducing yourself, expressing opinions, describing experiences, or participating in simulated conversations. This section evaluates your pronunciation, fluency, vocabulary usage, grammar, and coherence in spoken English.
Writing: The writing section typically requires you to complete tasks that assess your ability to construct well-organised, coherent written responses. You may be asked to write an essay, summarise information from a chart or graph, or provide written responses to prompts. This section evaluates your grammar, vocabulary, coherence, and ability to express ideas effectively in writing.
Need help to prepare for your English Language Test? Contact SI-UK to book an appointment to assess your English level and get expert advice on preparing for any English Language Test.