Oxbridge comprises two of the oldest and most reputed universities in the English-speaking world - Oxford and Cambridge. They are not only the UK's oldest and most famous universities but also two of its highest-ranking universities.
Around 7,200 students go to Oxbridge universities every year, and the consensus is that the interview stage is the hardest element to get right.
There are a number of key reasons that separate Oxbridge university from the rest of the universities in the UK. Learn below more about studying at Oxbridge or contact SI-UK India to book your free consultation and begin your application for the next intake.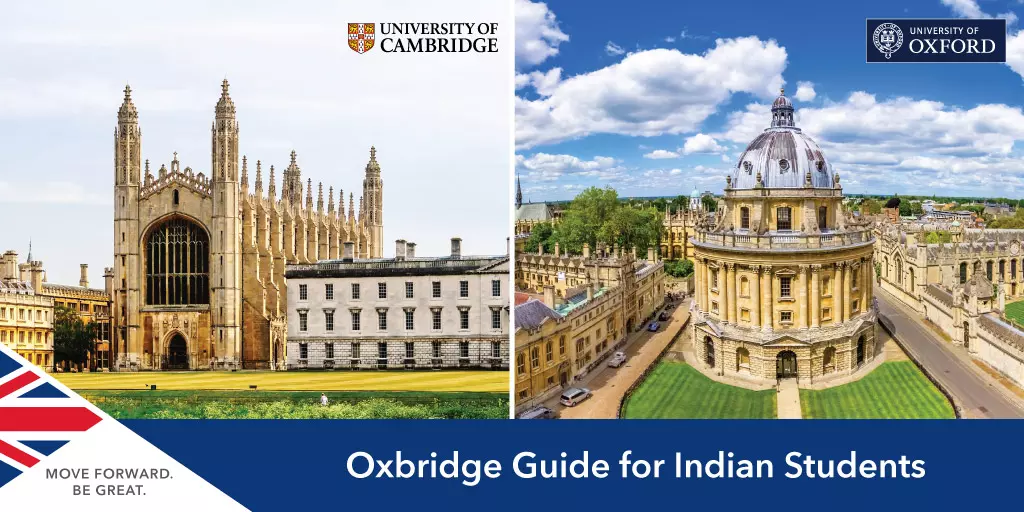 Oxbridge Guide for Indian Students
Oxbridge Universities
Oxbridge is made up of two of the most famous universities in the UK, Oxford, and Cambridge. Both universities are the most popular UK universities and the dream of millions of students.
The University of Oxford is an elite centre for learning, teaching, and research and is the oldest university in the English-speaking world. The University is divided into four academic divisions: Humanities, Mathematical, Physical & Life Sciences, Medical Sciences, and Social Science, and each division is further segregated into other departments, faculties, and schools.
The University of Cambridge is the fourth oldest university in the world and home to over 20,000 students from over 140 countries. The University is made up of 31 constituent colleges, and 91% of Cambridge graduates said they were under permanent employment within 15 months after graduation.
The University is divided into six faculties that are School of Arts and Humanities, the School of Humanities and Social Sciences, the School of Biological Sciences, the School of Physical Sciences, the School of Clinical Medicine, and the School of Technology.
Oxbridge Courses
Oxbridge courses are some of the best of their kind in the world, regularly finishing in the top five of global rankings. The University of Oxford ranks highly in Archaeology, Arts, History, Law, Literature, Medicine, Philosophy, and Psychology, while Cambridge ranks highly in Archaeology, Engineering, History, Linguistics, Medicine, and Modern Languages.
Oxbridge Application Process
Admission into Oxbridge universities is extremely competitive, and the deadline to apply is in October each year - much earlier than all other universities in the UK (January/June).
Students who apply will need to have the full package - academic ability, experience, extracurricular interests and ambition. The typical conditional offer for Oxbridge ranges between A*A*A and AAA, which may vary according to the subject. As well as this, an interview will also need to be passed.
Both Oxford and Cambridge have their own candidate evaluation systems, Supplementary Application Questionnaire (SAQ) and entry tests (dependant on course).
Oxbridge College System
Oxford and Cambridge are made up of 40 and 30 colleges, respectively. The Oxbridge College System is a collection of buildings that are often historic and attractive. Each college has common rooms, accommodation, a library, and computer facilities.
Each of the Oxbridge colleges has 400 students on average completing their Bachelor's or Master's degree. All Oxbridge Colleges deliver a readymade community to help students comfortably settle down in their new environment.
Study at Oxbridge
Contact SI-UK today for a free consultation and to begin your application for study at an Oxbridge University. With our Oxbridge Service, we can help you successfully apply with the support of our expert team. Get expert interview practice with our Oxbridge consultants, who are Oxford and Cambridge graduates, and realise your dream of Oxbridge study.