An engineering degree from a prestigious engineering school in the UK will give you a vital boost in the crowded 21st-century job market. There has been substantial growth in the engineering sector over the last few years and there is a constant demand in the UK, and all over the world, for talented graduates with the right attitude and application.
Engineering in the UK is interdisciplinary and versatile. Before choosing an engineering discipline, you should have an honest opinion about your ability to tackle it. Follow your interests, check your grades and think about what speciality you are interested in.
Learn more below about the different types of engineering programmes available to study in the UK and if you would like to begin your application, arrange a free consultation with SI-UK India today.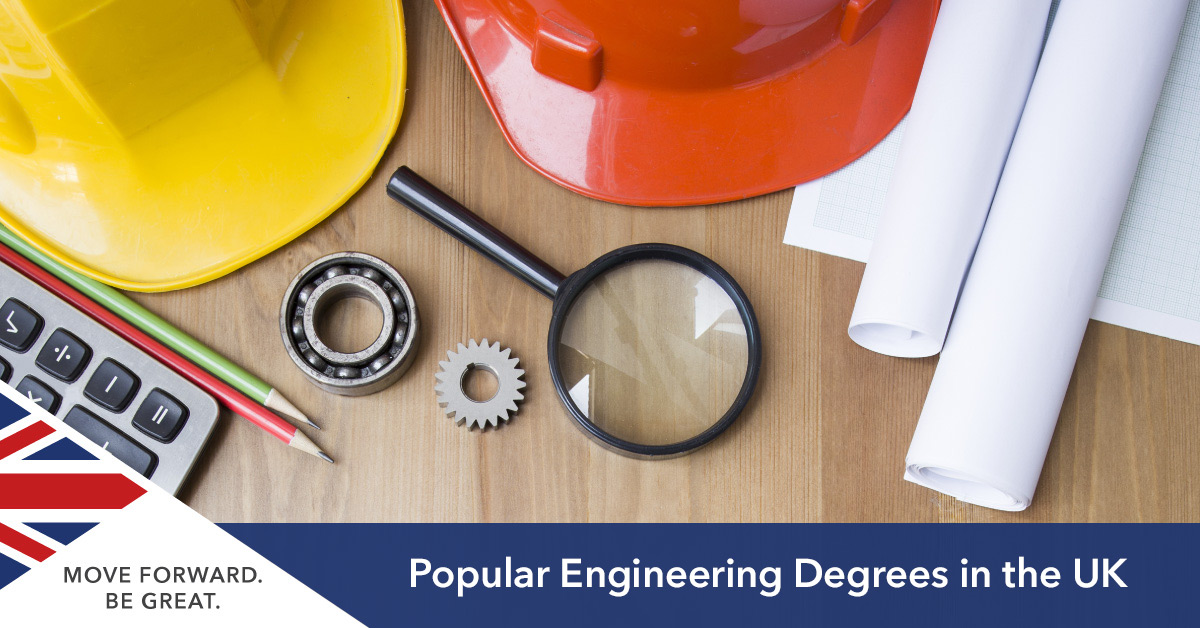 Popular Types of Engineering Courses in the UK
The UK is highly popular amongst students who wish to continue their education abroad, and Engineering is one of the most sought after courses in the UK due to the quality of teaching, research and facilities.
- Civil Engineering
Civil engineers are responsible for maximising the use of natural resources in the creation of infrastructure through designing, construction, maintenance and managing construction projects for bridges, buildings, roads, tunnels, canals, dams and railways etc.
- Mechanical Engineering
Using principles of physics such as heat, force, the conservation of mass and energy, mechanical engineers analyse, design, create, maintain and test industrial equipment, vehicles, aircraft, heating and cooling systems and machinery that is meant to move.
- Electrical Engineering
Electrical engineering applies electricity, electronics and electromagnetism to find innovative and practical solutions for building and designing intelligent utility networks, wireless networks, electronic control systems, advanced nanotechnology and biochips.
- Chemical Engineering
Chemical engineers, also known as universal engineers, are involved in the process of transforming raw materials into more useful or valuable forms, making things happen efficiently on a massive industrial manufacturing scale. They apply chemistry, physics, biology, mathematics and economics to get the best results at the least cost with the lowest impact on the environment.
- Computer Science and Engineering
Computer Engineers design and test computer components and computer systems. They develop and design memory devices, processors, circuit boards, networks or any other new hardware. They aid in the advancement of computer technology and incorporate the use of computers in industrial plants.
- Mechatronics Engineering
Mechatronics Engineering is a multidisciplinary field integrating the principles of engineering of various branches such as mechanical, computer, electronic, telecommunication, system and control engineering. It has unified various disciplines, whilst keeping its core mechanical engineering education. All in all, it deals with the convergence of electrical and mechanical systems.
- Marine Engineering
Marine Engineering is a branch of engineering that prepares an individual for the operation, maintenance and repair work of equipment and systems. It can include power generation systems, water and fuel related applications and air conditioning, among others. A graduate of marine engineering can join as an engineer or do some advanced courses in core marine technology or join a management institute.
- Aeronautical Engineering
Aeronautical Engineers at UK universities learn research-based modules that help them to understand and learn more about the designing and functioning of flying machines. There are various streams and roles that an aeronautical engineer can take, be it a technician or strategist in government bodies. The job opportunities are vast and dynamic for these graduates.
- Automobile Engineering
Automobile engineers are responsible for designing and making functional automotive equipment. An automobile engineering graduate can be in an assembly line or in the product department, designing new automobiles. The professionals in this field have an extremely crucial role to play because safety is a crucial element that is needed to be considered and reconsidered while designing something, which makes it a stream of immense responsibility.
- Electronics and Communication Engineering
Electronics and communication engineering focuses on teaching the students about electronic devices, circuits and other transmission sources. This branch of engineering has its roots in developing, correcting and formulating the inner designs and chip circuitry of different applications.
Study Engineering in the UK
If you are interested in studying Engineering in the UK, arrange a free consultation with SI-UK India today to get your application started.