The UK is already a top destination for higher education, thanks to their top ranking universities, cutting-edge research and global outlook. A two year post study work visa, outstanding scholarships and flexible course start options with September and January entry further add to its competitiveness and popularity. While these are enough reasons to know why thousands of international students study in the UK there is more
Studying at the UK's stunning universities is a captivating and memorable experience for international students who are drawn to their rich history and magnificent architecture. The alluring culture and picturesque cities in which these universities are based add to the overall beauty making for an unmatched student experience. UK universities are also famous for their victorian campuses and gothic style buildings, making them a preferred setting for movie and drama filming.
Read below about the five most beautiful university campuses in the UK and arrange a free consultation with SI-UK India if you wish to apply to study in the UK.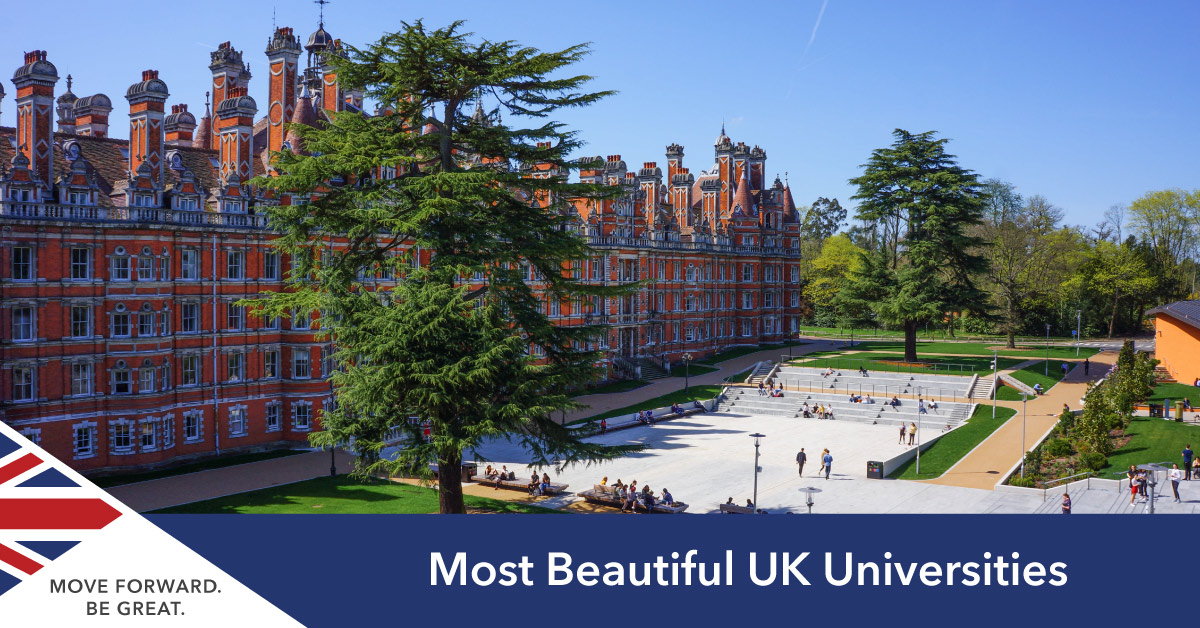 Five Universities in the UK with the Most Beautiful Campus
1. Royal Holloway, University of London
Considered one of the most stunning campuses in the UK, Royal Holloway has frequently featured in many Hollywood blockbusters and British period dramas. The gothic style university buildings consisting of turrets, towers and impressive pillars are inspired by the Château de Chambord, Loire Valley, France. The University is located on 135 acres of beautiful parklands just outside of London in Surrey.
Ranking: Top 20 UK University (The Times and Sunday Times Good University Guide 2020)
2. Queen's University Belfast
Queen's University located in Belfast, capital of Northern Ireland, comprises 250 buildings spread across an estate close to the river. Its historic central building, the Lanyon, was designed by Sir Charles Lanyon, the architect of Belfast Castle. The University's magnificent Great Hall with carved wooden panelings and soaring buttressed ceilings is admirable while the Belfast Botanical Gardens outside make for an eye-catching floral display.
Ranking: 8th in the UK for Research Intensity (REF 2014/Times Higher Education)
3. University of Aberdeen
Aberdeen is one of the oldest universities in Scotland and is known for its iconic buildings and great academic heritage. King's College at the Old Aberdeen campus is considered the city's historic centre and widely recognised symbols of Aberdeen. The 11 acres of mesmerising botanical gardens at Aberdeen university include an arboretum and a collection of 2500 labelled plants.
Ranking: Scottish University of the Year 2019 (The Times and Sunday Times Good University Guide 2019)
4. Aberystwyth University
Founded in 1919, Aberystwyth University is one of the oldest in the UK and amongst the most picturesque and historically beautiful campuses. A symbol of welsh education, it's medieval buildings resemble a castle and the Old College building serves as the centre for Welsh education and University's administration. The Penglais campus was awarded the Green Flag award for its quality green estates and the University is also home to the National Library of Wales and an award winning Arts Centre.
Ranking: University of the Year for Teaching Quality (The Times and Sunday Times Good University Guide 2018)
5. Durham University
Durham is a leading UK university which is home to stunning buildings which are widely considered architecturally marvellous. One of the colleges, the University College, is located inside the 11th century Durham Castle which is a UNESCO World Heritage site and the college also provides student accommodation to some lucky students each year.
Ranking: 5th Best UK University (Guardian University Guide 2020)
Study in the UK
Studying in the UK has unique benefits for Indian students who look for a post-study work permit and scholarships. But the country is also home to the world's most beautiful universities and make for a great study abroad experience. Apply to study at top ranking UK universities and book a free consultation with SI-UK to get started today.
Other Related Articles
The Best International Universities in the UK
Five London Universities For January 2021 Entry
Six Benefits of PSW Visa for Indian Students