Quality education is not the only factor that attracts international students to the UK. Affordability is another major factor which makes it a top study abroad destination. It is easy to find cheap places to live in the UK without compromising on a high-quality learning experience.
Students often get discouraged from studying abroad due to the high costs of living involved. However, the UK has some great options for affordable education as many of its top ranking universities are located in the world's most affordable student cities, which not only offer cheap places to live as students but also to enjoy their student life without feeling financially burdened.
Discover the cheapest places for Indian students to live in the UK below and contact an SI-UK consultant if you wish to study in the UK.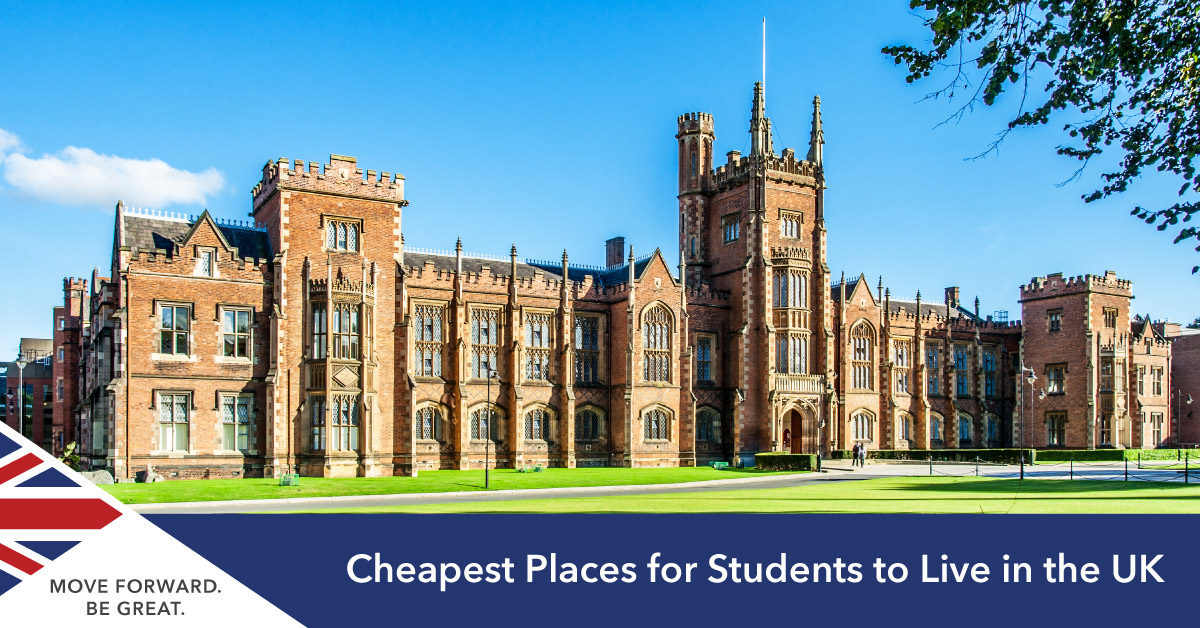 Top Ten Most Affordable Places for Students in the UK
Discover ten of the cheapest places for students to live in the UK below, alongside information on universities in that location and what tuition fees you can expect to spend on a degree.
1. Bournemouth
Bournemouth, renowned for its appealing lifestyle, emerges as an affordable gem for students. Home to world-class beaches, access to the Jurassic Coast, and the scenic New Forest, the city offers a unique blend of natural beauty and urban convenience. The cost of living in Bournemouth, estimated at £840 per month excluding tuition fees, remains reasonable. Affordable housing, with an average price of £558 per month and low food and transportation costs, adds to the city's attractiveness for students seeking a balance between education and quality of life.
Universities in Bournemouth
2. Cardiff
Cardiff, one of the UK's most affordable cities for students, boasts a vibrant atmosphere and rich cultural scenes. Home to prestigious universities, including Cardiff University and Cardiff Metropolitan University, it provides quality education at a reasonable cost. The city's friendly environment fosters connections among a diverse student population, offering multiple opportunities for shared interests.
With an average monthly living cost of £720 to £850, Cardiff ensures students can enjoy a fulfilling university experience without breaking the bank. In addition, the city's historical architecture, dating back to the twelfth century, adds to its charm.
Universities in Cardiff
3. Lincoln
Lincoln, recognised as one of the most affordable cities for students in the UK, offers a cost-effective living environment. With a monthly living cost ranging between £750 and £1,200, the city caters to various budget preferences. Student housing, priced between £250 and £650 per month, further contributes to the affordability. The city hosts reputable institutions like the University of Lincoln, attracting students seeking quality education without excessive expenses. Lincoln's appeal extends beyond affordability, with its historic charm and diverse lifestyle options making it an enticing destination for academic pursuits.
Universities in Lincoln
4. Portsmouth
Portsmouth, the UK's only island city, emerges as an affordable and vibrant student hub. Home to top universities, including the University of Portsmouth, it offers an unbeatable student experience. The city's unique island setting provides access to beaches, diverse dining options, independent shops, music venues, and cultural hotspots. Voted in the top 10 trending hotspots by Airbnb in 2022, Portsmouth's picturesque surroundings and welcoming atmosphere make it an ideal place to live and study, offering a blend of affordability and an exciting lifestyle.
Universities in Portsmouth
5. Newcastle
Newcastle Upon Tyne, a top-ranking UK student city, offers students an affordable and dynamic environment. Recognised for its thriving culture and compact size, the city balances vibrancy and a sense of community. Home to acclaimed universities, including Newcastle University and Northumbria University, it attracts a diverse student population. With approximately one in six people in the city being a student, it fosters a lively atmosphere. The average living cost for international students is around £1,112 per month, covering essentials like accommodation, food, travel, and study materials.
Universities in Newcastle
6. Manchester
One of the biggest and most affordable UK cities, Manchester has a vast industrial heritage and is a city which is a student hub in the UK. Leading universities in the city are the University of Manchester, Manchester Metropolitan University, University of Salford, Alliance Manchester Business School and Manchester School of Architecture. Accommodation in the city is cheap and affordable, available for just around £75 per week and going out to bars, pubs and cafes or taking a taxi is not that expensive either.
Universities in Manchester
7. Leeds
Leeds, a vibrant and multicultural city, is an affordable student haven. Home to a thriving arts scene, sports, leisure activities, and a dynamic nightlife, Leeds offers a diverse and exciting lifestyle. With a substantial student population of around 60,000, the city fosters a lively and engaging community. Affordable accommodation options at Leeds University make it particularly appealing to international students, offering a more budget-friendly alternative to cities like London. With a monthly budget of £1,057 to £1,181, Leeds ensures students can live comfortably while enjoying all the city offers.
Universities in Leeds
8. Birmingham
Birmingham, the youngest major city in the UK, stands out as an affordable hub for students. Renowned for its diverse population and vibrant culture, the city offers a dynamic environment for living and working. Home to prestigious universities such as the University of Birmingham, it attracts a youthful demographic, with 25 per cent of the population being 25 or younger. Birmingham's sports culture, featuring iconic venues like Edgbaston Cricket Ground, adds to its appeal. The city also supports innovative business initiatives, providing economic and professional growth opportunities.
Universities in Birmingham
9. Oxford
Oxford, renowned for its academic excellence and historical significance, surprisingly emerges as an affordable city for students. It is home to prestigious institutions like the University of Oxford and offers a world-class education in medieval architecture. Despite its elite reputation, Oxford welcomes students with diverse cultural and social opportunities. The city's unique blend of tradition and affordability make it an attractive choice. The living cost varies from £1,290 to £1,840 per month; Oxford's charm and educational offerings create a distinctive and enriching student experience.
Universities in Oxford
10. Leicester
Leicester is considered one of the cheapest places to live for students in the UK as accommodation rentals are not too high, and international students can find good places to live for as low as £83 per week. It is also valued for cheap transport, and a student pass can be made for just £29. Other living expenses such as meals, gym membership and entertainment options are also affordable for students living on a limited budget. The University of Leicester and De Montfort University are some of the top-ranking UK universities situated here.
Universities in Leicester
*Source: NatWest's Student Living Index 2023
Study in the UK
By studying in the UK you can gain a world class degree and keep costs low. Arrange a free consultation with SI-UK today to begin your journey.
FAQ
How much can students save by living off-campus in the UK?
Students can save money by living off-campus in the UK. The exact amount depends on the city and the type of accommodation. Generally, renting a place outside the university campus can be cheaper, saving £80-100 monthly. Exploring different housing options to find the most affordable one for your budget is a good idea.
Is public transportation affordable for Indian students in the UK?
Public transportation in the UK can be affordable for Indian students. Many cities offer student discounts on buses and trains. Check if special student passes or discounts are available, which can significantly reduce transportation costs.
What are the costs associated with obtaining a student visa for the UK?
The costs of obtaining a student visa for the UK include the application fee, which is £363 if you apply outside of the UK or £490 if you apply within the country. Additionally, you'll need to pay a healthcare surcharge of £470 per year. This surcharge allows you to access the National Health Service (NHS) during your stay in the UK.
How do the overall living expenses in Manchester compare to those in other affordable UK cities?
Manchester is known for being affordable compared to many other UK cities. Living expenses in Manchester are significantly more affordable than in London, with a cost difference of about 32.54%. Housing is a major contributing factor to this gap. The average monthly rent for a one-bedroom apartment in Manchester is approximately £706, whereas in London, it jumps to £1,688.
Are there any cost-saving tips available specifically for Indian students in the UK?
Indian students in the UK can save money by exploring student discounts, using public transportation passes, buying groceries wisely, and cooking at home. Additionally, consider second-hand items for furnishings and participate in student events for free or discounted activities. Planning a budget and tracking expenses can also help manage costs effectively.