The UK is home to some of the world's best business schools. Several UK business schools are featured in the world's top 100 and thousands of Indian students apply to study in them every year. This is because of the superior practice-based teaching, high-quality research, state-of-the-art infrastructure and facilities, global accreditations and high employability prospects offered at UK universities.
If you would like to meet some of these great UK business schools, SI-UK is hosting its famous UK University Fair on 25th and 26th June from 12-5 pm. Over 70 business schools and UK universities are going to be in attendance and entry is free by registering online.
Register now for free to attend the online SI-UK University Fair, or learn more below about why you should attend.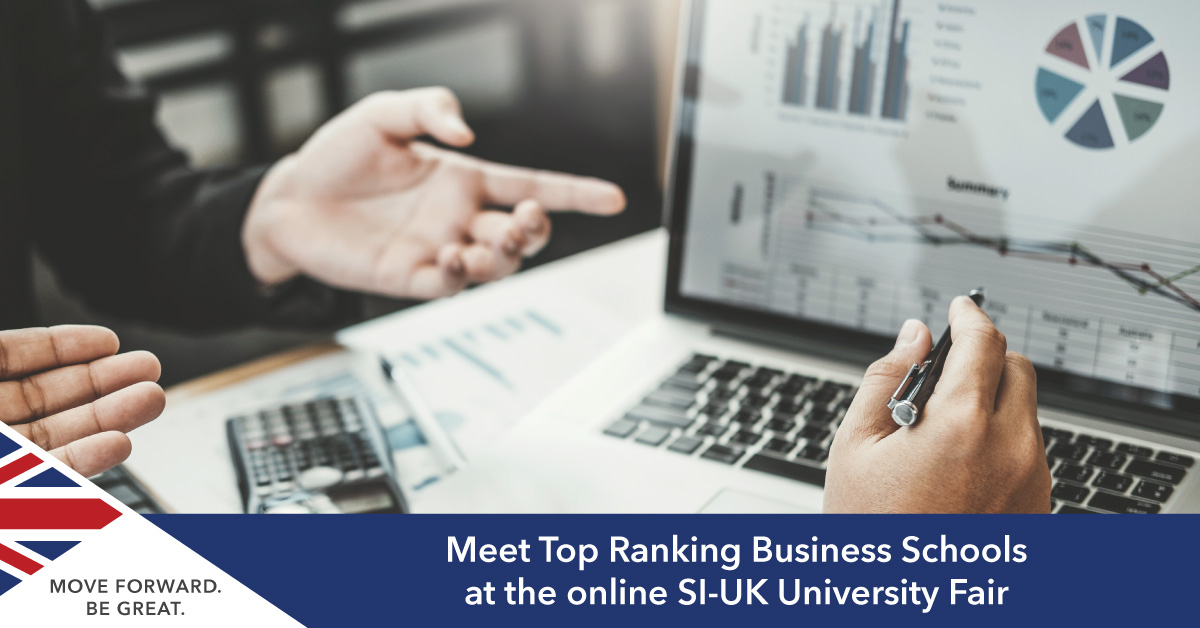 Why Attend the SI-UK University Fair?
The Fair is being held online, keeping safety in mind and allowing students to attend from the comfort of their home
Attending the UK university fair will allow students to interact with business schools directly through university advisors
Entry to the Fair is free and students are allowed to interact with as many universities as they like
The Fair is a unique platform for Indian students to meet top UK universities online and make an informed decision about where and what to study in the UK
Learn more about attractive scholarships which offer up to 100% off tuition fees
Receive guidance on entry requirements, IELTS requirements student visas, education loans, scholarships and student accommodation
Find out about how the new 2-year post-study work visa or Graduate Immigration Route will help Indian students live and work in the UK
Learn more about studying popular subjects at business schools such as:
Ten Top Ranking Business Schools at the SI-UK University Fair

Students will get to interact with reputed business schools and find information about courses offered at the following business schools:

The SI-UK University Fair is India's largest and most exclusive UK university fair where students can meet over 70 excellent UK universities in one place. The SI-UK Fair acts as a channel through which students can directly gather important, trustworthy information about studying in the UK.
Attend the SI-UK University Fair
Attend the SI-UK University Fair on June 25th or 26th from the comfort of your home. Select your region below and register online for free to apply and study business and management courses at UK business schools.

Related Articles: