London, the UK's vibrant capital, is a popular destination for Indian students applying to study abroad and several London universities feature in the UK's top 20 and world's top 100 rankings. London universities are a preferred choice for Indian students applying to study in the UK as they offer a vibrant learning environment, quality teaching and research, cutting-edge infrastructure and facilities, great exposure and great employment prospects in and around the city.
If you would like to meet some of the best universities in London, you can attend SI-UK's popular and exclusive UK University Fair for Indian students. The virtual fair is being held on Saturday, February 27th from 12-5 pm and almost 70 UK universities and international admissions officers are going to be available to meet and entry is absolutely free.
Register now for free to attend the online SI-UK University Fair, or learn more below about why you should attend and which London universities will be present.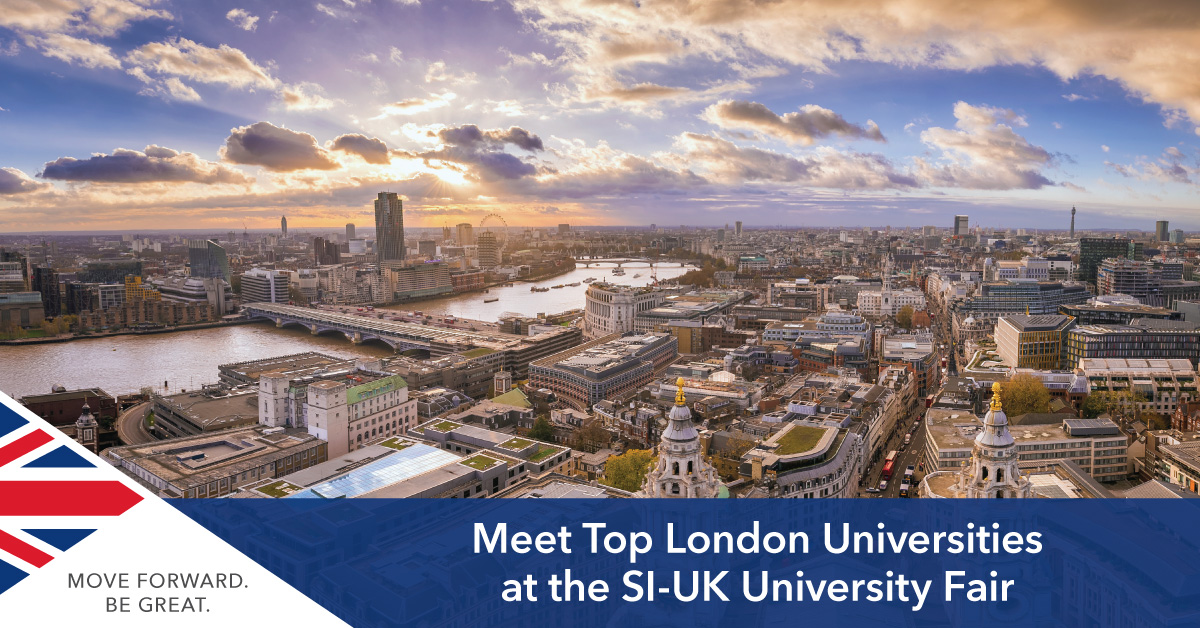 Why attend the Fair?
The SI-UK University Fair is India's largest and most exclusive UK university fair where students get a chance to meet 70 top UK universities in one place. The SI-UK Fair acts as a channel through which Indian students can directly gather important, trustworthy information about studying in the UK. Students can
Discuss September 2021 Entry
Receive subject and university guidance and counselling
Learn about visa, IELTS and entry requirements
Get information on scholarships with upto 100% off tuition fees
Discuss the new 2-year post-study work visa or Graduate Immigration Route
Five Top Ranking London Universities at the SI-UK University Fair
King's College London is London's most central university with five campuses situated on the banks of the River Thames between Westminster and London Bridge. King's is one of the oldest universities in the UK and is placed in the top ten UK universities in the world according to the latest QS World University Rankings.
King's is popular as one of the largest centres of excellence in Europe for medicine and the education of doctors, dentists and other healthcare professionals. At King's, students get to enjoy a world-leading university education at a prestigious Russell Group institute right in the middle of the UK's vibrant capital.
Queen Mary is one of the largest colleges of the University of London and is a member of the elite Russell Group of universities. Queen Mary is renowned for studying medicine, drama and linguistics among other subjects.
The Medical School has one of the best infrastructure and facilities in all of the UK and Queen Mary has the world's largest academic health science centre. Almost 25% of the students studying at the University are international and Queen Mary is one of the best research universities in the UK according to the latest Research Excellence Framework.
The University of Westminster is a very popular choice amongst Indian students and has campuses situated all over London, with three in central London and one in Harrow. The campuses are surrounded by famous landmarks such as Big Ben, Madame Tussauds and the Houses of Parliament.
The University maintains a strong vocational focus and is famous for studying art, architecture and film and media.
City, University of London is located in Islington in North London, near British landmarks such as St. Paul's Cathedral and the River Thames. City has one of the highest proportion of international students studying at UK universities and the University is popular for postgraduate studies in business, journalism and engineering. Many courses at the undergraduate level include a work placement, allowing students to gain experience whilst studying.
Royal Holloway, University of London is ranked in the UK's top 25 universities and is said to have one of the most beautiful campuses of all the London universities. The University offers the 'best of both worlds' with a friendly and relaxed environment on campus while also being close to the dynamic and busy city of London.
A leading research-intensive university, Royal Holloway is famous for studying music, English, psychology, drama, geography and modern languages.
In addition to these universities, other London universities that will be attending the fair include Brunel University London, SOAS University of London, Goldsmiths University of London, London Metropolitan University and St. Mary's University London.
Attend the SI-UK University Fair
Attend the SI-UK University Fair from the comfort of your home. Select your region below and register online for free to meet and apply to the best universities in London and the UK.