Commercial law is a branch of law that deals with the legal aspects of businesses and commercial transactions. It encompasses many areas, including contracts, company law, intellectual property, and competition law.
One of the significant challenges businesses face in today's globalised world is staying abreast of the ever-changing commercial laws and regulations. Therefore, it is essential for students interested in pursuing a career in this field to have a thorough understanding of commercial law and its complexities.
An LLM (Master of Laws) degree in commercial law can provide students with the necessary knowledge and skills to address the legal issues that businesses face. The course curriculum is designed to provide students with a theoretical foundation of commercial law and practical experience through case studies, moot courts, and internships. The course usually covers international trade law, commercial arbitration, and corporate governance. Studying LLM commercial law in the UK can expose students to the diverse range of businesses operating in the country and their legal issues.
An LLM degree in commercial law can open up many career opportunities for students. Graduates can work as legal advisors in multinational corporations, law firms, or government agencies. They can also pursue a career in academia, research, or consulting.
Learn more below about studying LLM Commercial Law in the UK, or book a free consultation with SI-UK India to begin your application.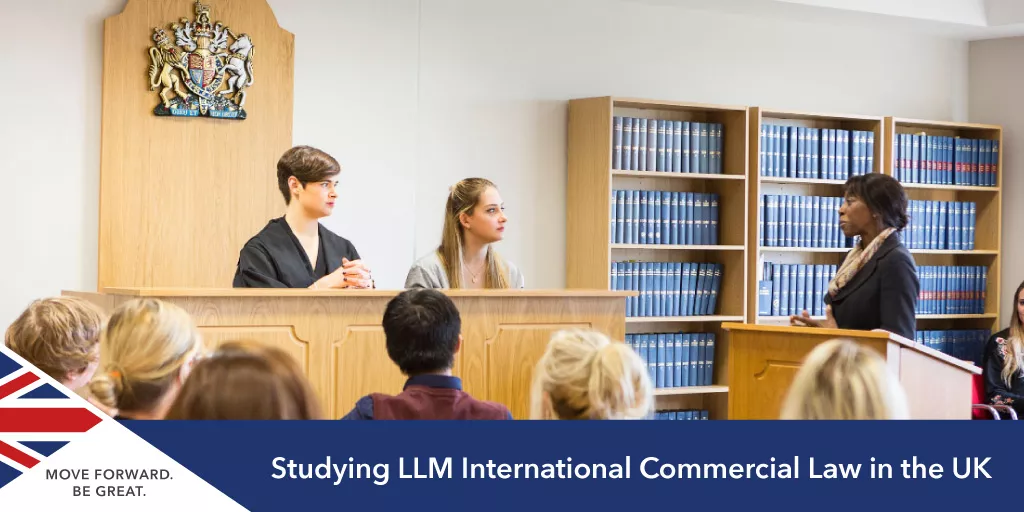 Four Reasons to Study LLM Commercial Law in the UK
1. International reputation of UK universities
The reputation of UK universities worldwide is highly regarded, with many of its institutions ranking consistently among the top universities in global rankings. The UK's education system is known for its quality and high standards, with universities providing students with a world-class education and a wealth of opportunities for personal and professional growth.
Studying commercial law at a UK university can strengthen one's profile significantly. The UK is home to some of the world's most renowned law schools, such as the University of Oxford, the University of Cambridge, and the London School of Economics.
Studying at such institutions can provide students with access to highly qualified faculty members, cutting-edge research facilities, and a diverse student body worldwide.
2. Unique specialisation
An LLM in commercial law is a unique specialisation that can provide students with valuable and in-demand skills in the current world. Commercial law is an area of law that deals with the legal aspects of business transactions, such as contracts, mergers and acquisitions, and intellectual property.
As the global economy becomes increasingly interconnected, the demand for lawyers with expertise in commercial law is growing rapidly. An LLM in commercial law is a unique specialisation because it provides students with an in-depth understanding of the legal principles that govern commercial transactions and the skills and knowledge needed to navigate complex business deals.
Students who complete an LLM in commercial law are well-equipped to advise businesses on legal matters, negotiate complex transactions, and manage legal risk.
3. Career prospects
The unique specialisation of an LLM in commercial law can help students stand out in the competitive job market. With the demand for lawyers with expertise in commercial law on the rise, having a specialised degree in this area can make a candidate more attractive to employers.
After completing an LLM in commercial law, graduates have many job opportunities. They can work as in-house counsel for corporations, legal advisors for government agencies, lawyers in private practice, or as legal consultants for international organisations. With their expertise in commercial law, graduates can also work in areas such as finance, banking, and international trade.
The demand for lawyers with expertise in commercial law is on the rise, and there is a growing need for legal professionals who can navigate the complex legal issues that arise in today's global business environment.
4. Networking Opportunities
Studying at UK universities can significantly improve networking opportunities for students. UK universities attract students from all over the world, creating a diverse and international student community.
This allows students to connect with people from different backgrounds and cultures, which can be highly valuable in building a professional network. By networking with fellow students and industry professionals, students can build relationships that can help them academically and professionally.
Best Universities for LLM in the UK
The University of Cambridge, LSE and University College London are among the best universities to study an LLM in the UK.
Study LLM Commercial Law in the UK
Contact SI-UK India today to begin your application to study LLM Commercial Law in the UK. Book a free consultation now!