Nestled on the edge of the Cotswold Hills, Cheltenham is known as a spa town and is famous for its elegant Regency architecture, beautiful parks, and cultural events.
The town has been a popular destination for health and wellness seekers since the 18th century when it became known for its natural springs and mineral waters. It is also known for hosting several cultural festivals throughout the year, including the Cheltenham Festival, its horse racing event. Let's find out more.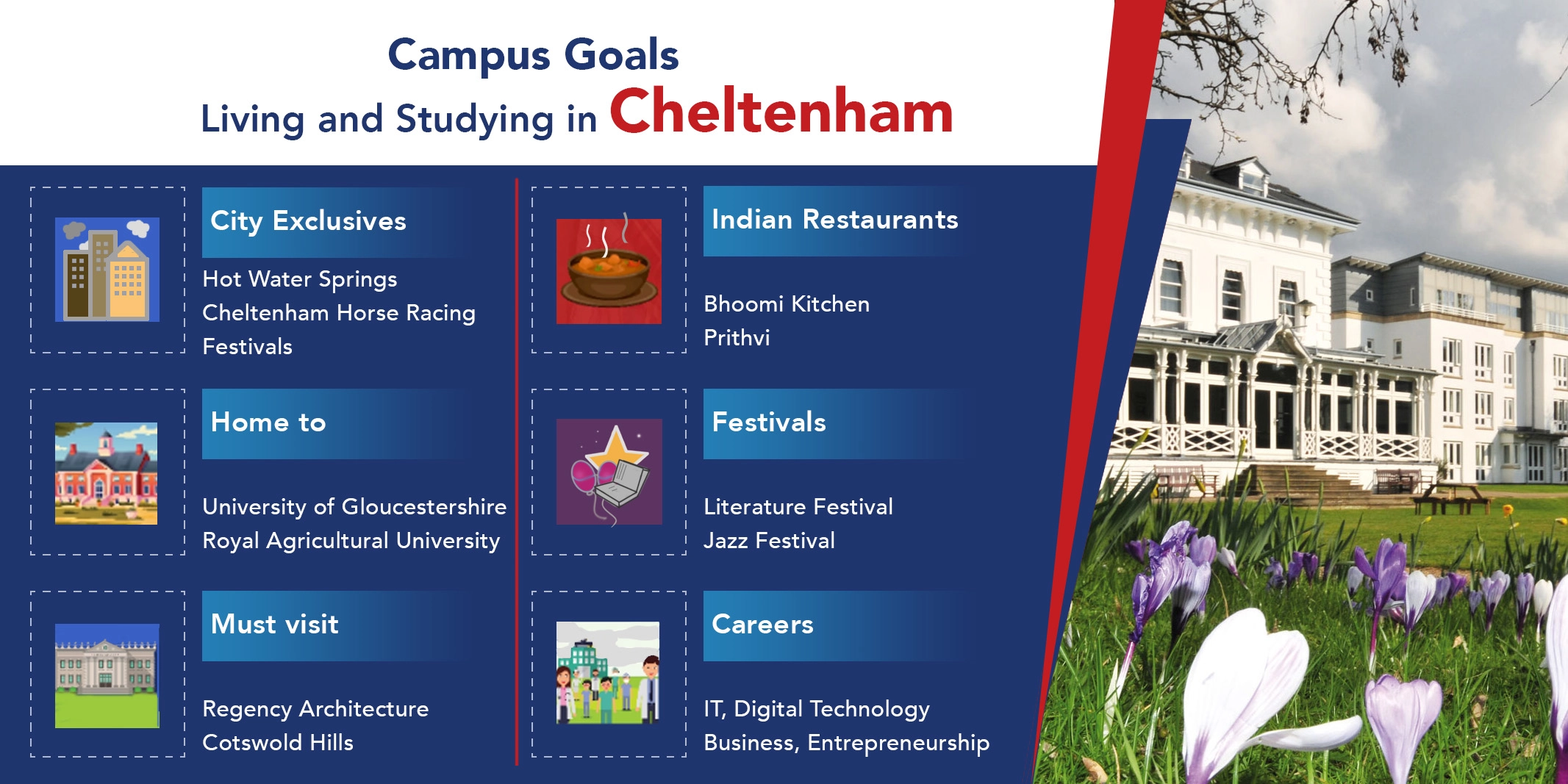 International Student Guide to Cheltenham
Community Student Experience
Cheltenham offers students an idyllic mix of city-style living with the community feel of a town environment. It is a compact town, and most of its attractions, sights, and cultural hotspots can be easily reached within a 20-minute walk from the town centre.
There are several areas in Cheltenham where students tend to live, including Montpellier, Pittville, and the Town centre. These areas offer a range of accommodation options, from shared houses and apartments to student residence halls.
In terms of popular areas with the Indian community, Montpellier and Pittville are both popular neighbourhoods. They offer a range of accommodation options and are located close to the town centre and the University of Gloucestershire campus. They also have many shops, restaurants, and amenities that cater to the Indian community, including several Indian supermarkets and restaurants.
Top Rated Universities
The university has its roots as the Mechanics' Institute, established in 1834 to provide education and training for the working classes. The institute included a teacher training college and a polytechnic before becoming a university in 2001. Today, the university is spread across several campuses in Gloucester and Cheltenham, with the main campus in Cheltenham. It offers a range of undergraduate and postgraduate programmes in subjects such as art and design, business, computing, education, health and social care, law, media, and sport.
Although located in Cirencester, it is just about 16 kilometres from Cheltenham. Founded in 1845 as the Royal Agricultural College, it is one of the oldest agricultural colleges in the world. The college was established to provide education and training in the fields of agriculture and land management. Today, the Royal Agricultural University offers a range of undergraduate and postgraduate courses in subjects such as agriculture, business, equine science, food and drink, land management, and real estate.
Acceptance rate: 75%
Top courses: Agriculture, Business, Equine
Universities in Cheltenham host many public cultural and intellectual events, such as lectures, concerts, exhibitions, and festivals. For example, the University of Gloucestershire hosts the annual Cheltenham Literature Festival, which is one of the largest and most prestigious literary festivals in the world, and the Royal Agricultural University hosts the annual Cotswold Show, which celebrates rural life and farming.
Fine Dining and Scrumptious Street Food
Cheltenham offers some of the best eating out options in the Cotswolds. There are a lot of good places and street food joints for students to choose from.
Some areas popular with students are The Promenade which runs through the heart of Cheltenham and is lined with restaurants, cafes, and shops. The Brewery Quarter offers a range of restaurants, bars, and cinemas and is a popular destination for a night out. The Regent Arcade is also very popular as a shopping centre with a comprehensive food court.
There are plenty of Indian food options as well in Cheltenham. Some popular ones are The Mahal, East India Cafe, Bhoomi Kitchen and also Prithvi, an upscale restaurant that has been awarded a Michelin star and offers contemporary Indian cuisine. As an Indian student, if you fancy a home cooked meal, there are a few stores in Cheltenham where you can buy the staples.
Cheltenham and the surrounding area have several food fairs and farmers' markets throughout the year, including the Cheltenham Farmers' Market, that is available on the second and last Friday of every month and features local farmers and producers selling fresh produce, meat, cheese, baked goods, and more.
Hot Water Springs and Horse Races
Cheltenham has plenty of activities and attractions that would appeal to students.
Steeped in history and dating back to Roman times, the town's name reflects its early origins as a settlement around a natural spring. During the 18th and 19th centuries, Cheltenham became a popular destination for the wealthy and fashionable, drawn by the town's mineral springs and its reputation as a spa town. The town's elegant Regency architecture dates from this period, and many of Cheltenham's most beautiful buildings were constructed during this time.
The biggest draw is its festivals. Cheltenham hosts several festivals throughout the year, including the Cheltenham Festival, the horse racing event of the year that attracts thousands of visitors annually. A few others are the Literature Festival, Jazz Festival, and Science Festival, which offer a range of talks, workshops, and performances.
Career Possibilities
Cheltenham is home to a range of businesses and industries which offer a variety of job opportunities across different sectors. The town is well-known for its expertise in the fields of cybersecurity, software development, and digital technology and is home to a number of companies and organisations working in these areas.
Cheltenham is a hub for innovation and technology, with a thriving startup scene and a growing community of entrepreneurs. The town is home to several coworking spaces and incubators, which support the growth of small businesses and startups, and there are numerous opportunities for networking and collaboration in this dynamic town.
Study in Cheltenham
With all the exciting things we have shared about Cheltenham, we are sure this gorgeous town will be on the top of your list of cities for higher studies in the UK. Contact SI-UK for a free consultation to begin your application.
Living and Studying in Cheltenham FAQ