St. Andrews, located on the east coast of Scotland, is a popular tourist destination. With its cobbled streets, mediaeval buildings, and sandy beaches, the town is also famous for its golf courses, including the Old Course, which is considered the 'Home of Golf'.
It is also known for the University of St. Andrews, which is the oldest university in Scotland. Among its illustrious alumni are Prince William, Duke of Cambridge, and Catherine, Duchess of Cambridge.
Learn more about what makes St Andrews such a great location for international students to pursue their higher education in the UK.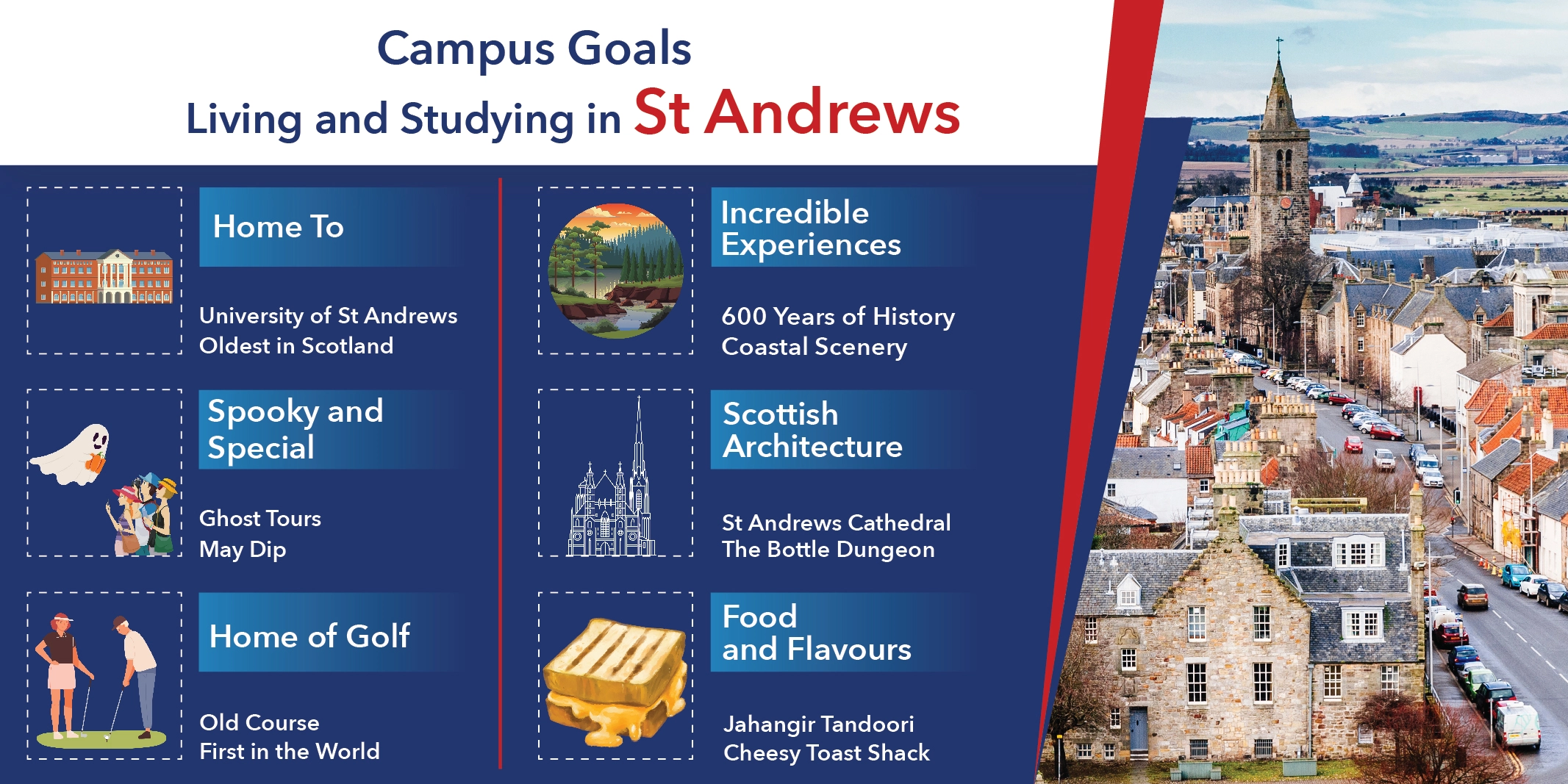 International Student Experience in St Andrews
Postcard Perfect Student Life
St. Andrews is a charming and historic town with a rich cultural heritage and a strong academic tradition. The University of St. Andrews is intertwined with the town itself, as the campus is split into four main areas. The University is spread across the town, with its buildings integrated into the local area.
The most popular areas for students to live in St. Andrews are the town centre and the areas surrounding the University. The town centre is convenient for shopping, dining, and socialising, while the areas around the University are close to campus and offer a quieter atmosphere. There are also several student villages, such as Albany Park and Fife Park, which are purpose-built for students and offer a range of amenities.
The University offers a variety of accommodation options for students, ranging from catered halls of residence to self-catered flats and houses. Private rental properties are also available, and students can find houses and flats to share with other students.
East Sands is a residential area that is popular among students who enjoy outdoor activities. This area is located near the town's main beach, which offers opportunities for several water sports. It is also close to the town's golf courses, making it a convenient location for students who enjoy golfing.
St. Andrews is a small town, and most places are within walking distance, so students often travel on foot or by bicycle. There is also a regular bus service to nearby towns and cities, such as Dundee and Edinburgh, and a train station in nearby Leuchars provides links to other destinations in Scotland and beyond.
Top Rated University
Founded in 1413, it is the third-oldest university in the English-speaking world, after Oxford and Cambridge. It has a strong reputation for academic excellence and attracts students from all over the world.
The University campus is spread across the beautiful coastal town in a unique blend of historic and modern architecture. The centrepiece of the campus is the iconic St. Salvator's Quad, which dates back to the 15th century. The university also has a number of state-of-the-art research facilities, including the Biomedical Sciences Research Complex and the School of Physics and Astronomy.
Acceptance Rate: 41%
Popular Courses: International Relations, Computer Science, Physics
Cheesy Toast to Curries
If you are a foodie, you are in luck because St. Andrews and the rest of Fife are very quickly becoming a culinary wonderland. From traditional Scottish cuisine to international flavours, the area has many options to tickle your tastebuds, from fresh seafood to comforting pies, decadent cookies to zesty salads.
Market Street, North Street, and South Street have you covered with favourites like The Cottage Kitchen, The Seafood Ristorante and Zest Cafe. There are also a few Indian restaurants in St. Andrews, including Jahangir Tandoori and Maisha, that serve a range of classic Indian dishes, from spicy curries to tandoori meats.
While St. Andrews doesn't have a huge street food scene, there are a few spots where you can grab a quick bite on the go. The Cheesy Toast Shack is most popular with students serving up grilled cheese sandwiches with a variety of toppings.
Don't Forget the May Dip
St. Andrews' vibrant cultural scene has a lot to offer its students. As a hub of Scottish culture, it has a variety of festivals and events throughout the year celebrating its traditions and culture.
St. Andrews Cathedral and Castle are a must see on everyone's list. Students can explore the ruins, including the bottle dungeon, and learn about their history and the town.
Walking Tours are very popular, especially the Ghost tours which are a unique way to learn about the town's extraordinary history and a chance to visit many haunted locations from years gone by.
The most awaited event, however is the May Dip. This annual event takes place on May 1st and involves students jumping into the North Sea at sunrise to promote good luck in the exams.
Home of Golf
St. Andrews, with its endless greens and majestic seaside views, has a strong sports culture and offers plenty of opportunities for students and locals to stay active and fit. Known as the Home of Golf, the famous Old Course of St. Andrews is a must for Golf lovers or anyone who wants to learn the sport. Students can also enjoy their time playing sports such as running, swimming and tennis or just walking along its many gorgeous paths that allow you to explore the area, its stunning scenery and more.
Career Possibilities
St. Andrews can be a good place to start your career, particularly if you are interested in fields such as education, research, science, and technology. The town and its nearby areas are home to a number of businesses, including tech companies, biotech firms, and financial services companies, which can offer opportunities for employment and career growth.
The town is also a very popular tourist destination, which also creates job opportunities in the hospitality industry.
Additionally, the university also has a dedicated careers service that provides support and guidance to students and graduates as they transition into the workforce. From its historic architecture to its natural beauty, St. Andrews is an inspiring place that has captured the imaginations of writers, artists, and thinkers throughout the centuries and is sure to continue for future generations as well.
Study in St Andrews
Contact SI-UK today to begin your application for studying in Scotland at St Andrews.
Living and Studying in St Andrews FAQ