Voted as one of the 10 friendliest cities in the world, Manchester offers an excellent mix of old-world charm and modern delights, creating an ideal destination for international students to study in the UK.
Here are some of the reasons why Manchester is such a great destination for international students to pursue their dream of studying abroad; if you want to study in Manchester, arrange a free consultation with SI-UK India today.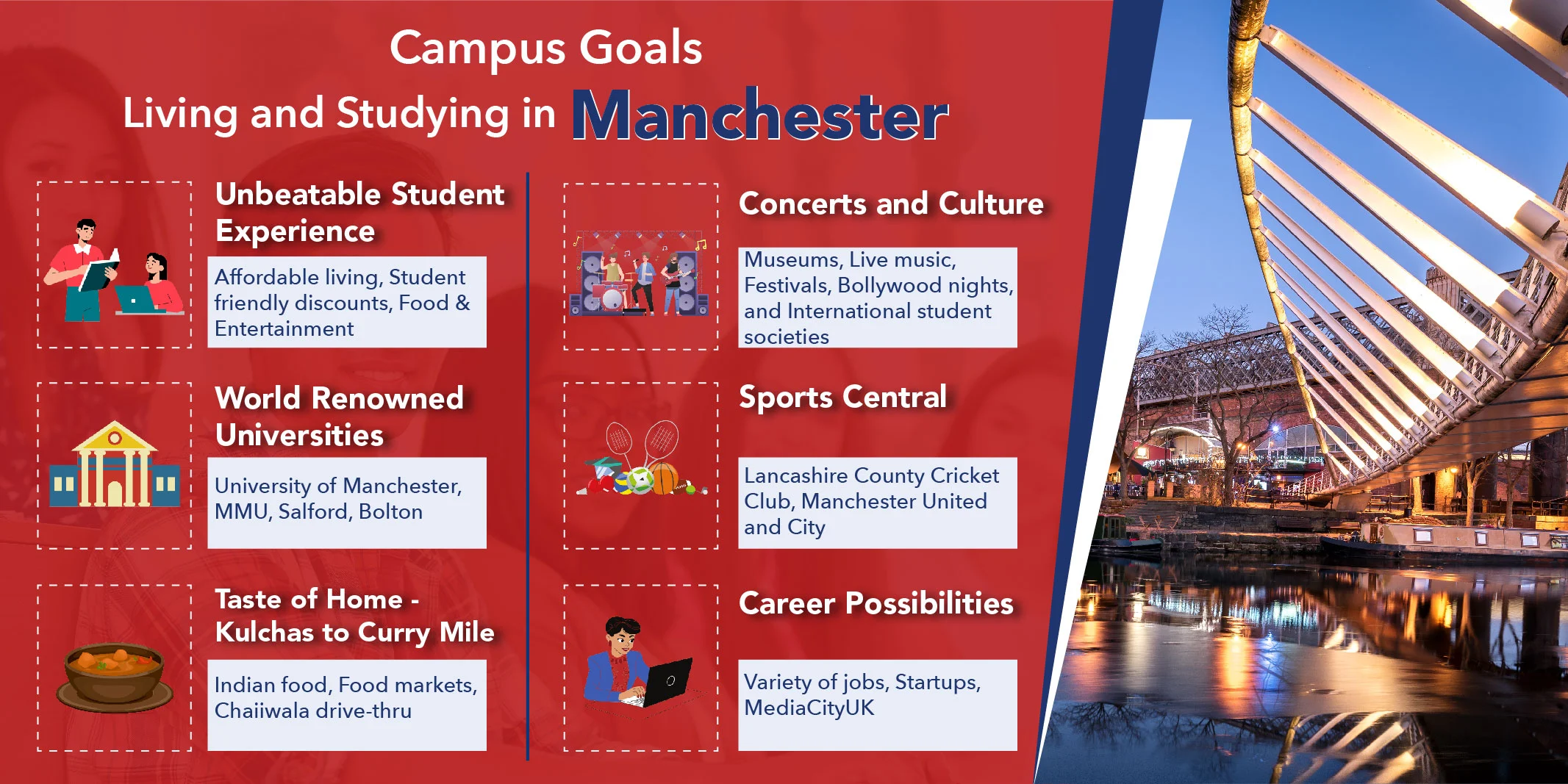 An Unbeatable Student Experience
The city boasts a rich history, and a thriving cultural scene and is an excellent location for students looking for the perfect study and living environment.
Universities in Manchester offer plenty of student accommodation options, ranging from private student houses to halls of residence, providing a secure and supportive environment to international students. Victoria Park, Fallowfield, Oxford road are some places where student accommodations are easily available.
Manchester is ranked as the second most affordable UK city for students in the QS best student cities in the UK, and has a much lower cost of living compared to other major cities in the UK, such as London. This makes it an attractive option for students who are looking for affordable accommodation, food, and entertainment.
Indian students, in particular, find a warm welcome in Manchester, as the city is home to a thriving Indian community and a wealth of cultural and culinary offerings.
With student friendly discounts and experiences, the city offers a range of opportunities for education, work, and leisure.
World Renowned Universities
Experience the world-changing impact of The University of Manchester. Founded in 1824, this Russell Group institution is renowned for its groundbreaking discoveries and high-quality research. The University produced 25 Nobel laureates among its alumni and faculty to date.
Students thrive in this historic institution with a buzzing city campus environment and top-notch student facilities. The university's rich history includes pioneering breakthroughs in science and social innovation, such as the splitting of the atom and the invention of the contraceptive pill.
Ranked 5th in the UK for research power, this institution is one of the best in Europe for academic and social impact.
Acceptance Rate: 76.1%
Popular courses: Business, MBA, Marketing
This dynamic university in Manchester boasts a perfect mix of modern and traditional, making it a popular choice for those seeking a unique university experience. With over 36,000 students, including 3,000 international students from over 120 countries, Manchester MET offers a diverse and inclusive community.
Ranked in the top 3% of universities worldwide, the university is focused on employability and has partnerships with over 70 professional bodies and associations, including industry giants such as IBM, Panasonic, Disney, Siemens, and Canon.
With over 1,000 courses and qualifications to choose from, including 800 undergraduate courses, Manchester Met truly offers something for everyone. Plus, their four-year programs and sandwich-year options provide valuable hands-on industry experience.
Acceptance Rate: 67%
Popular courses: Art, Business, Marketing, Technology
The University of Salford has a proven track record of collaborating with industry, building upon its strong foundations in nursing, engineering, and sports medicine.
Salford has made significant improvements across all subject areas, with 100% satisfaction reported in Media Technology, Petroleum and Mechanical Engineering, Professional Studies Nursing and Social Work, and Architecture Design and Technology in the National Student Survey.
Salford pioneered the concept of the 'sandwich' degree, offering year-long work placements to its students. Today, the university's MediaCityUK is its latest innovation, providing students with invaluable industry experience and contacts. Students at MediaCity can collaborate with the BBC and other major companies, such as Adobe and BAE Systems, in a real-world studio environment.
Acceptance Rate: 62%
Popular courses: Engineering, Media, Business
At the University of Bolton, you can enjoy some of the lowest tuition fees in the UK, even after factoring in financial support. The university is committed to international expansion, exemplified by the opening of its small campus in the UAE.
The University of Bolton takes pride in its diverse community, with 25% of its student population coming from minority communities. Its research publications also excel, with almost half of the Allied Health Professions, including nursing, rated as "internationally excellent" or "internationally recognized" in the Research Excellence Framework (REF2021). In engineering, almost 20% of research publications were rated as "world-leading," and nearly 40% as "internationally excellent."
With over 30 professionally accredited courses, including those by the British Psychological Society and Nursing and Midwifery Council, the University of Bolton is dedicated to providing quality education and is also a world leader in providing support and accommodations for students with disabilities.
Acceptance Rate: 62.5%
Popular courses: Engineering, Architecture, Nursing
These universities offer a wide range of programmes in various fields, such as business, engineering, humanities, and social sciences and boast a long list of famous alumni, including Phil Collins, Benedict Cumberbatch, Carl Ennis (CEO-Siemens Great Britain and Ireland), to name a few.
A Taste of Home-Kulchas to Curry Mile
If you are a foodie, you are in luck, as Manchester is known for its diverse food culture serving up delicacies from around the world. There are many restaurants and food stalls that offer Mediterranean, Middle Eastern, Chinese, Japanese, Korean, Thai, Vietnamese and Mexican cuisine, among others.
Generally, a big concern for Indian students studying abroad is the availability of familiar food. Fortunately, Manchester has a thriving Indian food scene, with many restaurants and cafes offering a range of traditional dishes. Curry Mile, located in the Rusholme district, is a popular destination for Indian cuisine, with dozens of restaurants serving up delicious curries, biryanis, chaat & more.
Popular places are Mowgli Street Food, Zouk Tea Bar & Grill, Asha's, Dishoom and many more. Manchester is now also home to Chaiiwala, UK's first Indian drive-thru restaurant.
If you are a foodie, you are in luck as Manchester is also known for its diverse food culture serving up delicacies from around the world. There are many restaurants and food stalls that offer Mediterranean, Middle Eastern, Chinese, Japanese, Korean, Thai, Vietnamese and Mexican cuisine, among others.
Manchester is also home to a number of food markets, such as the Manchester Food and Drink Festival, the GRUB Food Fair, and the Levy Market, where visitors can sample different foods from a variety of vendors.
Concerts and Culture
Manchester has a rich history that dates back to Roman times. The city was first known as Mamucium, which was a Roman fort established in AD 79. It grew rapidly during the Industrial Revolution when it became a hub for textile manufacturing and other industries. Manchester played a key role in the development of the railways, and the world's first inter-city passenger railway service was established between Manchester and Liverpool in 1830.
The industrial heritage of Manchester can be seen in its architecture, with many former factories and warehouses now converted into offices, apartments, and cultural venues. Manchester has a vibrant and diverse cultural scene, offering a range of activities and attractions for students to enjoy in their free time. The city is home to many museums and galleries, like the Museum of Science and Industry and the People's History Museum and the National Football Museum.
Manchester has a thriving live music scene, with many venues offering gigs and concerts throughout the week, including Bollywood Nights and performances by Indian artists like Arijit Singh.
Additionally, the city hosts many festivals and events throughout the year, including the Manchester International Festival and the Manchester Food and Drink Festival.
The city has a number of student societies and clubs, ranging from sports teams to cultural groups. Indian students can join societies such as the Indian Society at the University of Manchester, which organizes events such as Diwali celebrations and Bollywood dance nights, Holi and Vaisakhi Melas etc.
Sports Central
As a city that lives and breathes sport, Manchester is in the top 10 ranking for the best sporting city across the globe and is also home to National Centres for Cycling, Squash, Basketball, Taekwondo, Speedway, Water Polo among others
The city is home to the Lancashire County Cricket Club, which plays at the iconic Old Trafford cricket ground and hosts many international matches throughout the year. Manchester is synonymous with 2 of the best football teams, Manchester United and Manchester City. Attending a football match is an experience not to be missed, and both teams have a large following both in the UK and around the world.
Manchester takes sports seriously. With multiple sports centres, parks and sporting events throughout the year, it is very easy for students to get active here.
Career Possibilities
Manchester is a growing hub for industry and business, offering a range of job opportunities for graduates and students. The city has a thriving startup scene, with many new businesses and tech companies setting up in the city.
Manchester is home to several major corporations, including Adidas, Barclays, Deloitte, Google etc. all of which offer a range of career opportunities for students. The city has a flourishing economy, with many job opportunities in sectors such as finance, technology, and healthcare and is home to MediaCityUK, a major hub for the creative industries, with many opportunities for students interested in film, TV, and media.
In conclusion, Manchester is an excellent destination for international students, offering world-renowned universities, a variety of affordable accommodation options, and a thriving cultural scene and is an excellent location for students looking for the perfect study and living environment.