Charming, vibrant and picturesque, Lancaster is one of England's Heritage Cities. With a fascinating past and multi-cultural vibes, it is a creative city with gorgeous outdoors. Here are all the reasons Lancaster is a great place to live, work, and study.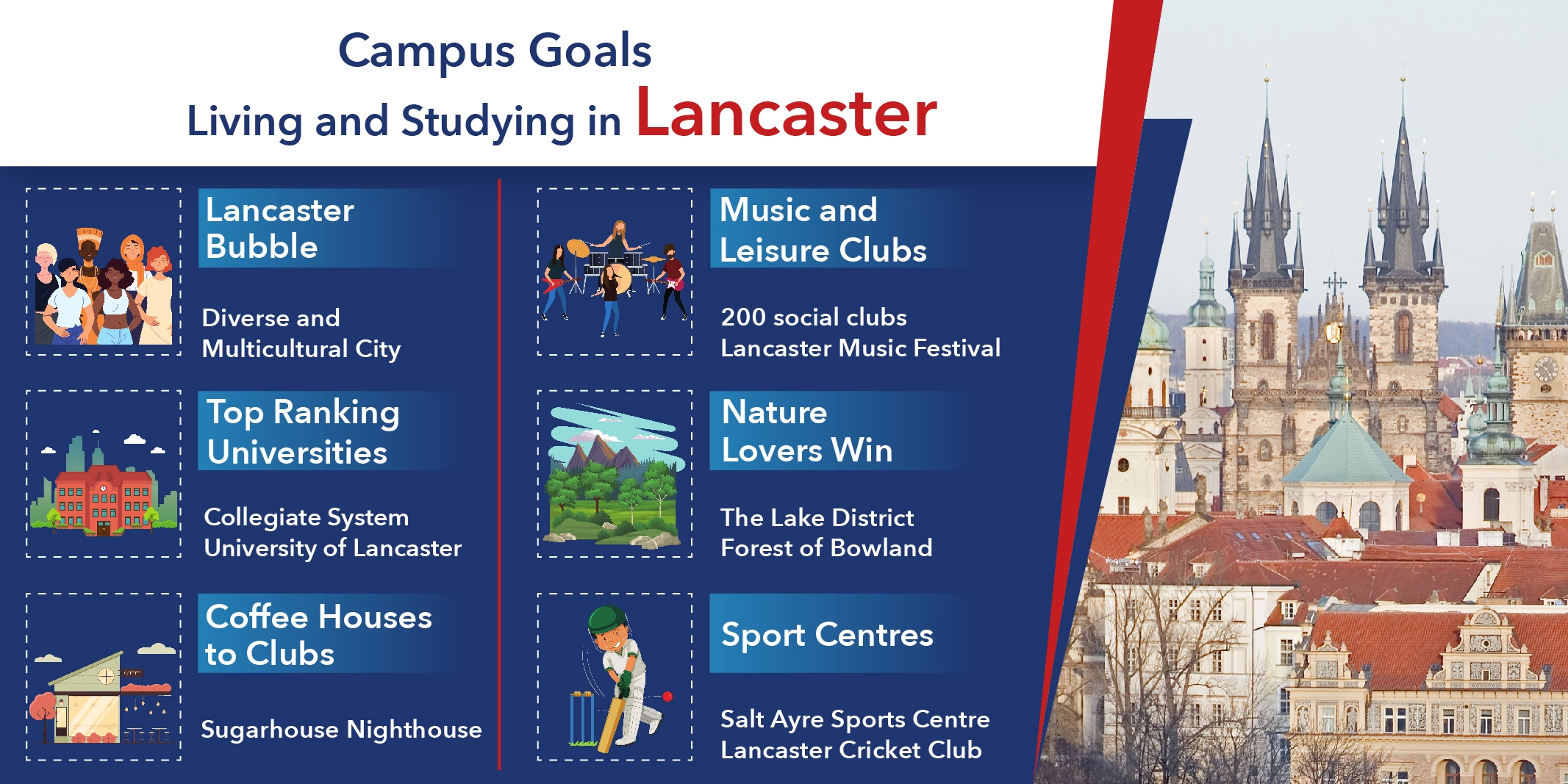 Life in Lancaster for an International Student
The Lancaster Bubble
The term "bubble" is used because students often become so immersed in university life they may not venture outside of the campus, creating a sense of being in a "bubble" especially if you live on campus. Lancaster University accommodation offers fantastic campus halls that led them to earn the title of 'best university halls' for seven years since entering the National Student Surveys in 2010.
If you choose to live outside, Galgate is the top choice for many students who want to live in a quaint village. You can both walk and bike easily to the Lancaster University Campus. Bowerham is another popular area for students to live in due to it being close to both Lancaster University and the University of Cumbria. Having a countryside campus with a bustling city nearby gives you the best of both worlds. It has a small but active Indian community, including the Lancaster University Indian Society!
Overall it is a diverse and multicultural city with a rich history and cultural heritage. Indian students can experience a range of cultural activities and events in the city and learn more about British culture and traditions.
Top Ranking Universities
Lancaster University
Lancaster is one of only a handful of UK universities to have a collegiate system. Nine colleges, one university. Every student that enrols belongs to a particular college no matter where they choose to stay. The Parkland campus has everything, modern lecture theatres, specialist laboratories and workshops, libraries etc., along with amenities such as a cinema, theatre, art gallery, sports centre, shops, restaurants, cafes, a pharmacy, a medical practice and much more. The campus is like a self-contained town with everything you need close by.
Acceptance Rate: 18%
Top Courses: Art & Design, Drama, Management
Lancaster University is a top-ranking research-intensive university that is consistently ranked among the top 10 universities in the UK. The university has a range of undergraduate and postgraduate programmes across various disciplines, including business, engineering, sciences, social sciences, and humanities. Lancaster University has decent scholarships for both home and international students.
University of Cumbria
The University of Cumbria is a multi-campus university offering plenty of undergraduate and postgraduate programmes in humanities, business, engineering, sciences, social sciences and more. Some of the popular courses offered here include Business Management, Creative Writing, Nursing, Sports and Exercise Science, and Wildlife Conservation.
Cumbria offers a fee discount which is available to most Non-EU and Non-EEA international students enrolling with us in the academic year 2023/24.
Acceptance Rate: 45%
Top Courses: Teacher Training, Law, Psychology
Both Lancaster University and the University of Cumbria are well-respected institutions that offer a diverse variety of programmes and attract students from around the world.
Coffee Houses to Sugarhouse
If coffee is the fuel your body runs on, you have a lot of choices in Lancaster to sate your caffeine craving. Not just the obligatory chain coffee shops, there are also loads of trendy local options where you can enjoy a peaceful cup and recharge before your next class.
The Students' Union owns and runs the famous Sugarhouse nightclub. It's the biggest nightclub in the city and is open exclusively to students. They have extensive discounts and even organise free buses from the club to the university, helping to ensure that your night out doesn't break your budget.
Apart from all the international cuisines available for students to sample on campus, there are several Indian stores and restaurants in Lancaster that cater to the needs of the Indian community. Some of the popular Indian stores and restaurants in Lancaster are Buraq Asian Foods, Bombay Balti, The Sultan of Lancaster, Spice Lounge, and many more.
200 Societies and a 1000-year-old Castle
Student societies are a fantastic way to follow your interests, try new things and be a part of a community. With over 200 societies covering a wide range of activities and hobbies, you are certain to find something for yourself. Joining a society allows you to meet people with the same interests. From Acapella to Baking, Chess to Cricket, there's something for everyone.
As one of England's Heritage Cities, there is a lot to discover in every corner. Lancaster Castle is one of the most historically significant landmarks in the city. Used as a prison until 2011, it was one of the oldest working prisons in Europe. The castle is now a popular tourist attraction.
Lancaster is home to the UK's largest outdoor music festival, the Lancaster Music Festival, and has a thriving theatre and performing arts scene, with venues such as the Dukes and the Grand Theatre offering a range of productions throughout the year.
As Lancaster is located in the northwest of England, this is the best opportunity to travel to other cities such as Liverpool or Manchester, London or Edinburgh, as they are just a short train ride away.
Nature lovers win the lottery with this one. Apart from the beautiful campus, the Lake District is another short train ride away. Take in the stunning scenery as you hike the trails or just rent a boat on a lazy afternoon.
State of The Art Indoors & Scenic Outdoors
Lancaster has a range of high-quality sports facilities, clubs, and grounds that cater to a range of sports and activities. Whether you are a seasoned athlete or just looking to get fit and active, there are plenty of opportunities to get involved in sports in Lancaster.
The Salt Ayre Sports Centre and the Lancaster University Sports Centre are state-of-the-art sports facilities that offer a range of activities, including swimming, indoor climbing, squash, gym facilities, etc. They also have outdoor sports facilities, including football and rugby pitches, a cycle track, and an athletics track.
Lancaster Cricket Club is one of the oldest cricket clubs in Lancashire, dating back to the mid-19th century. The club plays its home matches at Lune Road, a picturesque ground located in the city centre.
Career Possibilities
Lancaster has a strong economy, with thriving industries such as healthcare, education, and technology. International students can find work in many sectors, including finance, marketing, engineering, and IT. Furthermore, the city's central location provides access to other major cities, such as Manchester and Liverpool, creating additional job opportunities. Some of the top companies in Lancaster include Wells Fargo, State Farm and more.
Study in Lancaster
To conclude, Lancaster has a friendly and welcoming community with a diverse mix of people from different cultural backgrounds. Surrounded by stunning natural landscapes, including the Forest of Bowland and the Lake District, Lancaster is very easy to fall in love with.
If you are interested in studying at one of the top universities in Lancaster and experiencing life as an international student in this bustling area of the UK, book a free consultation with SI-UK India today.
Living and Studying in Lancaster FAQ