Oxford is a vibrant and historical city in the UK, offering some of the best educational opportunities in the world. As the home of one of the oldest universities in the world, the University of Oxford, it is a city rich in academic history and excellence. It is one of the most prestigious places to study, with many of its alumni going on to change the world.
The city is full of diverse cultures, with a wide range of activities, shops, and restaurants, as well as some of the best libraries in the world. Oxford is an ideal place to pursue higher education and participate in research, making it a sought-after destination for students and academics alike. The city has produced many Nobel laureates, politicians, authors, and physicists. Are you ready to join the ranks?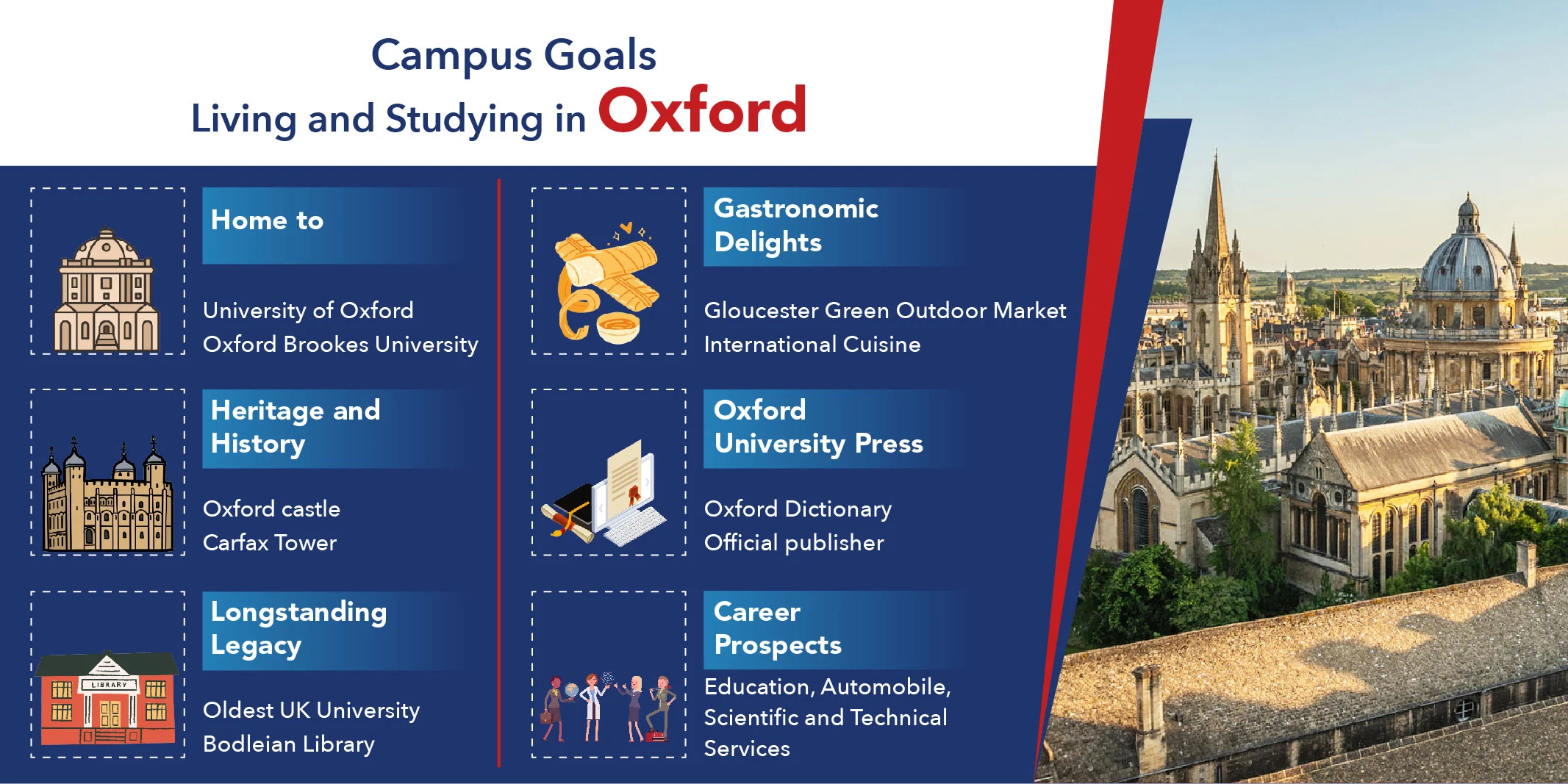 Life in Oxford as an International Student
An Exceptional Student Experience
Oxford is a city in south-central England, which is located about 97 kilometres northwest of London. The city's rich history, dating back to the Saxon period, is reflected in many of its buildings and landmarks, including the 11th-century Oxford Castle and the mediaeval Carfax Tower.
Undergraduates are guaranteed accommodation for at least their first year and are typically located within the college or nearby. Rooms range from traditional, historic rooms to modern, en-suite facilities. Off-campus housing options are also available for students, including shared houses and flats in the city and surrounding areas, depending on their budget and preferences. Some of the most popular areas include Cowley Road, Jericho, Headington and Summertown
Oxford is a relatively small city and can be easily navigated on foot, by bike, or by bus. The city also has a comprehensive bus network for travel within the city and to other nearby towns and cities. Oxford also has a train station, with regular services to London and other major cities in the UK.
Neighbourhoods like Cowley Road and Headington are popular with Indian students and families as they are likely to find Indian grocery stores, restaurants, and cultural centres that cater to the Indian student community.
Top Rated Universities
Founded in the 12th century and one of the oldest and most prestigious universities in the world, Oxford has a long and illustrious history. The name is now almost synonymous with academic excellence.
The university, organised into over 30 individual colleges, each with its own history and traditions, is located in the heart of the city. The campus is known for its historic architecture, with many buildings dating back hundreds of years. There are also several parks and gardens, including the Botanic Garden and Christ Church Meadow, which provide green space for students and visitors.
The University of Oxford offers a wide range of undergraduate and graduate programs in various subjects, including the humanities, social sciences, sciences, and medicine. It also offers a number of interdisciplinary programs, such as philosophy, politics, and economics. Particularly famous for its programme in English Literature, the university is also called The City of Literature as it has produced many famous writers and poets, including J.R.R. Tolkien, C.S. Lewis, Oscar Wilde, and T.S. Eliot.
Did you know Oxford University Press is the sole publisher of the Oxford English Dictionary? It took over 70 years to complete the first full edition which was published in 1928, with 414,825 words and phrases defined.
Acceptance Rate: 17.5%
Popular Courses: Humanities, Law, MBA
Oxford Brookes University is another great institution in the city of Oxford. With a rich history dating back to 1865, the university has shown constant growth and has become one of the most respected universities in the UK today.
The university faculties, such as Oxford Brookes Business School and the Faculty of Health and Life Sciences, cover a large number of courses and research programmes. The university offers a multicultural atmosphere for its diverse international student community from all over the world. It has a wide range of clubs and societies, giving students the opportunity to pursue their interests and meet like-minded individuals. Oxford Brookes is a great place to pursue higher education in a delightful city like Oxford.
Acceptance Rate: 23%
Popular Courses: Architecture, Engineering, Hospitality, Nursing
The World on Your Plate
Oxford is a young city, with a third of the population aged under 30. It's no surprise that there are a lot of cafes, bars, restaurants, music venues, and shops catering to this vibrant and cosmopolitan community.
There are many options to suit all tastes and budgets in the city's vibrant food scene, including a range of Indian restaurants and street food options. Cowley Road, Jericho and the Oxford City Centre, with their many restaurants and cafes, ranging from casual eateries to upscale dining options, are local favourites. Popular Indian places to eat in Oxford include Spice Lounge, Dosa Park, Everest Nepalese Restaurant and Chutney's offers a range of dishes from across the Indian subcontinent.
In addition to sit-down restaurants and cafes, Oxford also has many food markets and festivals. These offer a delicious opportunity to experience the region's diverse culinary scene. From celebrity chefs to local produce, there's something for everyone at these festivals.
One of the most popular ones is The Gloucester Green Outdoor Market, open from Wednesday to Saturday, is a great place to try new cuisines that you can't do elsewhere in Oxford, for example, an Ethiopian Injera or a Greek souvlaki wrap.
Historic and Picturesque
The city has a history that dates back over 900 years. There are many historic colleges, buildings and museums to visit, including the Bodleian Library, the Sheldonian Theatre, Christ Church College and the Ashmolean Museum.
There are many walking tours available in Oxford, covering everything from the city's literary history to its ghosts and legends.
Oxford Literary Festival and Oxford Christmas Market are two annual events that attract thousands of visitors, as are the popular, bustling Bollywood BOPs.
Croquet and Rowing
There are many ways to keep fit and active in Oxford, from using the university sports facilities and enjoying the city's parks and outdoor spaces to joining sports clubs and attending fitness classes.
Croquet is a popular sport in Oxford, and there are several croquet events held in the city throughout the year. The most famous of these is the Oxford-Cambridge Varsity Croquet Match, which has been held annually since 1231. This event is part of the Oxford-Cambridge Varsity Sports Series, which also includes other sports like rugby, tennis and also the most argued over, iconic rowing races.
Career Possibilities
Apart from its educational institutions, Oxford is also home to motor manufacturing, publishing and a large number of science and technology-based companies. Oxford University Press, BMW Group, Accenture, and Oxford Instruments are just some of the companies based in and near Oxford that open doors to the students of the university.
Additionally, the city's entrepreneurial spirit and resources provide opportunities for students to start their own businesses and pursue their passions.
Study in Oxford
Contact SI-UK if you want to study at one of the top universities in Oxford, and begin your application today.
Living and Studying in Oxford FAQ