Glasgow, the largest city in Scotland, is located in the west central Lowlands and regularly tops the charts as the 'world's friendliest city'. Its residents are warm, friendly and have a strong sense of community helping the city earn its tagline: People Make Glasgow!
Learn below more about what makes Glasgow such a great city for International students and what you can do while studying in Glasgow.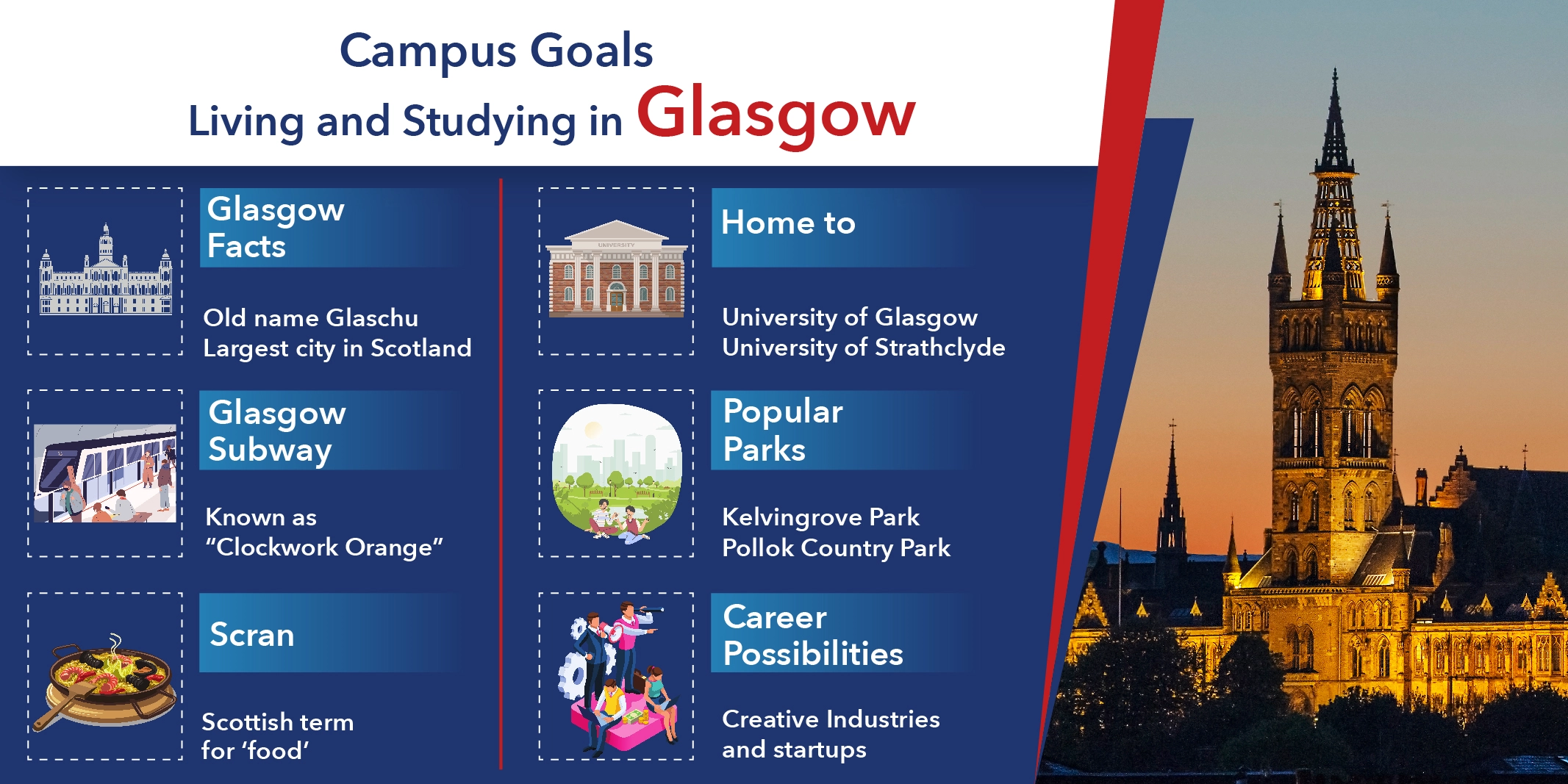 The Glasgow International Student Experience
Incredible Student Experience
Student life in Glasgow is exciting and fulfilling, offering a range of activities and events that cater to all interests. Many students choose to live in the West End of the city. Places like Hillhead and Woodlands are popular for their lively atmosphere, independent shops, and cafes. Other favourites include Finnieston, Merchant City, and Dennistoun.
Glasgow has an excellent public transport system, which makes it easy for students to get around the city including an extensive bus network. Glasgow has a small subway system, which is also known as the 'Clockwork Orange' due to its distinctive circular shape.
In addition to these public transport options, Glasgow also has an extensive network of cycle lanes and pedestrian routes, making it easy for students to get around on foot or by bike.
Top Rated Universities
Glasgow is home to many world-renowned universities, each with a rich history and a range of programmes and courses on offer.
Founded in 1451, it is one of the oldest and most prestigious universities in the UK. It is located in the West End of Glasgow and has a stunning Gothic-style campus, which features several historic buildings and impressive architecture. It is particularly renowned for its research excellence, with a strong focus on interdisciplinary collaboration and innovation. University of Glasgow scholarships cover a wide range of options on the basis of courses and merits of the students.
Founded in 1796 as the Andersonian Institute, the University of Strathclyde is located in the heart of Glasgow City Centre. It gained university status in 1964 and has since grown into a world-class institution with a strong focus on innovation and industry partnerships. University of Strathclyde scholarships are popular among international students for both graduate and postgraduate courses.
Founded in 1993, this is a relatively new university. It is located in the city centre of Glasgow and has a modern campus with state-of-the-art facilities.
It is particularly renowned for its focus on social justice and sustainability, with a strong commitment to making a positive impact on society. Glasgow Caledonian University offers a wide range of scholarships and funding opportunities for students worldwide.
Acceptance rate: 23%
Top courses: Business, Engineering, Biosciences
With a range of programmes and courses on offer, as well as stunning architecture and a rich history, Glasgow's universities provide an excellent education and a truly unique student experience.
Scran Scene
Scran is Scottish for 'food', and Glasgow's lively scran scene has something for all tastes and budgets. The West End of Glasgow is a popular area for students, with a range of cafes, restaurants, and street food options. Byres Road and Great Western Road are particularly popular, with a range of independent eateries and chain restaurants to choose from. The city centre is also home to a range of restaurants and cafes, with a good selection of fast food outlets and takeaways.
There is a lot to offer to lovers of Indian food also, particularly in the South Side of the city. Some popular places are KoolBa, Madras Cafe, and Mother India, among others.
Glasgow also hosts several food festivals and farmers markets throughout the year. The Glasgow Farmers Market takes place every Saturday in the city centre and features a range of stalls selling fresh produce and artisanal foods.
Dear Green Place
Glasgow was originally known as Glaschu, which means "dear green place" in Scottish Gaelic. The city has a long and fascinating history, with evidence of human settlement in the area dating back thousands of years.
Glasgow has now grown into a major centre for trade and industry, with the River Clyde playing a key role in the city's development.
Glasgow has plenty of things to do and see both in the city itself and in the surrounding areas. Whether you're interested in exploring the city's museums and galleries, taking a walking tour, or venturing further afield to explore the stunning Scottish countryside, there is something to suit all interests and budgets.
The Kelvingrove Art Gallery and Museum and the Botanic Gardens are popular attractions. Glasgow has several famous walking tours that allow visitors to explore the city's rich history and culture on foot. A must see is the Glasgow City Centre Mural Trail - this walking tour takes visitors on a tour of the city's impressive street art murals, each with its own unique story.
There are also several day trips that students can take from Glasgow, including visits to nearby cities like Edinburgh and Stirling. Loch Lomond and the Trossachs National Park is also within easy reach of Glasgow.
Getting Fit Outside
Glasgow is home to many outdoor spots that are ideal for enjoying nature and getting some exercise. Running, cycling, hiking trails, and water activities like kayaking and paddleboarding make sure that staying fit is not just a boring workout in a gym. Some popular places are Kelvingrove Park, Glasgow Green and Pollok Country Park.
Whether you're looking for a peaceful place to relax or a more active outdoor adventure, Glasgow has plenty of options to choose from.
Career Possibilities
Students graduating from universities in Glasgow have a wide range of career possibilities, depending on their area of study and interests. This thriving city has a diverse economy, which means that there are opportunities in a variety of fields like Finance, Technology, Healthcare and also creative industries.
BBC Scotland, Clydesdale Bank, RHA Audio, ScotRail, and the Weir Group are just some of the notable companies that have a presence in the city.
Besides these, Glasgow also has an exciting start-up scene. The city is home to several startup incubators, accelerators, and co-working spaces, as well as numerous networking events and competitions for startups, including The Glasgow City Innovation District.
Study in Glasgow
Glasgow offers a fantastic student experience with excellent universities, a vibrant student community, and a rich cultural heritage, all at an affordable cost of living. Contact SI-UK to find out more about studying in Glasgow and begin your application for the 2023 intake.
Living and Studying in Glasgow FAQ