Exeter is compact but dynamic. As they say, good things come in small packages. This quiet, scenic town in Devon, offering spectacular views of the countryside and coast, is routinely ranked as one of the greatest cities in the UK to live, work, and study.
It is home to two main institutions - the University of Exeter and Exeter College - and attracts a large number of students every year, boasting illustrious alumni such as author J. K. Rowling. Here's what makes it so popular.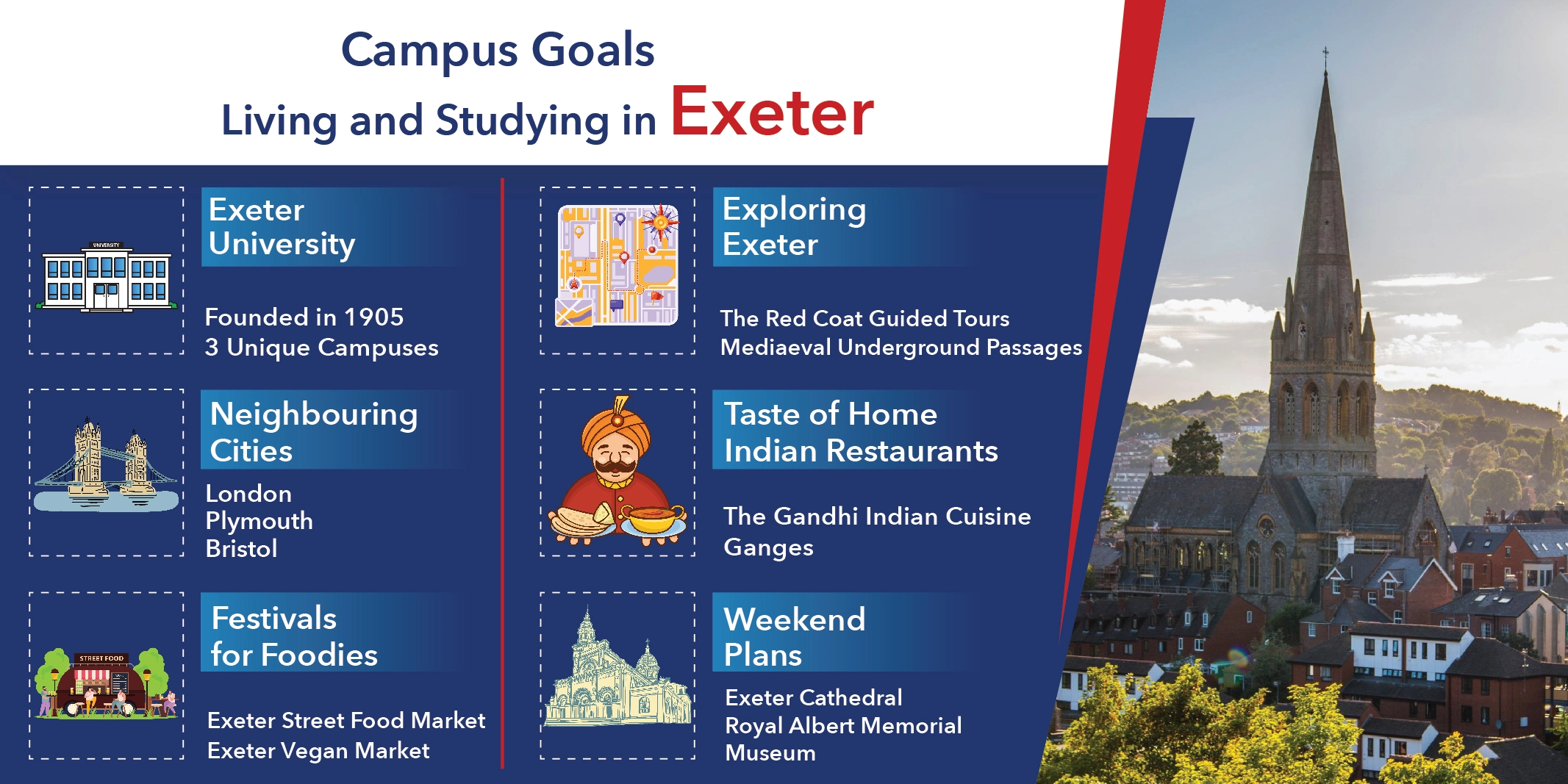 Life in Exeter as an International Student
Idyllic Student Life
Exeter is surrounded by the rolling hills and stunning coastline of Devon. It is a safe, walkable city with charming green campuses that have excellent amenities.
Exeter offers students an array of housing choices to suit their needs. On-campus options include self-catered halls of residence and shared apartments. For those looking for more independent living arrangements, private housing options, such as apartments for rent, are available through online rental websites or local real estate agents.
St Leonard's, Pennsylvania and Heavitree are popular areas for students as they have good transport links to the city centre and plenty of local amenities.
The city is well-connected to other parts of the UK, with regular train services to London and other major cities. The University of Exeter also operates a free shuttle bus service between Exeter St David's railway station to Streatham Campus for staff and students. Many students also choose to cycle around the city, as it has a number of cycle lanes and paths.
There is a significant Indian community in Exeter. Areas like St. James and Heavitree are popular with the Indian community as there are several Indian restaurants and shops there.
Top Rated Universities and Colleges
University of Exeter
Founded in 1955, the university has a rich history dating back to the 19th century. In 1955, this college became the University of Exeter and has since expanded to become a leading research institution with a global reputation, and it is one of the UK's leading universities. The university's buildings are a mix of historical and modern architecture.
It offers a wide range of undergraduate and postgraduate programmes across its colleges of Arts and Humanities, Business, Law and Social Sciences.
Acceptance Rate: 87.5%
Popular Courses: Business, Finance, IT, Management, Marketing
Exeter College
Founded in 1970, it is one of the largest further education colleges in the UK. Exeter College has two campuses: the Hele Road campus and the Technology Centre, which are grouped into several faculties, including Business and IT, Creative Industries, Health and Social Care, Hospitality and Catering, Sport and Exercise Science. Some of the popular courses offered by the college include Accounting, Beauty Therapy, Engineering, Law, Media Production, and Travel and Tourism.
It has a strong focus on apprenticeships, providing students with the opportunity to gain valuable work experience while studying for their qualifications.
Foodie Capital of the South West
Exeter has consistently been voted one of the top places to eat out in the UK, and it's obvious to see why. There is a huge choice of places to eat and drink, from small cosy cafes to catch up with friends to dining out with a choice of cuisines from almost every corner of the world.
Gandy Street, Magdalen Road and Exeter Quay are popular with students with a lot of restaurants and cafes to choose from. The Flat and The Exploding Cafe are local favourites for coffee and baked goods.
Exeter also has a variety of Indian restaurants, including The Gandhi Indian Cuisine, Denleys- Essence of India, and Ganges, and has a thriving street food scene offering everything from burgers and pizza to tacos and falafel. Some popular street food markets include the Exeter Street Food Market, the Exeter Vegan Market, and the Exeter Farmers Market.
Festivals and Culture
Exeter's vibrant and diverse events have set it on the map as the cultural centre. It has a year-round programme calendar of music, theatre, dance, comedy, and entertainment with something for all tastes and interests.
Exeter has a long and fascinating history, dating back to Roman times. Students can explore the city's history at attractions such as Exeter Cathedral, the Royal Albert Memorial Museum, and the Underground Passages, a network of mediaeval tunnels beneath the city streets. The Exeter Red Coat Guided Tours are a great way to explore the city on foot, with knowledgeable guides leading visitors on free walking tours of the city's historic sites and landmarks.
In addition to its historical attractions, Exeter is also home to a range of popular festivals and events throughout the year. Exeter Festival of South West Food and Drink, Exeter Cathedral Christmas Market, and the Exeter Respect Festival attract visitors from across the country.
Outdoor Activities
Exeter is a very active city, and residents here are passionate about sports. Thanks to the amount of green open space and the crisp fresh air of Devon, running and cycling are very popular in and around the city. The city hosts various charity marathons, and weekly parkruns are a great way to keep fit and meet new people.
The city provides a range of options for both indoor and outdoor activities, with sports competitions regularly occurring throughout the year.
Career Possibilities
Exeter is a growing city with a thriving economy, and there are many career possibilities for students and graduates. Some of the top industries in the area include Technology, Healthcare and Tourism.
Additionally, the city's location in the southwest of England provides easy access to other major cities in the region, such as Bristol and Plymouth, which offer further career opportunities.
Known for its welcoming community, Exeter provides students with plenty of opportunities to enhance their skills and knowledge in a supportive and inclusive environment.
Study in Exeter
If you are interested in learning more about Exeter or want to study at one of its top schools, then book a free consultation with SI-UK India today!
Living and Studying in Exeter FAQ