Cranfield is a charming city in Bedfordshire county in England surrounded by beautiful countryside. It is known for its University, which stands out from any other university in the UK due to its unique offering: its own airport. The village of Cranfield, located between Milton Keynes and Bedford, is rich with a history of its own.
Cranfield is also a popular tourist destination with many historic structures and sites. One can enjoy a leisurely stroll around the picturesque town centre, explore the many shops, restaurants and pubs, or take part in a variety of activities such as golf and horse racing. Learn more about what makes Cranfield such a popular city for international students to live and study in the UK.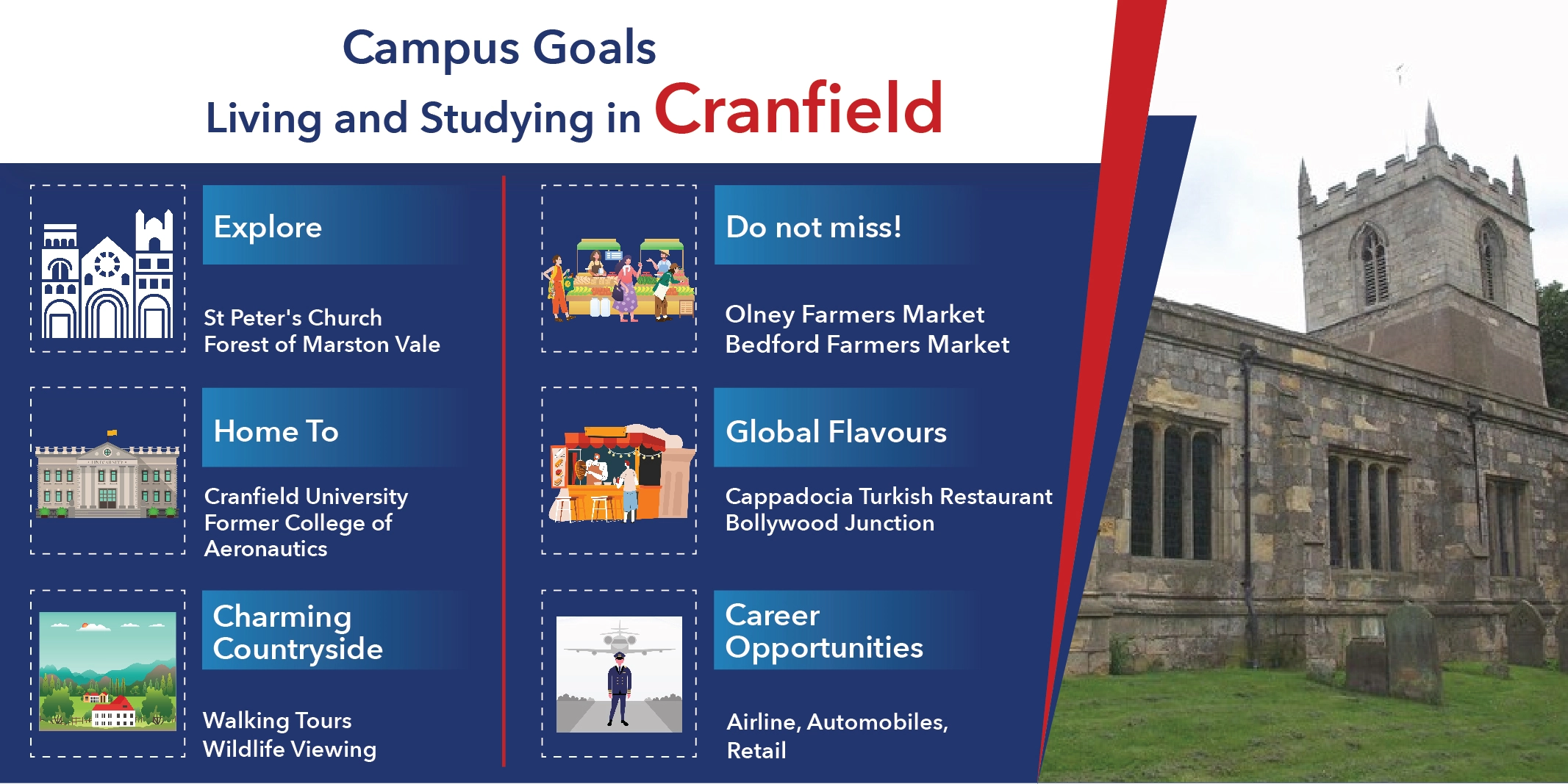 Life in Cranfield as an International Student
Best of Both Worlds
Cranfield University is a postgraduate and research-based institution, and here student life is quite different from undergraduate student life at other universities.
Cranfield University offers a range of accommodation options for students, including on-campus and off-campus housing. On-campus accommodation options include single and shared rooms in halls of residence, as well as self-contained flats and houses for students with families.
Off-campus housing options are also available, with many students choosing to live in nearby towns and villages such as Milton Keynes, Bedford, and Northampton. These areas offer a wider range of accommodation options, including shared houses and apartments, and are easily accessible by public transport or car. In addition, the university has partnerships with local landlords and estate agents to help students find suitable accommodation off-campus.
Whether you choose to experience English rural life in Cranfield village, live in the modern city of Milton Keynes or the riverside town of Bedford, Cranfield offers excellent transport connections to campus, with Uno offering subsidised bus service for students.
There is a significant Indian student community in Cranfield, and the university has a range of cultural activities and societies to help students connect with their cultural roots and engage with the wider university community.
Top Rated University
Cranfield University
Founded in 1946 as the College of Aeronautics, Cranfield University is known for training engineers and scientists in the fields of aeronautics and aerospace. Over the years, the institution expanded its focus and today, Cranfield University is a leading postgraduate and research-based institution with a focus on science, engineering, technology, and management.
Cranfield University has an evident culture of practical, applied learning and research. The university works closely with industry partners to develop new technologies and has a strong reputation for delivering practical solutions to real-world problems.
The university offers a wide range of postgraduate courses in various fields, such as aerospace, defence, energy and power, environmental technology, manufacturing, management, and transportation. It also offers research degrees such as PhD as well as short courses and executive education.
Cranfield University, with its strong reputation for an industry-focused approach to learning and research, has become a top choice for students seeking practical and career-focused education.
Countryside and Campus Dining
Cranfield University has several on-campus dining options, including cafes, restaurants, and bars such as Cranfield Campus Social Club - a student bar and restaurant offering a range of food and drinks in a relaxed setting.
Off-campus dining options include a range of restaurants and cafes in nearby towns like Milton Keynes, Bedford and Northampton. Popular places for dining include The Wavendon Arms, Cappadocia Turkish Restaurant and The Cross Keys, with Indian favourites like Deshi Spice, Bollywood Junction, Radhuni, Indiya and more.
Being based in the countryside has its advantages in terms of the number of farmer's markets offering a range of local produce, including meat, cheese, vegetables, and baked goods. Olney Farmers Market, Woburn Farmers Market and Bedford Farmers Market are local favourites.
In addition to farmer's markets, there are also several street food markets and festivals in the nearby towns and villages. These events often feature a range of local and international food and drink options, as well as live music and entertainment.
Charming Countryside Culture
The rural village of Cranfield has a rich history and a charming English countryside feel. The village dates back to the 11th century and is home to several historic buildings, including the Church of St. Peter and St. Paul, which date back to the 13th century.
There are also several walking trails and nature reserves near the village, such as The Forest Centre & Millennium Country Park and the Forest of Marston Vale, which offer opportunities for outdoor recreation and wildlife viewing. Cranfield is located close to several historic towns and cities that offer a range of attractions, including museums, galleries, and shopping districts.
There are several walking tour options available, including guided tours of the Cranfield University campus and the surrounding village, as well as themed tours focused on local history and culture. The university also hosts several cultural events throughout the year, including music concerts, theatre performances, and art exhibitions.
Cranfield University has a wide range of student-led clubs and societies, including sports teams, cultural groups, and interest-based organisations. Overall, there are plenty of opportunities for students at Cranfield University to get involved in campus life and explore the surrounding area, making it an ideal place for those looking for a well-rounded university experience.
Career Opportunities
Cranfield University is known for its close partnerships with industries. With a diverse global cohort and the faculty's direct involvement with global businesses, students leave with a deep understanding of contemporary business issues and are in an immediate position to assume active leadership roles.
Graduates from Cranfield University can apply for jobs in a variety of industries, including Aerospace and Aviation, Automotive, Energy and Power, Environment and sustainability, Management and leadership and many more.
Apart from the strong links the university has with many businesses and organisations for career opportunities, there are several companies located near Cranfield University, including Cranfield Aerospace Solutions, Unilever, Rolls-Royce, and Lockheed Martin, among others.
Study in Cranfield
If you are interested in learning more about Cranfield or want to study at one of its top universities, then book a free consultation with SI-UK India today!
Living and Studying in Cranfield FAQ