Coleraine is a town in Northern Ireland situated on the banks of the River Bann. While it is a relatively quiet town, its history dates back to the Mesolithic period, with evidence of human settlement.
Today, it is a popular tourist destination with a range of amenities such as shopping centres, restaurants, pubs, and cultural attractions, including the Giant's Causeway, a UNESCO World Heritage Site.
Let's find out more about what makes Coleraine a popular choice among international students to study in the UK.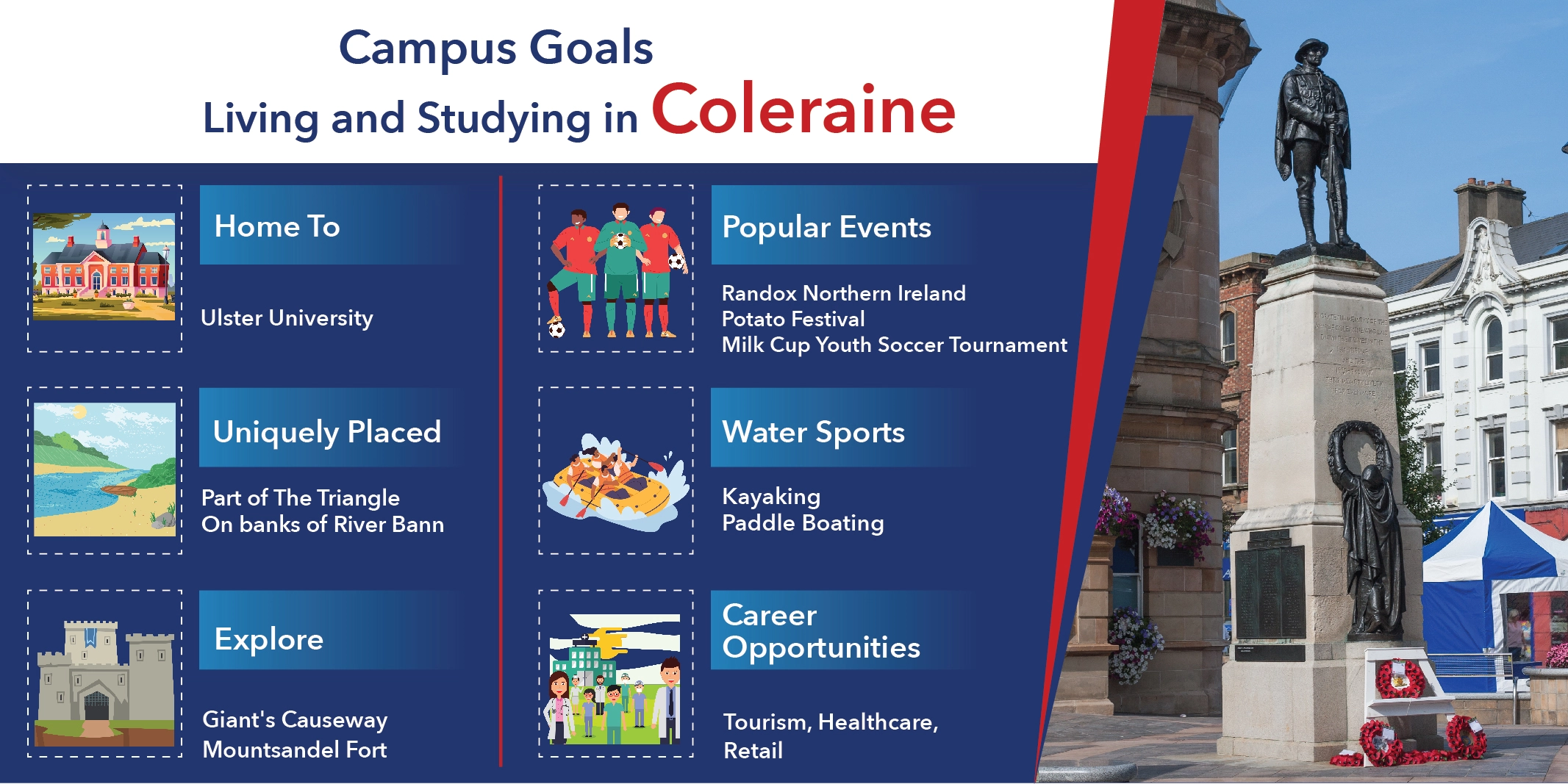 What to Expect in Coleraine as an International Student
A Supportive Student Experience
Despite Coleraine's reputation as a quiet town, the presence of university students has injected life into the area. Students can expect a vibrant and diverse community on campus, state-of-the-art facilities and plenty of opportunities for extracurricular activities, including sports, societies, and clubs, which can help students make friends and develop new skills.
There are several options for student accommodation in Coleraine, including on-campus halls of residence and privately-owned student apartments and houses. While the university has several halls of residence on its Coleraine campus, offering a range of single and shared rooms, there are also several private companies that offer purpose-built student accommodation in Coleraine.
Many students in Coleraine choose to rent shared houses or apartments with other students. This can be a more affordable option, but it also requires more effort in terms of finding a suitable place and coordinating with housemates.
Translink operates a bus service that connects Coleraine with other towns and cities in Northern Ireland, such as Belfast and Derry/Londonderry, and Coleraine also has a train station that is served by Northern Ireland Railways. Coleraine is a relatively bike-friendly town with several dedicated cycle paths and quiet roads. Many students choose to cycle to and from the university and around town.
There is a small but growing Indian community in Coleraine, and while it may not be as large as in other cities, there are still options available for students who are interested in Indian culture or cuisine.
Top Rated University
- Ulster University
Established in 1968 as the New University of Ulster, it merged with the Ulster Polytechnic in 1984 to form the University of Ulster, which later became Ulster University in 2014.
It is a public research university offering a wide range of undergraduate and postgraduate programs in fields such as business, computing, engineering, health sciences, and humanities.
The Coleraine campus of Ulster University is located on the banks of the River Bann and features modern facilities and green spaces. It is home to a number of academic departments, including the Ulster Business School, the Faculty of Computing, Engineering, and the Built Environment, and the Faculty of Life and Health Sciences.
Not Just Coleraine Cheese
While Coleraine is bustling with students during the day, it is generally peaceful at night. The nightlife in the area mainly revolves around the adjacent seaside towns of Portrush and Portstewart, which, along with Coleraine, form a popular visitor destination known as 'The Triangle'.
There is a range of food options available in Coleraine to suit a variety of tastes and budgets, including Indian and street food options, as well as cafes and pizza and Chinese restaurants. There are a number of cafes in Coleraine that are popular with students, offering a range of coffee, tea, sandwiches, and pastries. Some popular cafes in Coleraine include Ground Espresso Bars, Bob & Berts, and New Society.
Pizza and Chinese are classic favourites among students, and Coleraine has plenty of options for both. There are also a few Indian restaurants in Coleraine that are popular with students, including Spice Club and Spice of India.
UNESCO World Heritage Site and Potato Festival
Coleraine has a rich cultural history, and there are a number of places to visit, festivals, and markets that showcase the town's cultural heritage.
Coleraine is a popular tourist destination as it is located close to several notable attractions like the Giant's Causeway, a UNESCO World Heritage Site, the Mountsandel Fort and Mussenden Temple.
Coleraine also hosts several popular events throughout the year, like The Randox Northern Ireland Potato Festival. This annual event celebrates the potato industry in Northern Ireland and features a range of activities and events for all ages, including potato-themed games, live music and entertainment, cooking demonstrations, food stalls, and artisan craft markets.
Bowling and Boats
Coleraine is located in a beautiful part of Northern Ireland, with stunning natural landscapes and a rugged coastline. As a result, many locals are into outdoor activities such as hiking, cycling, and water sports like paddle boating and kayaking.
The town has several local sports teams, including rugby and soccer and also hosts The Milk Cup, an international youth soccer tournament that takes place annually in Coleraine, attracting young soccer players from around the world. Surprisingly, bowling is big in Coleraine. The Coleraine Bowling Club is one of the most successful teams in the NIPBA and the Irish bowling leagues.
Apart from the outdoors, Ulster University also has sports facilities that are available for use by students and members of the public. These facilities include gyms, swimming pools, sports halls, and outdoor playing fields.
Career Possibilities
Coleraine has a diverse range of career opportunities, with a number of industries and companies operating in the area. The Northern Health and Social Care Trust, Armstrong Medical, Seating Matters, and Covernet are a few that have offices in and around the town.
With a vibrant student community, warm and friendly locals and world class education, Coleraine offer a supportive learning environment for students.
Study in Coleraine
If you are interested in learning more about Coleraine or want to study at one of its top universities, then book a free consultation with SI-UK India today!
Living and Studying in Coleraine FAQ