Cambridge is a city that attracts students from all over the world for various reasons. However, notably, it is home to an academic epicentre and the world's second-oldest university, The University of Cambridge.
Consistently ranked as one of the best in the world, it boasts more Nobel laureates than any other institution, with 121 of its affiliates receiving the prestigious award. Here are some other reasons to consider moving to Cambridge.
Learn more about what makes Cambridge such a great location for international students to pursue their higher education in the UK.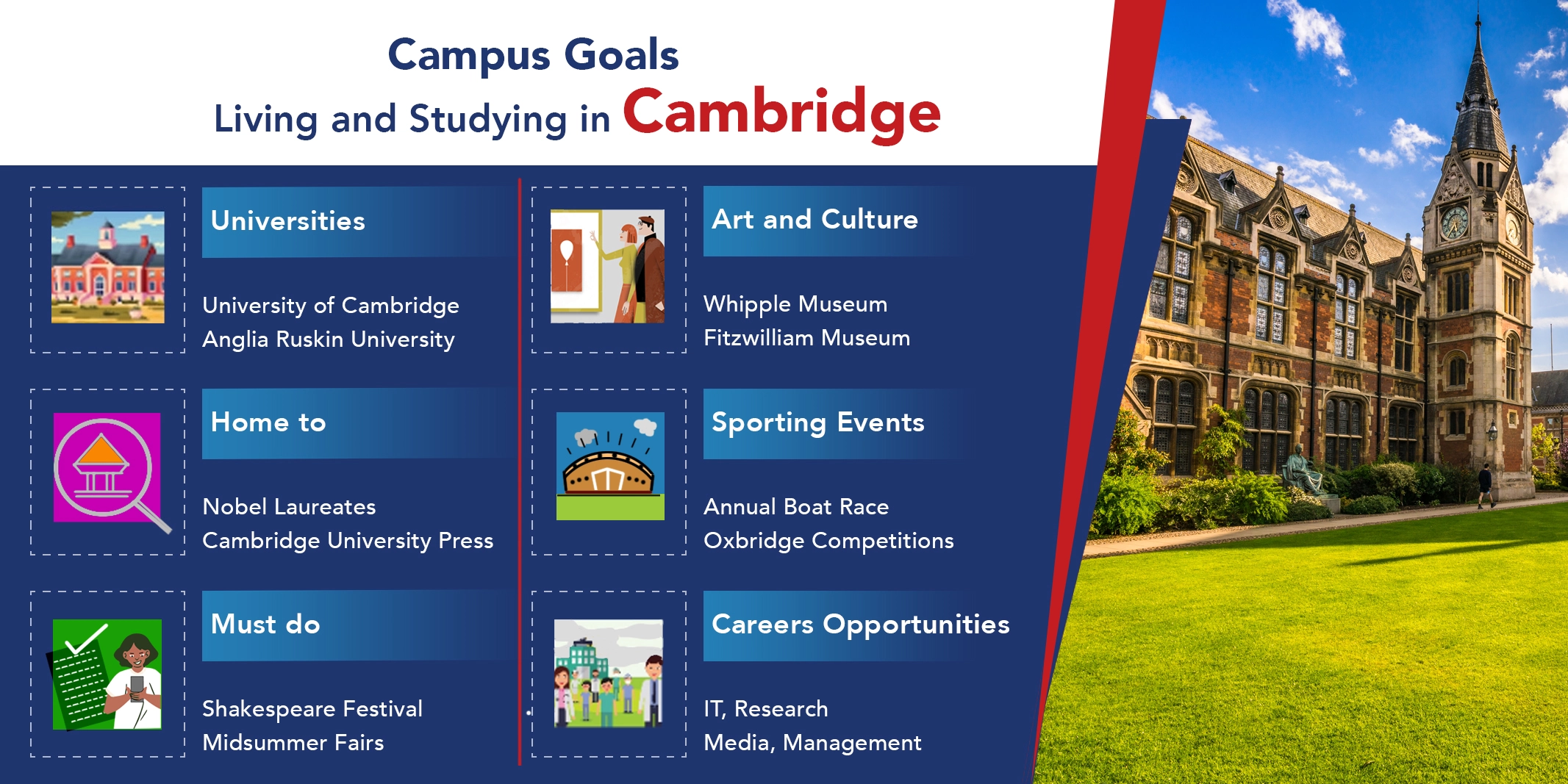 Life in Cambridge for an International Student
An Immersive and Exceptional Experience
Student life in Cambridge is a unique and enriching experience that offers both challenges and rewards with opportunities for personal and academic growth, as well as access to some of the brightest minds in their fields. It requires a high level of dedication and hard work, but for those who are willing to put in the effort, the rewards can be immense.
The decision to live on or off campus ultimately hinges on the preferences and circumstances of each individual student, as both options present their own set of advantages and disadvantages. Cambridge offers a jam-packed schedule of outdoor lifestyle activities and events to enjoy apart from just world class academics. From the Shakespeare Festival to the Midsummer Fairs, the festivals in Cambridge are all about having a good time.
With students from all corners of the world, the food is sure to follow suit. Romsey Town is the trendy hotspot for not just avocado and coffee packed cafes but also a great option for multicultural eats.
Taj Tandoori, Las Iguanas, and The Eagle, the historic pub famously linked to Watson and Crick's discovery of DNA, are all popular favourites with students and residents alike. Cambridge is also home to a lot of Food Festivals, including the Indian Street Food Festival serving masala dosas, chaat and even Bengali sweets.
Centre of Academia and Learning
Founded in 1209 by a group of scholars who left Oxford University after a dispute, the university is now one of the oldest and most prestigious universities in the world. Known for its strong programmes in mathematics, natural sciences, and computer science, as well as English literature and history, the university offers a wide range of undergraduate and graduate courses.
Undoubtedly, Cambridge is a stunningly beautiful place to study. Some of its most photographed sites are its historic buildings, including the King's College Chapel with its magnificent stained glass windows and the famous mathematical bridge located at Queen's College, which was built without the use of nails or bolts.
Apart from its stunning and inspiring architecture, including the distinctive Cambridge Gothic style, the university is also home to nearly 100 libraries with a collection of millions of books, making it one of the largest academic libraries in the world. The University of Cambridge is also home to the largest and oldest university press in the world, Cambridge University Press and also hosts a number of festivals throughout the year, such as the Cambridge Science Festival, the Cambridge Literary Festival, and the Cambridge Folk Festival.
Cantabs, as the students there are referred to, have been some of the world's greatest minds for centuries. Alumni include legendary names such as Charles Darwin, Isaac Newton, Stephen Hawking, Alan Turning and many more who have been an inspiration to generations of scholars and researchers.
Founded in 1858, Anglia Ruskin University or ARU, was formerly known as Cambridge School of Art. The university came into existence as art critic, philanthropist, and patron John Ruskin opened it.
Since then, the institute has been known for its excellent research and innovation in various faculties such as Humanities, Arts, Business and Law, Social Sciences, Health, Education, Medicine and Engineering. With a wide range of undergraduate and postgraduate programmes, the university is committed to providing students with excellent academic opportunities, exceptional facilities, and a supportive learning environment.
Apart from academic excellence, ARU is also known for its commitment to providing students with a range of extracurricular activities and opportunities. The university has a diverse student population with over 100 clubs and societies, including sports, cultural and academic groups, allowing students to pursue their passions and interests outside the classroom.
The university's commitment to providing students with a supportive and inclusive learning environment is reflected in its excellent student support services, including career services, mental health and wellbeing services, disability support, and accommodation services. Anglia Ruskin University is a leading institution for higher education committed to providing students with exceptional academic and personal development experiences.
Fascinating Culture and Museums
The university is home to one of the largest university museum complexes in the world, keeping its students engaged and intellectually stimulated.
From the Fitzwilliam Museum, which boasts an impressive collection of art and antiquities, including works of Monet, Rembrandt, Picasso and van Gogh, to the Whipple Museum of the History of Science, which showcases the scientific instruments and apparatus of yesteryear, there is something to pique the interest of every student.
The university also hosts regular lectures and talks by world-renowned scholars and public figures, covering a wide range of topics from politics and economics to literature and the arts. These events offer students the chance to engage with cutting-edge ideas and perspectives and to connect with other scholars and intellectuals from around the world.
Stunning Outdoors
Cambridge, with its pristine and panoramic views, is also home to many beautiful gardens, including a botanical garden that dates back to 1762 and contains over 8,000 plant species. These, along with the River Cam, provide opportunities for outdoor activities such as picnics, sports, and leisurely walks.
Football has always been a favourite at Cambridge, and its 160-year-old Football club has been honoured with a special award as "the oldest club in the world" The first game of association football was played between students at the university in 1848.
With both Oxford University and the University of Cambridge situated along riversides, it's no surprise that they have historical associations with water-based activities like punting. Oxbridge, as they are collectively known together sometimes, has engaged in an unspoken but healthy competition and maintained a friendly connection through different traditions, including the Annual Boat Race.
Career Prospects
The University of Cambridge has a strong reputation for producing talented and highly skilled graduates who are in high demand from employers in a range of industries. Cambridge graduates are sought after by some of the world's largest and most prestigious companies, with many firms choosing to establish a presence in the city to take advantage of the university's talent pool.
Some of the major companies with a presence in Cambridge include Microsoft Research, Amazon, Apple, AstraZeneca, Google, Samsung and many more.
The university also hosts a number of career fairs and events throughout the year, which provide students with the opportunity to meet and network with potential employers.
Cambridge, with its rich history, stunning architecture, vibrant culture, and outstanding academic programmes, has produced some of the world's most brilliant minds. Studying in this prestigious institution is an opportunity of a lifetime and a journey that will be cherished forever. Students can pursue their passions, develop important skills, and build lifelong connections with fellow students and faculty.
Living and Studying in Cambridge FAQ