Bristol is an ideal city for students for numerous reasons. Positioned on the River Avon and in close proximity to the coast, it is encompassed by the stunning countryside of the Cotswolds. Formerly referred to as Brigstow, meaning 'the place at the bridge', Bristol earned the designation of UNESCO City of Film in 2017. Its lively and creative cultural atmosphere and notable universities make it a perfect choice for students pursuing higher education.
Let's find out more about what makes Bristol a popular choice among international students to study in the UK.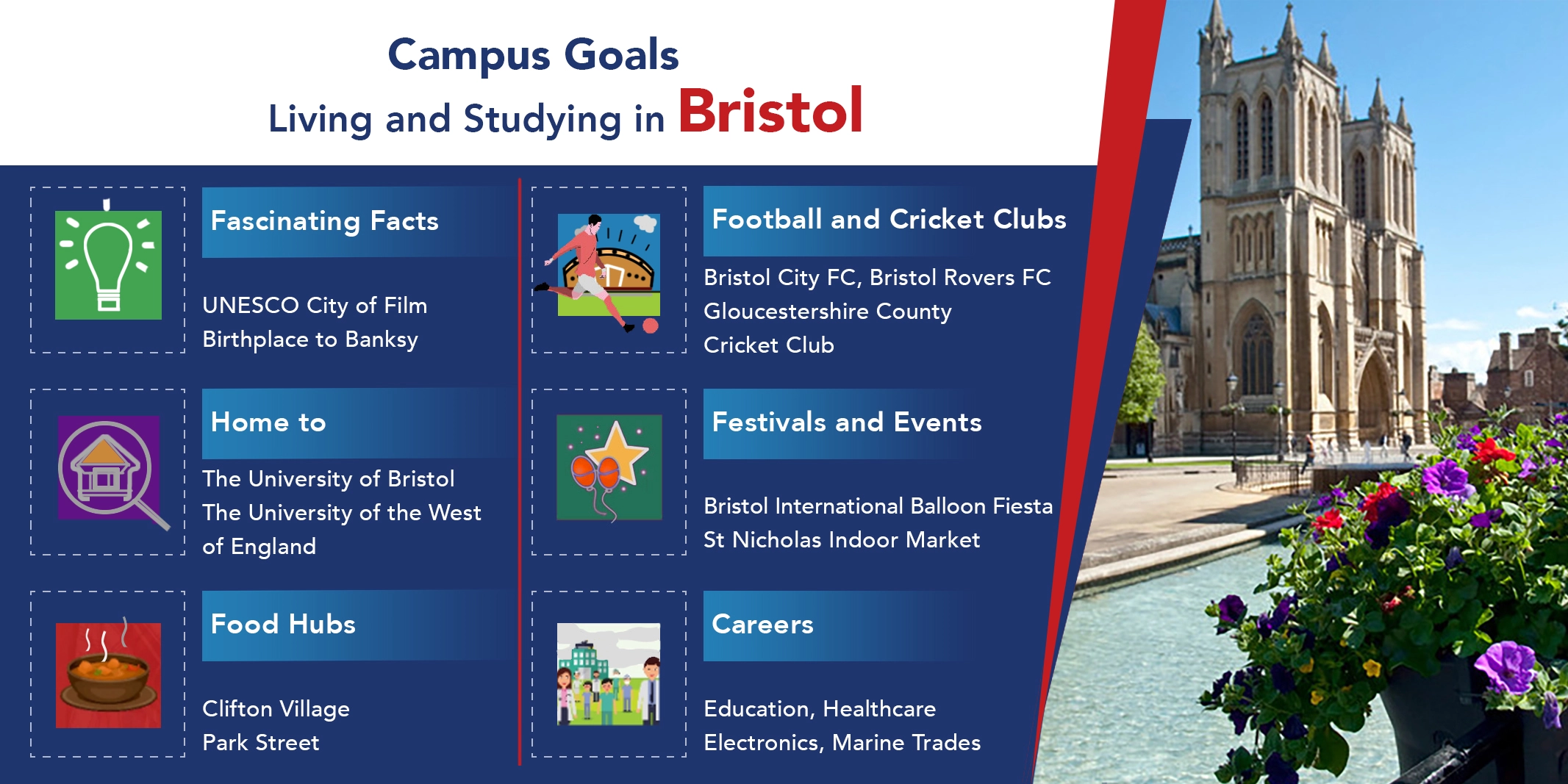 Life in Bristol for an International Student
Lively & Creative Student Life
As one of the UK's largest cities in the southwest, Bristol, with its lively, cosmopolitan culture, has a lot to offer its students. Being one of the major media centres in the UK, it has a significant presence of creative agencies, encouraging a rising community of artists, designers, photographers, writers and other creative professionals.
Bristol offers a diverse array of choices to accommodate various requirements and budgets. Several students opt to reside in university housing that offers secure and practical living space in proximity to campus. Additionally, numerous private accommodations are accessible, such as shared houses and apartments. Gloucester Road, with its many supermarkets and grocery stores, is one of the most popular areas amongst students.
Bristol has an excellent public transport system, including buses, trains, and the city's famous ferry service. The city is also very bike-friendly, with plenty of cycle paths and bike rental schemes available.
Top Rated Universities
Bristol is home to two well-respected universities, the University of Bristol and the University of the West of England.
This research-intensive university was founded in 1876. It has a strong reputation for academic excellence and offers a wide range of undergraduate and postgraduate programmes across a variety of disciplines, including arts, humanities, sciences, engineering, and social sciences.
The university's main campus is located in the historic Clifton neighbourhood and is known for its beautiful architecture and picturesque setting.
The University of Bristol is home to a number of research centres and institutes that focus on a wide range of areas, from climate change and sustainability to neuroscience and robotics. The university is also known for its strong links with industry, and many of its graduates go on to successful careers in fields such as finance, law, and technology.
Acceptance Rate: 67%
Popular Courses: Engineering, Medical Sciences, Arts
The university was known as Bristol Polytechnic earlier and was later in 1992, given the status of a University —of the West of England, Bristol (UWE Bristol). It has a strong focus on practical, career-oriented education and offers a range of undergraduate and postgraduate programmes across a variety of disciplines, including business, law, health, and engineering.
UWE's campus is located in the north of the city, and is known for its modern facilities and state-of-the-art equipment. The university has invested heavily in its campus with new buildings and facilities such as the Bristol Business School.
UWE Bristol was one of the first universities in the UK to establish a University Enterprise Zone, which now houses a multitude of businesses, including a robotics lab.
Acceptance Rate: 57%
Popular Courses: Filmmaking, Architecture, Physiotherapy, Biomedical Science
A Treat For Your Tastebuds
Bristol's extensive food scene will leave you spoilt for choice. From the traditional British fare to the exotic options from the far east, from vegan to vegetarian, you can always find something truly tantalising to try.
Bristol's rich and exciting mix of cultures is reflected in the food available throughout the city. Clifton Village, Gloucester Road and Park Street are student favourites and offer a wide range of independent cafes, bakeries, and restaurants that cater to students tastes and budgets.
Bristol also has a selection of Indian dining options. Talwar Express, Ganesha Authentic Indian and Nutmeg offer up a range of delicious authentic Indian dishes like tandoori grills, curries, biryanis and more.
A must visit for foodies in the area are the street food markets, including the St Nicholas Indoor Market serving the finest African, Portuguese and Middle Eastern street food.
History & Heritage
Although Bristol today is very much a modern city with all its conveniences, its history goes back thousands of years.
One on top of everyone's list, after the museums and the galleries, is the Bristol International Balloon Fiesta.
The Fiesta has come a long way from its humble beginnings and has grown consistently each year, evolving into Europe's biggest hot air balloon festival. Presently, the Bristol International Balloon Fiesta draws in more than 100 Hot Air Balloons and an estimated 500,000 attendees during its four-day duration.
Bristol boasts a lively street art culture, featuring an array of colourful and intricate murals embellishing the city's buildings. Furthermore, Bristol holds the distinction of being the birthplace of the renowned graffiti artist Banksy. The city's numerous walking tours offer a chance to explore the streets, where many of Banksy's early works are still visible.
Football and Cricket
Bristol is a very sporty city, and its residents have a lot of options when it comes to ways to keep fit. You'll usually see people cycling, running or boating around the harbour area or at the numerous parks around the city.
Football is one of the most popular sports in Bristol, and the city is home to two professional football clubs: Bristol City FC and Bristol Rovers FC. Both clubs have a passionate fan base, and matches between the two sides are hotly contested.
Cricket fans will be happy to know that Bristol is home to The Gloucestershire County Cricket Club, and it holds its home games at the Bristol County Ground, the club's home venue since 1889.
Career Possibilities
Bristol's economy is robust and thriving due to its diversified sectors, including education, healthcare, marine trades, creative media, technology, electronics, and aerospace engineering industries.
Graduates from Bristol's universities are in high demand in their respective fields, and the city is home to several exciting organisations, such as Airbus, Imperial Brands PLC, BBC, and many others.
Study in Bristol
If you are interested in learning more about Bristol or want to study at one of its top universities, then book a free consultation with SI-UK India today!
Living and Studying in Bristol FAQ