Belfast, located on the eastern coast, serves as the capital and the largest city of Northern Ireland. It is among the top 20 largest cities in the United Kingdom and boasts a rich history, renowned for its shipbuilding industry, including the construction of the RMS Titanic.
Belfast is a thriving cultural and economic hub, with its stunning coastline, scenic countryside, and cultural heritage. Visitors to the city, especially Game of Thrones fans, can explore the set locations via the Game of Thrones Trail Map. However, this magnificent city has much more to offer, making it a popular destination for students.
Learn more about what makes Belfast such a great place for international students to live and study in the UK.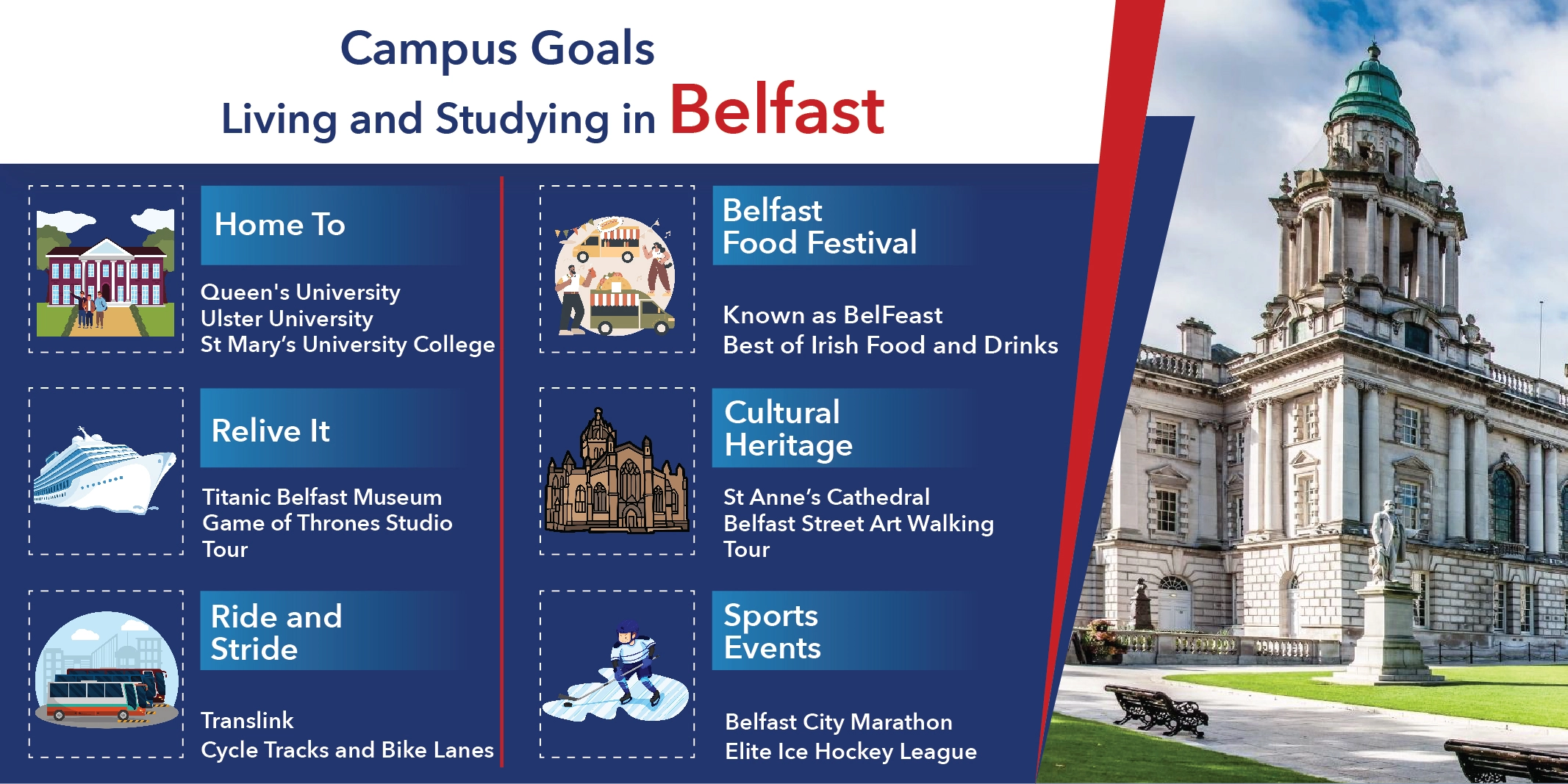 Life as an International Student in Belfast
Vibrant and Welcoming Student Experience
Belfast is home to a warm and welcoming community with friendly locals who are always happy to help students feel at home. In addition to its friendly atmosphere, the city also boasts a vibrant social scene, excellent academic opportunities, and an exciting food scene, making it a fantastic destination for students.
Student accommodation options range from shared apartments to student residences and homestays. The cost of living in Belfast is generally lower than in other UK cities, making it an attractive option for students. Botanic, Holylands, Stranmillis and Lisburn Road are all popular areas for students to live in.
Belfast is a relatively small and compact city, making it easy to get around by bicycle. The city has a growing network of cycle paths and bike lanes, and many students choose to cycle to university or explore the city on two wheels.
The main provider of public transport in Belfast is Translink, which operates bus and train services across the city and Northern Ireland. The train network connects Belfast to other major cities in Northern Ireland, as well as Dublin in the Republic of Ireland.
Top Rated Universities
Belfast is home to two major universities, each offering a distinctive blend of history, culture, and academic programs.
Founded in 1845, Queen's University Belfast is a public research university located in the heart of the city. The university is known for its excellent research reputation, with world-class facilities in areas such as medicine, engineering, and environmental science.
The campus is situated in the south of the city and is spread across several sites, including the historic Lanyon Building and the modern McClay Library.
Ulster University is a public research university with four campuses located across Northern Ireland, including one in Belfast. The university was founded in 1968 and offers a range of academic programs in arts and humanities, social sciences, science and engineering, and business and law.
The Belfast campus is located in the north of the city and is home to the Ulster University Business School, the School of Art and Design, and the School of Computing, Engineering and Intelligent Systems, among others.
Both universities campuses are well-equipped with modern facilities, including state-of-the-art libraries, laboratories, and study spaces, and offer a range of services and support to students, including career guidance, counselling, and disability support.
Located in Northern Ireland, St Mary's University College Belfast was founded in 1900 and is affiliated with the Roman Catholic Church. The university has a strong tradition of community engagement and social justice, with a particular emphasis on promoting education and social inclusion in Northern Ireland.
The campus is located in the historic and vibrant Falls Road area of Belfast, with easy access to the city centre and all of its amenities.
Acceptance Rate: 92%
Popular Courses: Education, Teacher Training
BelFeast and Bubble Tea
Belfast's food scene is constantly evolving, with new eateries regularly popping up and capturing attention on social media with their mouth-watering offerings. From indulgent bubble tea and decadent waffles to hearty traditional dishes like Irish stew and Ulster Fry, there is something to satisfy every palate and craving.
Located in the heart of Belfast's city centre, the Cathedral Quarter is a popular area, and places like the Muddlers Club and Maggie Mays always hit the mark. Belfast has a variety of Indian restaurants and takeaways, serving up everything from traditional curries to street food-inspired snacks. Some popular options include NU Delhi, Tale of Spice and India Gate.
BelFeast, the Belfast Food Festival, is a must-attend event for foodies and drink enthusiasts alike. Held over three days in the vibrant Cathedral Quarter, the festival is dedicated to showcasing the finest in Irish cuisine and beverage culture..
Deep Literary and Cultural Heritage
From St. Anne's Cathedral, with its glorious example of Gothic architecture, to Belfast City Hall's stained glass windows and grand dome, the architecture of the city never fails to impress its visitors.
One of the city's most iconic attractions, Titanic Belfast is a museum and exhibition centre that tells the story of the ill-fated Titanic and features interactive exhibits, artefacts, and displays that bring the Titanic's story to life.
The Belfast Street Art Walking Tour should not be missed. Featuring colourful wall art and lightning installations. The urban art culture in Belfast is thriving and expanding. Artists from all around the world are leaving their imprint on the streets by using the City as a gallery.
Whether you're a die-hard fan of the show or just looking for an epic experience in Northern Ireland, the Game of Thrones Studio Tour, located only 30 minutes outside of Belfast, is an absolute must-see.
Biking Through Belfast
Physical fitness and sports are an integral part of Belfast's culture, with numerous opportunities for both spectators and athletes alike. Whether you prefer cycling or walking to take in the city's scenic views or prefer the more vigorous pursuits of swimming or playing squash, Belfast offers a diverse range of activities to cater to all interests and skill levels.
Important sporting events include Elite Ice Hockey League, European Champions Cup and the Belfast City Marathon. Queen's University Belfast has a state-of-the-art sports facility, which includes a gym, swimming pool, squash courts, and a range of fitness classes and is open to students, staff and members of the public.
Career Possibilities
Belfast's economy is diverse and multifaceted, with a strong emphasis on the service sector. This sector is the largest in the city and includes financial, retail, business services, and hospitality, with many well-known global companies operating in Belfast.
Queen's University Belfast and Ulster University have established strong connections with industry and businesses. This helps the students with opportunities for internships, work placements, and career development and provides them with the required exposure to prepare them for the modern job market.
The city also has offices of companies such as Bombardier, Deloitte, Allstate and many more.
Study in Belfast
If you are interested in learning more about Belfast or want to study at one of its top universities, then book a free consultation with SI-UK India today!
Living and Studying in Belfast FAQ