Located in the southwestern part of England, Bath has been recognized as a hub for wellness tourism since ancient Roman times. The city boasts a plethora of historic landmarks and buildings showcasing elegant Georgian-style architecture and is now designated as a UNESCO World Heritage site. Home to the newly crowned University of the Year, 2023, Bath is a popular choice for students from all over the world.
Learn below more about what makes Bath such a great city for International students to study in the UK.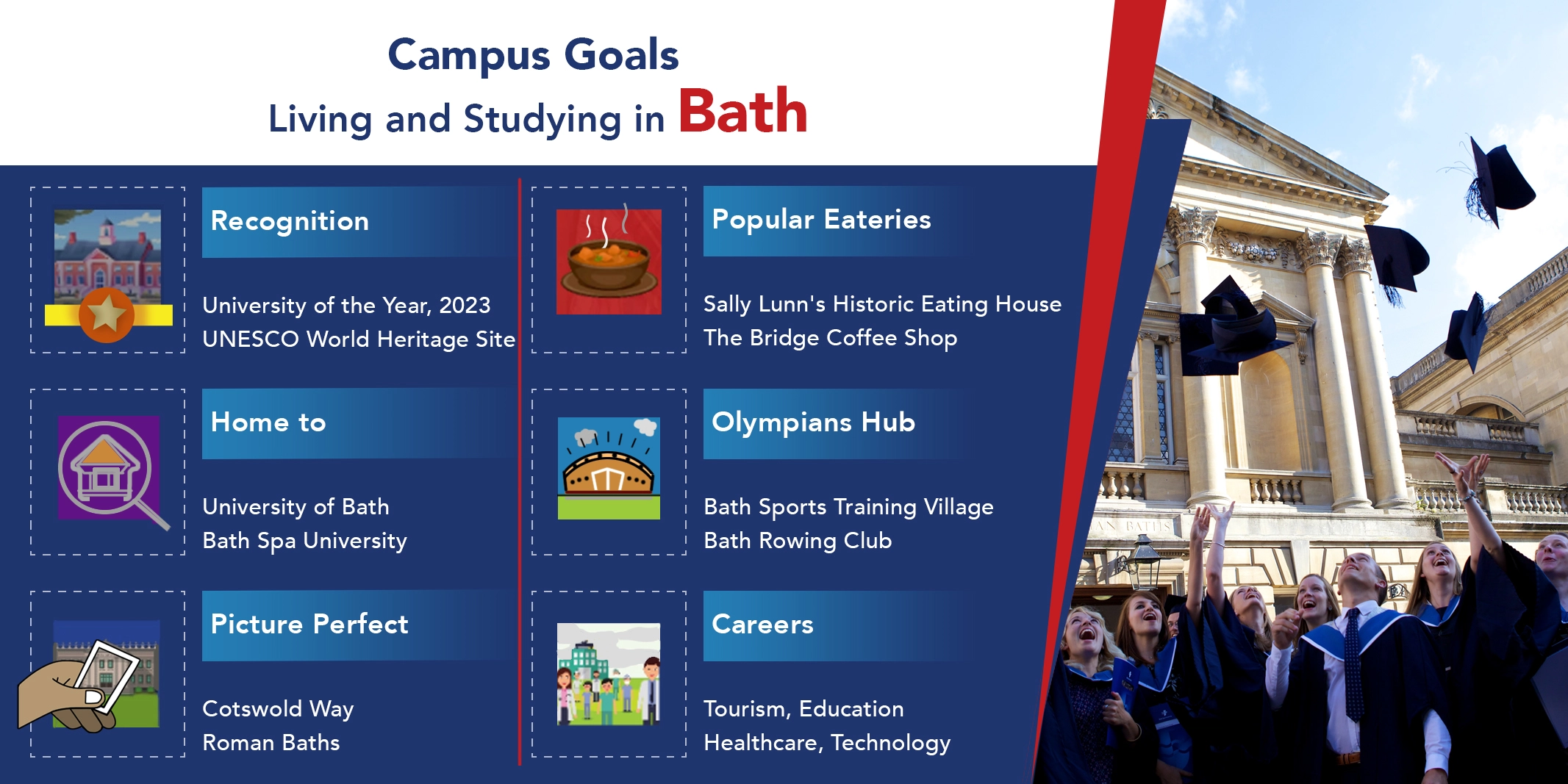 Life in Bath for an International Student
Picturesque Student Living
Student life in Bath is diverse, exciting and rewarding. With two esteemed universities in the city, Bath has a large student population, which contributes to its vibrant atmosphere.
The city is surrounded by beautiful countryside, and students can take a hike in the nearby hills and valleys. The Cotswold Way is a popular walking trail that offers stunning views of the countryside and passes through several picturesque villages.
There are plenty of options for student accommodation in Bath, including university dormitories, private flats and houses, and homestays. Many students choose to live in shared houses or flats with other students, which can be a great way to meet new people and make friends. Popular residential parts of Bath include the City Centre, Widcombe and Oldfield Park.
Top Rated Universities
Bath is home to two highly respected universities: the University of Bath and Bath Spa University. The University of Bath has just been named named 'University of the Year' by The Times and Sunday Times 'Good University Guide 2023
The University of Bath was founded in 1966 and gained university status in 1971. It was created with the aim of offering an alternative to the traditional universities in the UK and focuses on science, technology, engineering, management, and social sciences. With a strong emphasis on employability, it offers a range of opportunities for students to gain work experience and develop their professional skills.
The university's sports facilities are world-renowned, and many Olympic athletes have trained there.
The Bath Spa University was founded in 1852 as the Bath School of Art. It became Bath Spa University in 2005 and is known for its creative arts programs. The university has a strong creative culture and is particularly well-known for its programs in creative writing and publishing, also offering one of the few PhD programs in creative writing.
Baklava to Bread
Bath has some seriously delicious food options to suit every palate and budget. From elegant eateries to quaint cafes, Indian and Turkish to good old traditional British fare, Bath has it all. South Gate has a wide range of restaurants, cafes, and bars, including chain restaurants like Nando's and Wagamama while Pulteney Bridge is a picturesque bridge spanning the River Avon is lined with restaurants and cafes, including the famous Sally Lunn's Historic Eating House and The Bridge Coffee Shop.
There are a few Indian options as well, like The Grand Eastern, serving authentic Indian cuisine and Chaiwalla, a street food vendor serving samosas and chaat.
Another must visit for foodies is the Bath Farmer's Market. One of the oldest in the country, the first one was set up in 1997; it is just as popular today for folks to sample some of the finest local produce from the area.
Whether you are indulging in an elegant sit down dinner, sampling street food in the Christmas Market, or even mastering the art of bread making in one of the many cooking classes, Bath's culinary scene has a lot to offer.
Jane Austen and Hot Springs
Bath is a city known for its stunning Georgian architecture, Roman Baths, and natural hot springs. It is also a citywide UNESCO World Heritage Site and one of the most popular tourist destinations in the UK. Rightly so as there is something to discover or experience around every corner.
The Roman Baths are a must-visit attraction in Bath, where visitors can explore the ancient thermal baths and learn about the history of the city, as is the Royal Crescent, a row of Georgian terraced houses laid out in a sweeping crescent.
Another popular attraction, especially for students of English Literature, include the Jane Austen Centre, which celebrates the life and work of the famous author who spent a considerable time in Bath.
The city also has a unique tradition of "penny readings," where people would pay a penny to listen to poetry, music, and stories and it is also home to the historic Theatre Royal, one of the oldest and most beautiful theatres in the UK.
Rugby and Olympic Class Facilities
Among all the breathtaking architecture and history, it might be surprising to know that Bath also has a very active sports scene. The city is home to several professional sports teams, including Bath Rugby, one of the most successful rugby union teams in the country.
Bath also has a strong tradition in rowing, with the River Avon providing an excellent location for training and competition. The Bath Rowing Club is one of the oldest in the country.
In addition to enjoying the stunning outdoors to keep fit, students also have access to the world-class sports facilities of The University of Bath Sports Training Village that include an Olympic-sized swimming pool, indoor and outdoor athletics tracks, a gymnasium, and indoor and outdoor tennis courts.
Career Possibilities
Bath has a robust and dynamic economy with plenty of opportunities for students to pursue rewarding careers in a variety of sectors, including education, healthcare, and technology. Bath is a popular tourist destination and a UNESCO World Heritage Site, and the tourism sector here provides many job opportunities.
The Bristol & Bath Creative Industries Cluster is a partnership that aims to improve the performance of the creative industries in the region and is home to some big names in the industry, including the international multimedia specialist Future plc.
Student life in Bath offers a great balance between academic and social activities and provides a stimulating and rewarding experience for students.
Study in Bath
If you are interested in studying at one of the top universities in Bath and experiencing life as an International student at this bustling city in the UK, book a free consultation with SI-UK India today.
Living and Studying in Bath FAQ